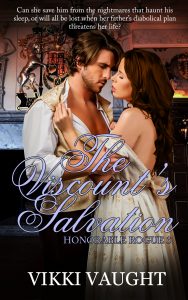 Thank you, Cynthia for having me on your blog today. I have long been a fan of your historical romances. I always know I'm in for a treat when I read one of your books. I recently released The Viscount's Salvation, Book 3 in my Honorable Rogue series. I thoroughly enjoyed doing the research for this book, and I thought I would share some of it with your readers.
The Viscount's Salvation has been another exciting journey for me. While this book is set in 1803, a time when the medical profession did not understand or have a name for PTSD, Cortland, my hero, suffers from it. There were no methods of treatment, and the men and women who suffered from PTSD hid their affliction for fear of their own families placing them in insane asylums.
Thank goodness, today, society has some understanding of mental disorders. My heart goes out to all individuals who live with this disorder or suffer from other forms of mental illness. The medical profession still has a lot to learn about the workings of the mind. Much of the treatments that exist, are found by trial and error, even today.
There are two young French children in my novel. I enjoyed researching the French countryside and the language. Thank goodness for Google Translate, it helped immensely with short phrases to add flavor for the children and to help the setting in the beginning of this book.
One of the things I enjoy most when writing historical romance is the research. I've loved history from childhood. My mother read historical fiction, and I devoured many of her books during my teen years. I especially enjoyed her Frank Yerby novels. I would sneak them into my bedroom at night and read for hours. The reason I had to sneak them in was because they were quite risqué for a teenager!
The love of history and reading were two things, among many, I shared with my mother. While she passed away at the end of 2011, just as my writing career was beginning, she was there to celebrate my first book, Lost Pleasures Found, when it was published in January 2011. She was so proud of my accomplishment. I'm sure she is looking down upon me and smiling her gentle smile as I travel this road as an author.
My Honorable Rogue series started with the award-winning novel Lady Overton's Perilous Journey. I have quite a few other characters clambering for me to write their stories. The next book in the series is supposed to be John's story, but Lord Renwick from Miss Kathleen's Scandalous Baron, Book 2, is shouting the loudest, so his story may very well be next. One those books will definitely come out in 2017.
While each book has some characters in common, The Viscount's Salvation can be read as a stand-alone, but I hope you'll decide to read them in order to fully grow to love my characters as much as I do. Happy reading!
Book Description:
Vikki Vaught's Honorable Rogue series started with the award-winning novel, Lady Overton's Perilous Journey. The Viscount's Salvation, Book 3, brings you her brother's story. A historical romance of high suspense and sensuality. Buy this book now to find out how he survived his ordeal in war-torn France.
Captain Cortland Wallingford returns a broken man, plagued by horrific nightmares. While attending a ball, Cortland meets Lady Mary, an Earl's daughter. Her calm demeanor brings him a peace that has evaded him since his imprisonment.
Lady Mary learns of her father's diabolical plan, one that threatens her life. She's desperate to find a way out of marriage to a notorious marquess, more than twice her age. When Cortland discovers the danger Mary faces, he offers her an escape from the earl's evil intent.
Can Mary chase away his nightmares, or will the person who wants him dead achieve their goal before she has a chance?
Excerpt:
Lady Mary hummed as she thumbed through the bookshelf on the upper level of her father's library in his Grosvenor Square townhouse. As she looked for a novel to read before bed, she heard the door open. She blew out her candle as she ducked behind the drapes concealing the window seat. Her father would be livid if he found her at this time of night…and in her nightclothes. The Earl of Melton believed in strict discipline and did not spare the rod, especially with his nineteen-year-old daughter. Mary held her breath, praying he had not seen the light nor heard her when he entered.
She listened as he began speaking. "Please take a seat. I'm surprised by your visit this late. What do you want, Worthington?"
Mary shrank further into her hiding place. The marquess was one of the men her father brought to the house for his vile, debauched parties. The man had cornered her on more than one occasion, and she had barely escaped with her virtue intact the last time.
Why did her father sound so disturbed? Normally, he was on good terms with the marquess. She wanted to sneak to the railing and peek over it, but she dared not risk it.
"You know why I am here, Melton," the marquess sneered. "I demand you honor your marker."
Her father blustered, "I need another month, or…perhaps we can work something out. I have seen the way you look at my daughter. She would make you a fine wife. I would be happy to give her to you if we can come to terms."
Mary's heart dropped to her feet. Worthington was a notorious rake and more than twice her age. Surely her father could not be serious.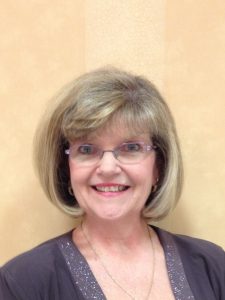 Author Bio:
Vikki Vaught started her writing career when a story invaded her mind and would not leave. Ever since then, the stories keep coming and writing is now her passion. Over the last five years, she has written almost a dozen romances and is presently working on her next, while fighting off the other future characters shouting my turn!
Vikki lives in the beautiful foothills of the Smoky Mountains of Tennessee with her husband, Jim, who is a saint for putting up with her when she is in a writing frenzy. When she's not writing, you'll find her curled up in a comfortable chair reading, lost in a good book with a cup of tea at her side. She also enjoys walking her little dog, Marlee who has captured her heart!
Buy Link:
https://smile.amazon.com/dp/B01M5IMWKO
Author Links:
Website: http://www.vikkivaught.com/home.html
Email: mailto:vvaught512@aol.com
Facebook: https://www.facebook.com/VikkiVaught?ref=bookmarks
Twitter: https://twitter.com/vvaught512
Google+: https://plus.google.com/u/0/+VikkiMcCombie/posts
Pinterest: https://www.pinterest.com/vaughtmccombie/
Amazon Author Page: http://smile.amazon.com/Vikki-Vaught/e/B008EE7TG2/ref=sr_tc_2_0?qid=1433778387&sr=1-2-ent
Goodreads Author Page: https://www.goodreads.com/author/show/5208041.Vikki_Vaught