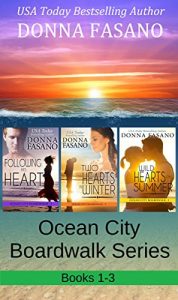 It's August and the temperatures are hot as fire. To celebrate, here's a scorching summer sale. You can get the first three books of The Ocean City Boardwalk Series for just 99¢. That's a $7.00 saving off the regular cover price. So… what are you waiting for? Take advantage of this scorching summer sale now!
About the series: Sara, Heather, and Cathy are best friends. Through the years they've cheered each other on, celebrating each victory, and they've been supportive through every crisis. Join them as they face love and loss… and learn to hold tight to the idea that friends are your chosen family.
The Ocean City Boardwalk series, where life isn't just fun in the sun—love is waiting on those sandy shores!
Don't miss this scorching summer sale. Find the bundle:
As a bonus, here's a frozen summer dessert that's sure to cool you down.
Summer Coconut Peach Dessert
Ingredients
3 cups raw cashews
1/2 cup fresh lemon juice
2/3 cup coconut oil, melted
1 cup coconut milk
1/2 cup agave nectar
2 fresh peaches, peeled and thinly sliced
Preparation
Prepare cashews: Place nuts in a bowl and cover with water. Soak for several hours to soften, drain. Discard water.
Combine the cashews, lemon juice, coconut oil, coconut milk and agave in a food processor and process until smooth. This step may take a few minutes.
Line a greased sheet pan with wax paper. Allow paper to hang over the edges of the pan to make removing easy. Pour cashew mixture into pan, spreading evenly.
Place the pan in the freezer and chill for 20 minutes.
Remove from freezer and layer peach slices on top. Freeze for at least 2 additional hours.
To serve, remove from freezer and let sit for 5 minutes before slicing into squares. Place any leftover squares in a covered container or zip-top bag and store in the freezer. Keeps for about a week.