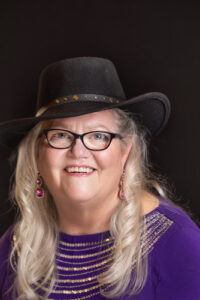 Cynthia Woolf is the award-winning and best-selling author of fifty-three historical western romance books and two short stories with more books on the way. She has also published six scifi, space opera romances, which she calls westerns in space. Along with these books she has also published four boxed sets of her books.
Cynthia loves writing and reading romance. Her first western romance Tame A Wild Heart, was inspired by the story her mother told her of meeting Cynthia's father on a ranch in Creede, Colorado. Although Tame A Wild Heart takes place in Creede that is the only similarity between the stories. Her father was a cowboy not a bounty hunter and her mother was a nursemaid (called a nanny now) not the ranch owner.
Cynthia Woolf was born in Denver, Colorado and raised in the mountains west of Golden. She spent her early years running wild around the mountain side with her friends.
Their closest neighbor was one quarter of a mile away, so her little brother was her playmate and her best friend. That fierce friendship lasted until his death in 2006.
Cynthia was and is an avid reader. Her mother was a librarian and brought new books home each week. This is where young Cynthia first got the storytelling bug. She wrote her first story at the age of ten. A romance about a little boy she liked at the time.
She worked her way through college and went to work full time straight after graduation and there was little time to write. Then in 1990 she and two friends started a round robin writing a story about pirates. She found that she missed the writing and kept on with other stories. In 1992 she joined Colorado Romance Writers and Romance Writers of America. Unfortunately, the loss of her job demanded she not renew her memberships and her writing stagnated for many years.
In 2000, she saw an ad in the paper for a writers conference being put on by CRW and decided she'd attend. One of her favorite authors, Catherine Coulter, was the keynote speaker. Cynthia was lucky enough to have a seat at Ms. Coulter's table at the luncheon and after talking with her, decided she needed to get back to her writing. She rejoined both CRW and RWA that day and hasn't looked back.
Cynthia credits her wonderfully supportive husband Jim and the great friends she's made at CRW for saving her sanity and allowing her to explore her creativity.
* Cynthia Woolf is a participant in the Amazon Services LLC Associates Program, an affiliate advertising program designed to provide a means for sites to earn advertising fees by advertising and linking to amazon.com.