Thank you Cynthia for letting me stop by. I'm Helen Henderson, and have been called a tour guide to the stars, the Old West, and worlds of imagination. I love chocolate in whatever form is at hand, white wine rather than red, and scallops with steak and shrimp on the side. My sign is Gemini, hence my writing crosses genres, among them science fiction and fantasy. My alter ego, Jessie Treon, takes credit for the historical westerns. My latest release is Windmaster Legacy and I'll talk a little more about it later.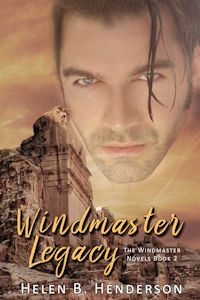 Was your road to publication fraught with peril or a walk in the park?
When my first short story was published, there was a dozen completed ones in my drawer. And that didn't include the ones that I had tossed out during periodic cleanings when I felt I would never make it as a writer. By the time the first contracted book was released, three more were written and/or storyboarded.
Like many writers before the proliferation of ebooks and self-publishing, I followed the accepted path of the time. First you had short pieces published in magazines then once a certain level of skill was achieved, you expanded to a full-length book. That is the dry recitation of facts. However, there is the flip side, and it goes beyond rejections.
I've had publications close, editors pass on, and publishers disappear overnight. During one editorial change, the incoming person returned several pieces that had been accepted and were awaiting contract signature. Even worst was the cancellation of a requested book just before publication. Not because he didn't like the book, or that it wasn't saleable. He didn't even read it. The casual discarding of what was then years worth of work for the group was done on the basis of "just because."
Did you always know you wanted to be a writer?
School taught me to hate writing. Diagramming sentences, outlining, and forced writing assignments took away the passion and joy of writing and it took me many years to find it again. Becoming a published author was never on the agenda even though I love books. Did I say I LOVED books? So for many more years than I want to admit, I planned to work where I would be surrounded by books… I would be a librarian. A change in curriculum requirements halfway through college ended that dream but later education opened another. In my various misspent lives I've been a computer programmer, systems analyst, marketing communications, correspondent, and feature story writer. Each position honed various writing skills until eventually I could add "published author" to the list.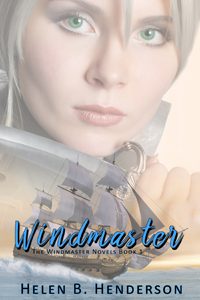 Please tell my readers a little bit about your book.
My most recent release, Windmaster Legacy, is book 2 of the fantasy series, The Windmaster Novels. The books are described as action-packed, romance-filled tales that a reviewer said should come with a warning label. "This fascinating story will keep you up all night, turning those pages!" The series covers the exploits of Lady Ellspeth, captain of Sea Falcon and Lord Dal, archmage of the world. In the first book, revenge set Ellspeth on the path to her destiny, but prophecy controlled the journey. Trapped within the Oracle's Temple, she must choose between her own survival, saving the future of magic… or love.
Windmaster Legacy takes readers on a different journey. Ellspeth and Dal, escort his mother to her ancestral lands on a distant continent. While Dal searches for the rogue wizard, Bashim, Dal's mother is fatally wounded by mercenaries under Bashim's command. Ellspeth is captured. Her sole hope for escape is Nobyn, an untrained wizard going through the throes of awakening magic. However, Nobyn is Bashim's apprentice and under the rogue wizard's total control.
This time it is Dal who must make an impossible decision — Rescue Ellspeth, save his mother, or thwart Bashim's plans. As archmage, Dal might be able to survive killing the future of magic, but as a man could he live with the knowledge he caused the death of a loved one.
Tell us about your hero.
Dal is a series of contrasts. The younger son of a chieftain he would never inherit the ruler's chair, yet his destiny required him to assume a monumental responsibility. Secure enough in himself to teach others to wield magic, his battle-tested weaponry skills contrast with his sensitivity. Dark-haired, handsome, everything you want in a man, Dal knows that a woman needs to face her own destiny, even if it is at the cost of their love.
And as for that woman? Ellspeth was awarded command of the newest ship of the line at the age most captains were still junior officers. She was skilled enough in the ways of the sea to command the respect of the crew and an experienced enough fighter to lead them in battle. However she was not a cold, unfeeling robot. To her, her crew were kin. The pain of losing one sent her on the vengeance trail.
What do you have planned for the future? / What is your next project and when will it be released?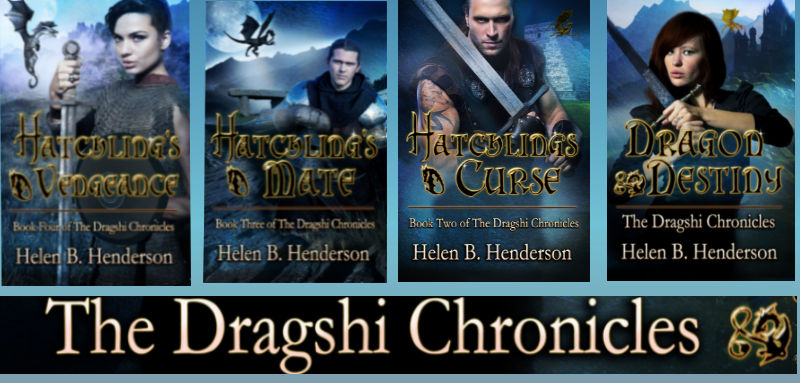 There are several projects in the works, but no release dates at this point. When the characters stops fighting me, the Windmaster Novels are to continue with a story based on the next generation of mages and Windmaster Legends, a story taken from the mists of history. In my other romantic fantasy series, the Dragshi Chronicles, a story of duty and honor, love and loss, sometimes of the past, sometimes of legend, was recounted, if however briefly. In First Change, these legends are given their full due. As with any tale from history and legend, some contain larger than life deeds. Others are the simple story of a man or woman doing what must be done, regardless of the cost. And like life, a happy ending is not guaranteed
As to who are the dragshi? They are more than just a man or woman, but two beings—one human, the other a dragon. The pair share one body in space and time and are able to change forms with the other at will. But be warned, a dragon form comes with more than just the freedom of the sky.
Do you have any words of inspiration for aspiring authors?
Research and learn. The great thing about today is that depending on luck and talent, a variety of paths are open to a writer from independent publishing, small press, agented, or the big New York City publishers. Investigate what fits your personality. Writing organizations and critique partners are invaluable sources for helping you learn your craft. You'll hear plotter and pantser tossed around, or some other process of writing. Discover what works for you but remember one thing. Each project is unique and in its writing you change. What worked for one book might not for another so don't be afraid to do something different. The critique group whose mix made perfect sense before your first release might not be as helpful when book ten is conceived. And my final bit of advice, when you reach whatever level of success you wish, remember to pay it forward.
Excerpt from Windmaster Legacy
The pressure eased as Dal raised an arm and pointed out the window. "Aren't those stars Iol and Pelra, the lovers who were turned into shipfish? You told me the tale on our first sail together."
"Yes."
"I remember something else about that sail," Dal's voice held a hint of mischief.
Ellspeth closed her eyes at the memory of how she had rejected magic. "I almost lost you."
Dal's arms moved to Ellspeth's shoulders to turn her around to face him. "There was no way I would have let you go. From our first meeting on the dock, magic or no magic, I knew we would spend our lives together. The servants are gone for the evening and Eilidh stayed at Kurrin's clanhold. We have the house to ourselves tonight."
Moonlight showed the desire on his face. She became aware of the heat rising on her skin where Dal's hands lay on her shoulder. He lowered his mouth to hers. Ellspeth's lips parted to welcome him. His kiss sent her afloat on a wave of emotion.
Long moments later, he pulled back enough for air to pass between them. His hands traced patterns on her skin to Ellspeth's waist, slipping the gown from her shoulders as they went. Lines of fire followed the path. The feather light touch of his lips as they followed the curve of her neck sent shock after shock racing through her nerves. Before her senses overloaded, Dal's strong arms picked her up and carried her to the bed.
"That is a nice outfit you bought in Letralia," he murmured. "Too bad it never stays on long."
Whatever response she had planned to make was lost as Dal's lips again pressed against hers.
Windmaster Legacy Available at Amazon http://a.co/cJdXkpk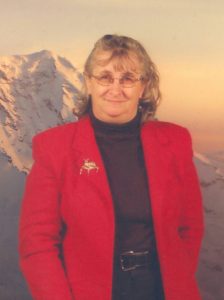 About Helen:
A former feature-story writer and correspondent, Henderson writes action-filled, romance-laden fantasies. Among her body of work are two series: the Dragshi Chronicles and The Windmaster Novels. Excerpts of her work, writing tips, and information on new releases can be found on her blog, http://helenhenderson-author.blogspot.com.
Find her elsewhere online at:
Author website  http://helenhenderson-author.webs.com
Twitter  https://twitter.com/history2write
Goodreads  http://ow.ly/ircv302xHVD
Facebook  https://www.facebook.com/HelenHenderson.author