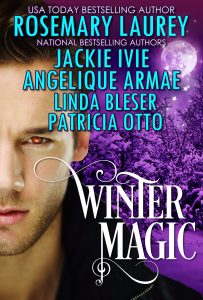 What genre(s) do you write in and why?
I write Romances in several genres – paranormal, fantasy, contemporary and historical.   I started writing paranormals, both contemporary and historical, but then I also began writing non-paranormals in the same categories.  I came to find out that I love writing stories where everyday girls fall in love with princes and vice-versa.  In my books, the hero is always a prince, even if he's a vampire, shifter, or a bodyguard. My everyday heroes are princes in their own right.
Tell us about your current series.
My current series is a Scottish wolf-shifter series – Shifters of Dundaire.  These are contemporary tales of strong heroes in kilts! They just also happen to be a bit different from the average guy. They're wolf-shifters and vampires.  I just couldn't resist a shifter in a kilt!
What inspired your latest book? As I mentioned above, I couldn't resist a shifter in a kilt. But what really prompted me to write my Shifters of Dundaire was that I had done some family heritage research and learned that my Irish ancestors traced their roots back to the Highlands of Scotland. Then I had no choice but to write shifters in kilts!
What is your favorite part of writing? 
Craftwise – creating the characters and the world's they live in. This is so much fun.  Outside of craft – I love connecting with readers. When a reader tells me how much they loved my book, it makes me really happy that I was able to touch someone's life.  So many books have done that for me, that if I can give back, it makes me happy. Fans are the best.
Where do you get the ideas for your stories?
Honestly, my ideas come from all over the place. Sometimes it's just a name that will prompt me to think up a character, other times it's a scene I have in my head and I know I have to write a book around it.  I love visiting historical sites. I get a lot of inspiration from old houses.
What advice do you have for other authors wanting to self-publish? 
First, you need to know it's a lot of hard work. Trust me on this!  But if you're not afraid of that, don't ever give up because word about a good book does get out and readers appreciate new stories. I would also say to concentrate on series at the moment as opposed to individual single-title books.
What is your favorite dessert/food?
Buttered popcorn!
How likely are people you meet to end up in your next book?
If you're family, you need to worry lol!  If you're a reader, you don't have anything to fear J
Has your muse always known what genre you would write and be published in?
I've always had a love for paranormal romance and historical romance, Regency-era in particular.  But recently I've been having a lot of fun writing contemporary royal romances, too.
What did you want to be when you were a child?  Did you always know you wanted to be a writer?
Part of me always wanted to be a writer. But I studied design and then switched to International Government and thought about going into politics.  I'm glad I decided to follow the writing path instead!
Excerpt from Christmas Wolf by Angelique Armae featured in the anthology, WINTER MAGIC
Greer made little noises, a few oohs and aahs as she searched the boxes on the lower shelves. Her enthusiasm for the task went straight to Rhys's heart. It sounded almost as if she'd never had a Christmas tree before. "I had planned on coming back early Christmas Eve to put up a small tree in the great room. But since I'm here now, would you mind helping me with that tonight?"
Greer beamed. "I'd love to, though I'm not sure I'd be much good at it as Eithne doesn't put up a tree, so I've never decorated one."
"Ever?"
She shook her head, her long black hair falling over her shoulders, drawing even more attention to her too tight top.
"Well, we'll fix that straight away. A beautiful lass such as yourself should not be deprived of doing up a Christmas tree."
"For a wolf, you're quite sentimental."
"That's the second time I've been told so today."
"Really? What was the first about?"
He let out a deep breath. "The Viking. But I dinna care to go into it."
Greer offered a sweet smile, her green eyes bright with happiness. "I think you like Vidar, despite saying otherwise."
"Bite your tongue, wumman. The man calls a kilt, a skirt. I canna be friends with such a beast."
Says the wolf who was quite the beast earlier.
A pink flush graced Greer's cheeks.
"That was nothing, kitten."
Her cheeks grew red. "That thought was not for you to know."
"I'll try to be good next time."
"I don't think you're capable of being good." She turned away and focused on the boxes of tree toppers.
"You, kitten, are a playful little thing."
A slight giggle fell from Greer's mouth. "I think we need to concentrate on this angel you're looking for." She tilted her head. "That top box looks like it has some gold fabric in it. It could be an angel's skirt." A second later Greer's knee was on the wire shelf, her arm stretching for the container.
Rhys ran over. He placed his hand on the small of her back. "Easy. I dinna need you to fall."
Heat radiated against his palm, intensified his thoughts about Greer's damn top. The wumman belonged in his bed. And being this close to her was doing nothing to tame the beast inside. He wanted her more now.  More than he'd ever wanted anything.
Greer was going to be his tonight.
Buy links and website links
Angelique Armae website:  http://www.angeliquearmae.com
Angelique Armae twitter:  https://twitter.com/AArmae
Angelique Armae facebook:  https://www.facebook.com/AngeliqueArmaeFans
Angelique Armae newsletter: http://eepurl.com/bSGTPD
ISBN: 978-1-942346-07-4
WINTER MAGIC – 5 Tales of Paranormal Romance from USA Today and International Bestselling Authors. Enchanting stories perfect for escaping winter's cold days. Time-travel, werewolves, angels, elves and more all wrapped up in one book for those long, cold, winter nights.
WINTER MAGIC links:
Amazon  https://www.amazon.com/dp/B01MY3TKS4
Amazon UK   https://www.amazon.co.uk/Winter-Magic-Rosemary-Laurey-ebook/dp/B01MY3TKS4
Amazon CA  https://www.amazon.ca/dp/B01MY3TKS4
BN    http://www.barnesandnoble.com/w/winter-magic-rosemary-laurey/1125417014?ean=2940157492533
Kobo    https://www.kobo.com/us/en/ebook/winter-magic-4
Angelique Armae – BIO
National best-selling author Angelique Armae / J. C. Makk is a native New Yorker who loves all things royal, can trace her Irish roots back to the Scottish Highlands, is half Italian, and is owned by a long-haired Tuxedo feline. She spends most days writing, unless her cat deems otherwise.