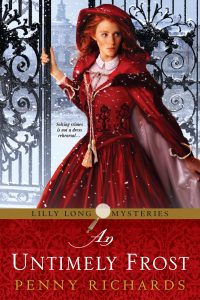 After writing contemporary romances for twenty-some years, I reached a burnout point and stepped away from writing. Even though I'd walked away from publishing, I soon learned that it isn't so easy to walk away from writing. I'd been toying with the idea of writing mystery for a while, and even bought books and studied the genre. The book I wanted to write was about a Shakespearean actress who become a Pinkerton agent and uses her acting ability "undercover" to solve crime. So, not only did I need to learn to write mystery, I needed to learn how to write a historical as well.
I did a lot of research on the Pinkerton National Detective Agency and the famous crime buster's personality and methods. I was thrilled to learn that Allan Pinkerton hired the first female detective, Kate Warne, as well as others through the years. He also hired several actresses. In a time when women were stuck at home and either smothered and coddled or exploited and treated like chattel, he actually believed women were smart and capable and assets to his operation.
Researching traveling theater troupes was a must. Learning what their lives were like, and how they were looked upon as they traveled from venue to venue was eye opening. For example, utility actors often knew more than 100 parts. Libraries and historical societies provided information about everything from the layout of the town in my book to what certain theaters or opera houses looked like and where they were located.
Since Lilly Long, my heroine, is an actress, and I wanted to tie her two careers together, I thought it would be great to use lines from Shakespeare for the titles. I have spent days pouring over quotes, looking for those that lend themselves to the story ideas I have in mind.
I found a lot of lines about murder or death, but I wanted something subtle that spoke to the plot, not something that sounded like a slasher story. I called the first book COME TO DUST, a reference to the end we all come to, but when I sold to Kensington Publishing, we changed it to AN UNTIMELY FROST, a reference to the plot, that death often comes too soon. Book two, which will be released in May of 2017, is called THOUGH THIS BE MADNESS, and the tentative title for book three is THIS MISERABLE DEATH.
I also want to use the available forensics in each book, even though there isn't much available for that time period. I also made Lilly impulsive, hardheaded and smart. Sir Pierce Wainwright, a man surrounded by his own mystery who may or may not be her father, took her in after her actress mother was killed by an angry lover, and has given Lilly the equivalent education of a young English male.
From the beginning, I saw Lilly as a complex character, one who was very different from the women of her time. Traveling actors lived a nomadic life that was in many ways sheltered, but women who "trod the boards" were treated as equals by their male peers. That life has left Lilly unprepared to deal with a silver-tongued stranger she meets at the train depot, marries within a month, who then steals her life savings and disappears.
Coupled with her mother's death, this causes her to realize what easy targets most women are for unscrupulous men. Determined to bring justice to those women she can by exposing the men who take advantage of them, she answers a newspaper ad for a female Pinkerton detective.
The surprising thing about Lilly is that I am a very measured, traditional woman, and here I am, writing about a woman who challenges the status quo at every turn. I remember the day I was looking up something and was shocked to see it listed under "women's issues." I hadn't once occurred to me that I was writing about a woman involved in the women's movement back in the 19th century.
It's those kind of "aha" moments, or moments when something unexpected occurs that makes writing so satisfying. Your subconscious is constantly working looking for ins and outs you may not have considered, and when that serendipitous idea hits, it's the most miraculous feeling.
AN EXCERPT from AN UNTIMELY FROST
Too upset to worry over much about being out alone at night, Lilly pulled her woolen scarf up over her head and flung the ends around her neck before stepping into the narrow back street. She soon entered the main thoroughfare where tendrils of fog writhed in the flickering glow of the gaslights, turning the few stalwart souls braving the chilly night into wraithlike phantoms.
She navigated the four blocks to the boardinghouse in no time, her annoyance and concern rising with each step. When she pushed through the doorway, a rush of heat from the foyer fireplace greeted her. She marched down the hall, mentally framing a series of questions for Timothy.
Nearing Pierce and Rose's room, she noticed their door standing ajar. That was odd. The worldly, wise Rose was generally more careful. Lilly placed her gloved hand on the doorknob, wondering if she should stick her head in and mention the oversight. While she stood there waffling, she heard the sound of a man's voice from inside the room. Sudden uneasiness caused her heart to beat faster. She'd left Pierce at the opera house.
The man spoke again, menace in his low tone. Before she could do more than acknowledge that something was terribly wrong, she heard the sickening, somehow familiar, sound of flesh meeting flesh. She slumped against the wall, squeezing her eyes shut and covering her ears in an attempt to block out the onslaught of memories that sought freedom from the place she'd banished them eleven years ago…fighting the craven desire to escape into the dark vortex of unconsciousness.
BIO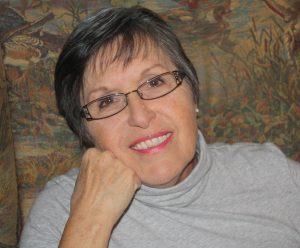 Penny Richards has been publishing since 1983 with just over 40 books to her credit. Mostly contemporary romance, her books have won several industry awards, including a Romantic Times Lifetime Achievement Award and a RITA nomination, and have made many best seller lists. She currently writes the "Wolf Creek" series for Love Inspired Historical  for Harlequin. Book five, WOLF CREEK WIFE will be released in  August,  and AN UNTIMELY FROST,  the first book of the "Lilly Long Mystery" series for Kensington Publishing will also debut in August.
AN UNTIMELY FROST: In 1881 Chicago, the idea of a female detective is virtually unheard of. But when famed crime buster Allan Pinkerton opens his agency's doors to a handful of women, one intrepid actress with her own troubled past is driven to defy convention and take on a new and dangerous role.
BUY LINKS 
Available for pre-order on Amazon and Barnes and Noble:
Wolf Creek Wife (book 5) www.amazon.com/Wolf-Creek-Wife-Inspired-Historical
http://www.barnesandnoble.com/s/wolf+creek+wife?
An Untimely Frost (book #1 www.amazon.com/Untimely-Frost-Lilly-Long-Mysteries
http://www.barnesandnoble.com/s/an+untimely+frost?
Website: www.pennyrichardswrites.com
Facebook: Penny Richards, Author
Twitter: @pennyRwrites
email: pennyrichardswrites@yahoo.com