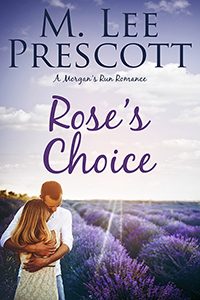 Thank you, thank you, Cindy for welcoming me again. I love this blog and learn so much from fellow authors. For this entry, I want to highlight my newest title, Rose's Choice, # 4 in the Morgan's Run Romances series (#5 coming early new year!), see excerpt below, but thought I'd say a few words about the challenges of multiple series.
If someone had told me thirty-five years ago when I wrote my first novel, that someday I'd not only be selling well, but juggling three popular series, one the Morgan's Run Romances, and two other series, Roger and Bess Mysteries  and the Ricky Steele Mysteries, I'd have said she was crazy. Yet, here I am like so many writers, trying to keep characters, places and voice consistent while penning three very different series. The Ricky Steele books are complex, multi-layered mysteries laced with humor and dark places. Ricky's stories are told in the first person, her distinct voice as much a character as her friends and acquaintances who people these books. Ricky lives on the river, but works in a gritty mill city that has definitely seen better days.
The quiet village of Old Harbor provides the backdrop for Roger Demaris and his team of detectives as they work to undercover secrets and apprehend killers. They are often assisted by Bess Dore, an art teacher at the village's Quaker school, who is Ricky's polar opposite—quiet, demure and self-effacing. As the series progresses, hot-headed Demaris discovers mindfulness, the silence offering him respite from his dark, dangerous work. In book two of the Ricky Steele books, Gadfly, Ricky and Roger meet and work together. The clash of personalities and character chemistry was lots of fun to write. Ricky also appears in my book, Jigsaw, at present a stand-alone mystery, but meant to be the first in a fourth series—the Juls and Tuck Mysteries. Yikes, how to drive oneself crazy!
Finally, there are the Morgan's Run books and their setting in a beautiful southwestern valley, a fertile oasis ringed by mountains and desert. Although they are sexy romances, these books are very much a family saga, the large Morgan ranch drawing Ben and Leonora Morgan's offspring home where they find refuge and love along with their friends and valley residents. I will admit that these books practically write themselves. Each return to the Valley is joyful for me. I love these characters!
So… the juggling part. It's challenging, but I have found that I actually love working on several books simultaneously. For example, one of my current projects, Find the Children (Ricky Steele #4) is challenging with multiple plot lines, and many characters and situations. I often write myself into a corner and have to take a break from Ricky and the dangers she faces. This is also a much darker plot than I've told before and many days I wonder if I even want to tell this story about this beloved character. At such moments, I return to the Valley. Writing about the warm, loving Morgan family provides such a welcome break from the mean streets. Book #4 of the Roger and Bess mysteries is mostly still in my head, with a folder full of notes and clippings, but thinking about it is exciting. It's a story I can't wait to begin when time permits. All these musings, jumbled together in one big soup keep me writing!
Did I mention that I have a full-time job and four precious grandchildren? Frequent sabbaticals and generous vacation time help with the writing progress. I hope "someday" to get back to revisions of ten other stand-alone novels and the next adventure for Juls and Tuck. Just writing all this makes me exhausted, but also exhilarated. J I really love what I do – full-time job, writing, and family — so every day is joyful no matter what!
Please enjoy the sample of Rose's Choice below and I hope our paths cross in future!
Cheers,
Lee
EXCERPT
Rose's Choice
Book 4: Morgan's Run Romances
Facedown, forehead on Gracie's cool granite counter, Sam Morgan groaned. My life, or at least my career, is over, and there isn't a goddamn thing I can do about it. The café owner emerged from the kitchen with his burger, curly fries, and iced tea and set the food in front of him. "What's this? Valley's famous architect havin' a bad day?"
He gave the tall, thin cook a crooked smile. As usual, there were flecks of food sprinkled in her frizzy salt-and-pepper hair. "Something like that. Thanks, Gracie. This looks great."
"What're you doin' in town, anyway? Your dad's always claiming you can't get outta Flagstaff."
"I'm out at Spark Foster's. My team's called so many times since construction began, I decided to come down for a few days."
"I hear it's a doozy."
"Gonna be cool. Spark's got great taste."
"And deep pockets."
Sam groaned as he bit into his burger. "God, this is good. Nothing like this in Flagstaff."
"Baloney," she said, a pleased grin on her face. "So, Foster's house is a castle, I hear."
He raised one eyebrow. "Would I design a castle and spoil the valley? It'll fit right in with the landscape, promise."
"Got it hugging a mountain, do ya?" Her gray eyes looked up as the café door swung open and Rose Dillon walked in. "Gotta get back to work, but here's someone to cheer you up." With a nod to the young woman, Gracie disappeared through swinging doors.
Sam turned and waved as Rose approached. Lovely as always, he thought, a pang of guilt washing over him as the lithe ash blonde neared the counter, her soft hazel eyes full of warmth. It had been almost a year since he'd seen her. In true Morgan style, he had flirted shamelessly with her at his sister's wedding. In fact, they had danced nearly every dance together. He knew she was interested, very interested, so what did he do? Hightailed it back to Flagstaff right after the wedding and hadn't called or written since. What a shit you are, Sam Morgan.
"Hi, Sam. This is a surprise." The Morgan boys were all gorgeous—God's gift to women, or so their reputation went—and Sam was no exception. His longish, dark brown hair fell over one eye, and his soft chestnut-brown eyes held a mischievous light, even today, when he looked a little down in the dumps.
               Warning bells clanged as Rose slipped onto a stool beside him. Poor guy looks like he's lost his best friend, but it's his problem, not yours. Stay away. Don't get involved! This is the second Morgan brother to break your heart.
"Hey, Rose. How're you doing?" He pushed a lock of hair from his eyes, smearing some of Gracie's special burger sauce across his cheek. Rose resisted the impulse to reach forward and wipe it off, her senses on high alert with him so near.
"You've got a bit of sauce on your face," she said.
He flushed crimson and grabbed a napkin, dabbing his cheek. "Better?"
"Yes." Rose smiled, unable to look away from the dark eyes. A runner, Sam Morgan was thinner, lankier than his three brothers. "Are you here working on the Foster house?"
"Guilty as charged."
"I hear it's beautiful."
You are too. What kind of an idiot turns his back on a gorgeous, well-respected pediatric neurosurgeon? Although she was smiling, her hazel eyes regarded him warily. Hair loose, she wore a diaphanous, sleeveless top, a light blue linen skirt, and beige sandals, her only adornment a thin silver necklace inlaid with turquoise and matching earrings. He suddenly realized he had been staring for several moments, holding the dripping burger in one hand.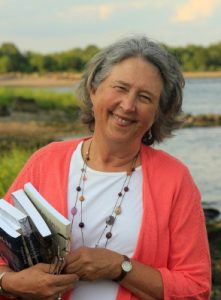 About Lee:
She writes in several genres of fiction—Mystery, Historical, Western Romance, Contemporary Romance, Romance Suspense, and books for children and young adults. Among her titles are Prepped to Kill, Gadfly and Lost in Spindle City (Ricky Steele Mysteries), Jigsaw, A Friend of Silence, Widow's Island, and Song of the Spirit. Song of the Spirit was a finalist The 2014 International Digital Awards for Historical Fiction for Young Adults. She published five new titles in 2015, Hestor's Way, a contemporary romance and In the Name of Silence and The Silence of Memory books two and three in the Roger and Bess Mysteries. The Morgan's Run Romances series debuted in August 2015 with Emma's Dream (a finalist in the 2015 Readers' Choice Awards), followed by books two and three, Lang's Return and Jeb's Promise. Rose's Choice is book four. She is currently drafting (in head and on paper) book four in the Ricky Steele mysteries and the Roger and Bess mysteries.
Lee's "day job" is as professor at a small New England liberal arts college. Her scholarly work centers on social contexts within which children learn and she is the author of three works of nonfiction. Her current research examines the impact of mindfulness on readers and writers, work that brings her tremendous joy and satisfaction.
She lives in southeastern Massachusetts on a beautiful river. She is the mother of two sons and spends lots of time with them, their beautiful wives, and her four beloved grandchildren. When not teaching or writing (both of which she adores), her passions revolve around family, yoga, swimming, teaching mindfulness to children and adults, and walking. Lee loves to hear from readers. Email her anytime at mleeprescott@gmail.com, and visit her website to hear the latest and sign up for her newsletter.
AUTHOR WEBPAGE AND NEWSLETTER SIGN UP
Connect with M. Lee Prescott
WEBSITE                                            AMAZON AUTHOR PAGE                               GOODREADS
BUY LINKS