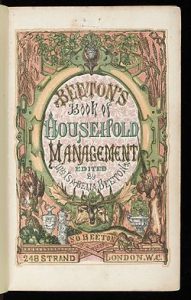 Thanks so much to Cynthia Wolf for her gracious invitation to return as today's guest to her blog. You know me…I love to chat about ALL THINGS HISTORICAL and this visit is no exception. I'll share a bit about me, my USA Today 'recommended read' love stories, as well as a lil' tidbit in regards to the time period I love so much: The Victorian Era. A well-bred woman from the mid-1800s was called 'The Household General', which is a term coined in 1861 by Isabella Beeton in her manual "Mrs. Beeton's Book of Household Management".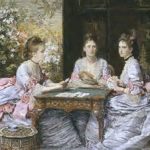 Accordingly, she explained "…the mistress of a household is comparable to the commander of an army. To run a respectable house and secure the happiness, comfort and well-being of her family she must perform her duties intelligently and thoroughly." Although Mrs. Beeton died in 1865, her book continued to be a best-seller that was well-loved by her upper class readers who had a large complement of domestics. And yet, even with these daily accountabilities, a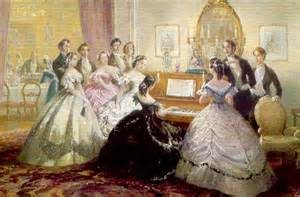 well-bred Victorian lady still had time to enjoy all manner of pastimes. Other than, of course, passementerie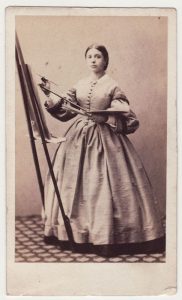 [needlework – for a lady's hands were never idle], inside activities ranged from cards, playing musical instruments, and oil-
painting, etc…to all manner of outdoor undertakings such as crochet, archery, and horseback riding. Indeed, the life of a wealthy woman in this time-period was a well-orchestrated blend of duty AND fun.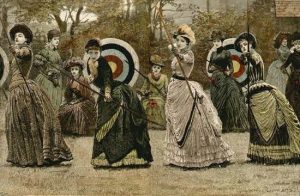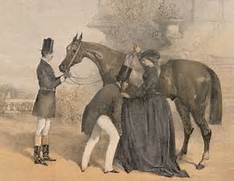 And now a lil' bit about me: Say hello to Bestselling Historical Romance writer, CINDY NORD…the USA Today 'Recommended Read' author of NO GREATER GLORY, the #1 Civil War Romance at Amazon for over one full year, and book one in her four-book 'The Cutteridge' Series. WITH OPEN ARMS, book two, debuted in August, 2014, and zoomed straight to a #1 Bestselling Western Historical Romance. Book three, AN UNLIKELY HERO, made its debut July 1st, 2016, and by midnight hit the 'Top 100 Romances' list at Amazon. Book four, BY ANY MEANS, is due for release July, 2017. Cindy is also honored to be a contributing author alongside notable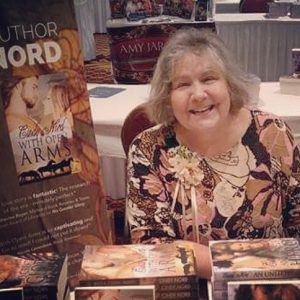 NYTimes writers in the delightful SCRIBBLING WOMEN & THE REAL-LIFE ROMANCE HEROES WHO LOVE THEM. All proceeds from this non-fiction anthology go straight to charity. She is a member of numerous writers groups, and her work has finaled or won countless times in competitions — including the prestigious Romance Writers of America National Golden Heart Contest. Even PBS Television came calling to interview her regarding her love of writing. A luscious blend of history and romance, her stories meld both genres around fast-paced action and emotionally driven characters. Please follow Cindy at her Facebook page [https://www.facebook.com/cindy.nord.9 ] for her Monday-thru-Friday morning "Coffee Klatch" — as well as on Twitter at @cnord2. Indeed, true love awaits you in the writings of Cindy Nord.  Long live historical romance. ♥
Cindy's books: https://www.amazon.com/Cindy-Nord/e/B008VJZSPE/ref=sr_ntt_srch_lnk_1?qid=1480369071&sr=8-1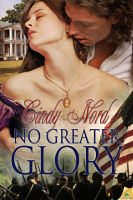 NO GREATER GLORY:
Amid the carnage of war, he commandeers far more than just her home.
Widowed plantation owner Emaline McDaniels has struggled to hold on to her late husband's dreams. Despite the responsibilities resting on her slender shoulders, she'll not let anyone rip away what's left of her way of life—particularly a Yankee officer who wants to set up winter camp on her land. With a defiance born of desperation, she defends her home as though it were the child she never had…and no mother gives up her child without a fight.
Despite the brazen wisp of a woman pointing a gun at his head, Colonel Reece Cutteridge has his orders. Requisition Shapinsay—and its valuable livestock—for his regiment's use, and pay her with Union vouchers. He never expected her fierce determination, then her concern for his wounded, to upend his heart—and possibly his career. As the armies go dormant for the winter, battle lines are drawn inside the mansion. Yet just as their clash of wills shifts to forbidden passion, the tides of war sweep Reece away. And now their most desperate battle is to survive the war with their lives—and their love—intact.
Zip over here to read the opening:  https://amzn.com/B008GWOI9S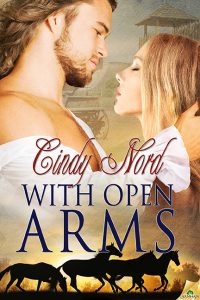 WITH OPEN ARMS:
A war-weary ex-soldier.  An untamable hellion.  Love doesn't stand a chance in hell…
Hardened in childhood by the death of her parents, then left to run the family's southwestern territory ranch when her brother rode off to fight for the Union years before, Callie Cutteridge hides her heartbreak behind a mask of self-sufficiency. Breaking horses for the army proves she's neither delicate nor helpless. When a former cavalry officer shows up claiming to own her brother's half of the Arizona ranch, she steels herself to resist the handsome stranger's intention to govern even one single aspect of her life. After all, loving means losing…to her it always has.
For months, Jackson Neale has looked forward to putting the bloodstained battlefields back east behind him. Callie isn't the agreeable angel her brother led him to believe, but he's damned well not the useless rake this foul-mouthed hellion thinks he is, either. His quest for calm stability contradicts sharply with her need for control, yet still their heartstrings tangle. But how can these mistrusting partners transform their fiery passion into a happily- ever-after when all Callie knows how to do is fight…and all Jackson wants is peace?
ZIP over here to read the opening:  https://amzn.com/B00KT23WO0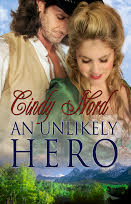 AN UNLIKELY HERO (for a limited time only .99¢):
 He's a hard-as-stone man with a broken past…and she's a reminder of all he's lost.
Rugged army scout Dillon Reed has met his match in spoiled Boston debutante Alma Talmadge, but an unwanted assignment escorting the beauty across the wilds of America soon evolves into a journey of monumental change for them both. With killers hot on their trail, the odds of staying alive are stacked against them…and yet, falling in love was nowhere in their plans for survival.
ZIP over here to read the opening:  https://amzn.com/B01HMVIAYW
CONNECT with Cindy via her SOCIAL MEDIA LINKS:
My webpage:   https://www.cindynord.com  
My Amazon Author Page:  https://amazon.com/author/www.cindynord.com  
An Unlikely Hero buy link:   https://amzn.com/B01HMVIAYW  
No Greater Glory buy link:   https://amzn.com/B008GWOI9S  
With Open Arms buy link:  https://amzn.com/B00KT23WO0  
Barnes & Noble NOOK link (With Open Arms) buy link:   https://www.barnesandnoble.com/w/with-open-arms-cindy-nord/1119742281?ean=9781619225435  
Barnes & Noble NOOK link (No Greater Glory) buy link:    https://www.barnesandnoble.com/w/no-greater-glory-cindy-nord/1112120177?ean=9781619212435  
Barnes & Noble NOOK link (An Unlikely Hero) buy link:   http://bit.ly/29irk5j  
Apple/iBooks (All Three Books) buy links:   https://itunes.apple.com/us/book/an-unlikely-hero/id1128489909?mt=11&ign-mpt=uo%3D4      
Facebook 'Coffee Klatch' site:    https://www.facebook.com/cindy.nord.9  
Twitter:   https://twitter.com/cnord2  
Goodreads (With Open Arms):  https://www.goodreads.com/book/show/22441708-with-open-arms
LinkedIn:   https://www.linkedin.com/profile/view?id=25784664&trk=nav_responsive_tab_profile
Google+:  https://plus.google.com/u/0/+CindyNord9/posts/p/pub  
Pinterest:  http://www.pinterest.com/cnord2/