What genre(s) do you write in and why?
I started with just straight mystery, and having written six books in my first series, I realized I had more to offer. I'd been writing screenplays for several years, and I write much darker, more thriller or romantic suspense for that medium, and I wondered why I hadn't gone that route for  novels. As of 2015, I'm branching out, I'm adapting three screenplays into novels, and I'm starting a New Adult cowboy series. The NA romance was a given, and what I'd always planned to write if I ever finished a novel, because I grew up with cowboys and rodeo, and I was astonished at how many bestselling authors were getting it wrong.
I guess I'll really be branching out in 2015, as I have the NA Cowboy Up series, and my new Uncertain Mysteries series both launching, and if I have enough time, I'll be writing stand alone thrillers from my screenplay adaptations. A little overwhelming, but we'll see just how much I get done.
What genres are you drawn to as a reader?
As a reader, I love mysteries, romantic suspense, thrillers, and I've gotten hooked on the new adult genre in the last couple of years. I branch out once in awhile and read historical romance, and a few other genres, but those are my go to type of books.
How many books have you written? Do you have a favorite?
I have completed six novels, and three novellas. The Gotcha Detective Agency has a place in my heart, because those books put me on the USA Today bestseller list, and my favorite is always the last one I wrote. But in this case, it's the one I haven't written yet. Who Gives a Split will release in mid to late 2015 (depending on how fast I write), and I'm super excited about this one.
Tell us about your current series/WIP.
I'm super excited about my first romantic suspense novella, a prelude to my D.E.A.ling series coming in late 2015 or early 2016. It's in the collection called Call Me Valentino. I've included an excerpt from that story here.
The Gotcha Detective Agency mysteries are my first series, but I'm starting a new one called Uncertain. The first story, a novella, has already been release. The Uncertain series is set in Uncertain, CA, situated at the foothills of the Sierra Nevadas, and just a short drive to Lake Tahoe. The series revolves around the uniformed police officers of Uncertain Police Department.
This series was inspired by my trip to New Orleans last May. I had dinner with the Thibodaux chief of police, and several of his officers, while I was there. The chief set me up on a ride-along with one of his officers. This eight hour ride-along sparked my idea to write a series about the unsung hero of our streets, the boys and girls in blue.
What inspired your latest book?
The first novel in the Uncertain series is called Uncertain Calm, and it was inspired by a story I read (on Facebook) from my hometown newspaper. The story resonated with me enough to make me want to fictionalize it, and make it my debut for the Uncertain series. But in the mean time, I was part of a collection of novellas, and so I wrote Uncertain Beginnings as the prelude to the series.
Are you a plotter or a pantser?
I started off as a pantser. I wrote as the words came to me. Now I'm a plotter, of sorts. I lay out the story, outline, and then I plot the perfect murder. Then I poke holes in it. Then I pick my suspects and write the story. Now I become a pantser, because when I start writing, I haven't decided who the killer is. As a matter of fact, I write the story as if any of my suspects could be the killer, and then I decide in the last few chapters "who done it." So when people say they knew who the killer was, I'm glad for them, because I don't even know until the end. So in this way, I'm a hybrid.
Do you write under a pen name? Why or why not? How did you choose it?
Yes, I write under a pen name. I'm not sure why I chose it, except my married name is difficult for people to spell and pronounce. I wanted to be easy to spell and look up. The name is a combination of mine and my husband's.
What do you have planned for the future?
My future includes writing the two series I have currently, and delving a bit into new adult. The trilogy I'm writing will decide if I stay with writing in that genre.
I'm also planning to start my Indie Girl's Guide to Self-Publishing podcast. It was supposed to launch last summer, but I had surgery, and that threw my entire year out of whack. With the books I had set for 2014, I didn't have time to rev up the podcast. I'm hoping it will launch in April 2015, or sooner. www.indiegirlselfpub.com for details.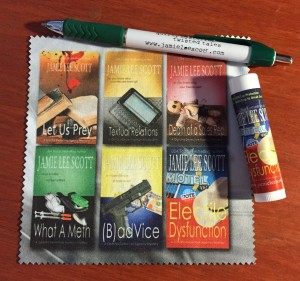 Thank so much for having me! I enjoyed answering these questions, and I'd be happy to answer any others.
I'm giving away a little "swag trio" to one of the commenters. It's been fun!