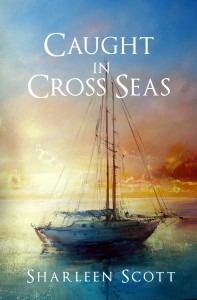 The opening salvo in my novel, Caught in Cross Seas, is a current hit by Miranda Lambert and Carrie Underwood, "Somethin' Bad." If there isn't something bad about to happen in a romance novel, there is no story.
Ask most authors and they will tell you music has an important place in their writing process. Stephen King famously mentions in On Writing: A Memoir of the Craft how AC/DC, Guns N' Roses, and Metallica play a part in the creation of his novels. Music is also an important element in my writing but in a different way. There isn't a stereo on while I work, but a book soundtrack runs through my head while I'm crafting scenes and it's almost always country.
My love of country music blossomed in the 80s with the rise of George Strait. When I decided to write a romance novel, the idea of using country music as a backdrop grabbed me and wouldn't let go. The way women respond to male stars added credence to my choice to fashion a country music superstar for my hero, and Clay Masterson—Montana cowboy, singer, songwriter, and guitar genius—was created to star in my contemporary romance/mystery Caught in Cross Seas.
In the process of writing the novel, I watched and listened to interviews with the stars on GAC and Kix Brooks's American Country Countdown and discovered I could do just about anything to Clay and someone in the music industry could say, "Something like that happened to me." It's been said that writers must be mean to their characters—put them through horrible situations, threaten their lives, and play with their hearts—so we can offer our readers a satisfying read with a happily-ever-after ending. Country music offered me an abundance of ideas and validated my own.
I listened to song lyrics too. Country music is all about stories and nearly every facet of the human condition has been expressed in a country song. The lyrics make you laugh, cry, want to take a drink, throw a punch, or stand and salute the flag. They made me want to write.
The book soundtrack mostly runs through my head, but I do mention artists in the story on occasion, and I'll admit to blatant use of Trace Adkins's "Ladies Love Country Boys" in the background of the bakery fan-attack scene. I couldn't resist.
What songs make up the Caught in Cross Seas soundtrack? Here are a few of the most influential. Some are hits; some are album cuts. I've avoided spoilers.
Alan Jackson's "Country Boy" hits the mark with his offer to help a damsel in distress mixed with some fun double entendre. In my story, Harlie Cates needs help and Clay is just the guy to offer it, as well as his heart.
After some missteps, altercations, and insecurities exposed, love begins, and Lady Antebellum's "Can't Take My Eyes off You" is a perfect mood setter for romance.
And where love begins, a black moment must try to end it. Lady Antebellum again offers the ideal vehicle for heartbreak with "As you Turn Away." If this heart-wrenching breakup song doesn't inspire an author to quickly write a make-up scene to stop the suffering, nothing will.
When it's over and the bodies are buried, the bad guys are caught, and the wounded hearts are healing, our tortured heroes are ready to start life together. How about a little Louie Armstrong to send them on their way? He isn't country but a legend transcending time and genre. I think his "What a Wonderful World" is a perfect way to say, The End.
But let's not stop there. I have a bonus track. The second book in the Caught series will be released in October. Caught in the Spin stars Clay's best friend, former bull rider Tom Black, and single mom Tallie Peters. And what song opens this book's soundtrack? Trace Adkins's powerful performance of "I Can't Outrun You," because Tom doesn't know if he's being haunted by the memory of a former love or by her ghost. Stay tuned!
Thank you for allowing me to hang out here today. I'd love to know if/how music plays a part in your writing or reading. I'll be watching for your comments.
Sharleen Scott
Out West Press
Short blurb:
When country music superstar Clay Masterson finds his supposedly dead father, he wants to do two things: Buy dear ol' dad a beer to thank him for being a great father for the ten minutes he spent at it, and kick his dad's sorry butt to Montana to face an eighteen-year-old murder charge. Harlie Cates will try to stop him.
Happily ever after could be a problem for them.
Excerpt from Caught in Cross Seas
The bakery was located in the heart of Angel Beach, nestled between The Talbot Gallery and Beach Bum T-Shirts. Its façade was typical beach-town wood siding, grayed by saltwater mist. A sign in the window read: "Old-fashioned coffee—NO ESPRESSO—don't even ask." Espresso? He wouldn't bother. A jingling bell announced his arrival. Inside, a hodgepodge of secondhand tables and chairs, painted soft blues and greens. Large display cases presented cookies, cakes, and desserts. Shelves of baked goods lined the walls and the unmanned deli counter was loaded with meats and cheeses. On the radio, moderate volume: Trace Adkins' "Ladies Love Country Boys." Clay bent to get a better look at the muffins on the bottom shelf and heard a female voice.
"It's him, isn't it? Grandma said we'd catch up if we hurried."
Another voice giggled. "Oh yeah. I'd know him anywhere."
Considering she recognized his backside, he didn't take it as a positive thing. "Oh crap," he muttered when he saw the cluster of excited young women reflected in the glass case. Unfortunately, some women loved country guys too much. He aimed for nonchalance, hoping they'd go away and leave him alone. No such luck. A finger tapped his shoulder; he turned and a woman screamed, "It's him, it's him!" Chaos exploded and Clay was forced against the bakery case by a wild pack of autograph-seeking fans. Before he could react, quick hands stole his glasses and baseball cap; both would probably sell on eBay by evening.
"Ladies! I can't breathe! I'll sign some autographs if you'll back up some!" He felt a tug and heard a rip. Shocked, he realized they had hold of his blue chambray shirt and were tearing it into souvenir-sized pieces.
"Hey! This is a new shirt!" He sidestepped left and right as eager hands assaulted him from all directions like Thanksgiving diners pulling apart the turkey. "Let go, ouch! Come on, don't do that!" He hissed when he heard the tear of fabric again and was worried he'd be standing there naked if he didn't get away soon.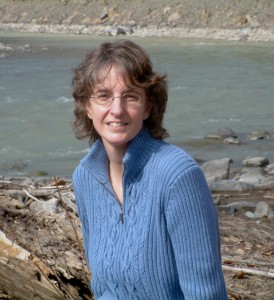 Bio:
Sharleen Scott writes contemporary romance/mystery/suspense and women's fiction. Her debut novel, Caught in Cross Seas, was published in May 2014. Caught in the Spin, the second book in the series, is scheduled for release in the fall. Sharleen is a member of Romance Writers of America. Her former career as a travel agent introduced her to fascinating and romantic locales she could draw on for her books. Her present position as a rural mail carrier keeps her firmly planted in reality, a situation her imagination does its best to thwart. Sharleen lives in the beautiful Pacific Northwest with her husband, Brett, and their two college kids.
links:
www.sharleenscott.com
www.facebook.com/pages/Sharleen-Scott-author/670018299725749