Please help me welcome Lily Rede, one of my favorite authors, to my blog. Lily is giving us a little preview of her upcoming book, THE KRINGLE BOYS – NICK. She's also offering one commentor an ecopy of THE KRINGLE GIRLS or of THE KRINGLE BOYS – NICK when it comes out later this month. This is one I'm really looking forward to as THE KRINGLE GIRLS are some of my favorite novellas. Fun and sexy.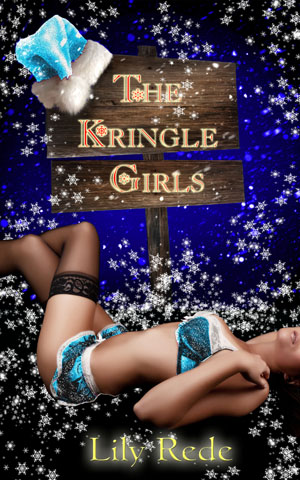 Snow is melting, flowers are blooming, Spring is sprung. What better time to talk about Christmas? When Cindy graciously agreed to have me on her blog – THANKS, CINDY!!! – I thought it would be fun to talk about how a short becomes a series. In my case, that means THE KRINGLE GIRLS, and the jump to THE KRINGLE BOYS. I've been working on NICK (THE KRINGLE BOYS #1) for the last few months, and it's been an interesting experience. THE KRINGLE GIRLS were never meant to be anything other than short stories – sexy, naughty little tales about Santa's daughters getting caught up in holiday magic, romance, and some seriously hot man candy. I was totally shocked at how much everyone seemed to love them, and the running comment I always get is – why aren't they longer?!?
So, after much clamoring, I sat down to expand the series into longer books. At first I thought I would simply start with Holly and turn her into a novella, but that felt odd – her character story felt complete to me. It may be short, but for the moment, at least, I've said what I had to say about Holly. When that didn't work, I realized that I needed to start from scratch and create new characters to populate the Kringle universe. Enter the Kringle Boys – three brothers, the sons of Jack Frost and cousins to our heroines. They know nothing about love, happiness, or warmth, but each one is going to get a chance at romance in a longer format.
The problem is that when you suddenly move from scenes to chapters, there's a whole lot of world-building that needs to happen. All the backstory on Santa's empire, the family dynamics, and the larger world that didn't exist when Noelle is seducing Will Finley in a cabin in the woods, or when Rafe is tormenting Ivy with a little magical bondage, suddenly has to be part of the story. And it all has to work together! Just figuring out the rules of elf magic has been crazy. Building up the Kringle universe has been a fun ride, but I have newfound respect for all the paranormal writers out there with seventeen books and a world that stretches out across the imagination. All I can hope is that NICK pulls my readers into the Kringle world and offers them the same sexy magic as THE KRINGLE GIRLS, while satisfying the need for a little bit more.
NICK (THE KRINGLE BOYS #1) will be available in a couple of weeks, and THE KRINGLE GIRLS Collection is available now!
THE KRINGLE GIRLS: http://amzn.com/B00AP551L8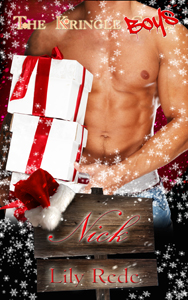 PREVIEW EXCERPT from NICK:
"Would you like a taste?"
The words popped out of him. If possible, Phoebe grew even stiffer in the doorway.
"I don't…sample," said Phoebe coldly, her tone as frigid as the icy fields of home.
"Never?"
"No."
"Because you don't like candy," he prodded.
"Yes. I mean, no. No, I don't."
"Suit yourself."
Shrugging as he dismissed the odd sensation that he was missing something, Nick reached for the sink to wash his caramel-coated hands, absently popping his finger in his mouth to suck the gooey goodness off his thumb, but another soft squeak had him looking up.
He froze.
Phoebe's eyes were wide and bright, flitting between his fingers and his mouth, her skin flushed, and she was doing a rotten job controlling her breathing as an excited little pant escaped her lips. Nick was shocked to see that the prickly half-elf was nearly bubbling over with repressed arousal. She looked ready to explode at the lightest brush of skin against skin.
Nick knew elves were susceptible to sugar – they craved it, had to have it, and used it to soothe, to comfort, and to fuel their magical ability. Phoebe claimed to dislike it, but Nick had never seen a reaction quite like this – he'd seen elves lust over candy, but she was quivering as though he'd taken a long, fat candy cane and slid it into her throbbing pussy. His inner devil grinned even as blood rushed southward.
She doesn't hate candy.
Forgetting the sink, he moved around the counter.
"What are you doing?"
Phoebe skittered around the edge of the room, avoiding him, stopping in front of the closed front door. The shades were drawn, the door frosted glass. They were completely alone.
"Sure you don't want a lick?" asked Nick, holding up his hand, moving ever so carefully closer, like a lion stalking its prey.
Phoebe stepped back until the doors prevented her from retreating further, her clipboard clutched in a death grip in front of her as though to ward him off. Bells jangled above as she pressed herself flat.
"It's good," he murmured, "Warm, buttery, rich. Perfect for drizzling all over warm skin so that I can lap it off, one delicious inch at a time."
Phoebe moaned.