Welcome Gemma! Glad to have you here today.
Thanks for having me today, Cindy!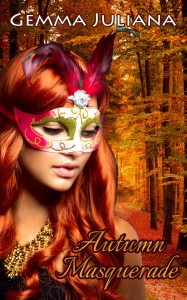 Where does autumn end and winter begin? When all the leaves have fallen, I usually consider it winter, even if the calendar hasn't made it to the winter solstice yet. How about you?
This is my favorite time of year, as I know it is for many people. It's the season of reminiscence and reflection. Not only are we in the month of giving thanks for all the people and good things in our lives, but we are planning family get-togethers and wondering what gifts will give joy to our loved ones. A gift can be a very expensive trinket or a batch of homemade bath salts or favorite cookies.
At this time of year, walking or driving by a copse of trees and viewing the colors of fall as they blend in a pattern all their own, is a feast for my eyes. I can liken it to a spiritual experience. My other great delight now is the kitchen, and all the tastes and smells of autumn – pumpkins, sweet potatoes, cranberries, gingerbread and apples. I'm more inclined to bake at this time of year than any other.
What is your favorite aspect of autumn?
I thought I'd share an unusual dessert recipe I came across that works well at this time of year. Warning: it contains alcohol. I got it from an Irish American e-newsletter and have altered it slightly. It makes enough for 6 servings.
Irish Whiskey Jelly
Ingredients:
1 tbsp. unflavored gelatin
2 cups water
1 1/2 tbsp. instant coffee (if you love hazelnut coffee this works well)
4 tbsp. sugar
3 ounces Irish whiskey
Whipped cream sweetened with Stevia and with pumpkin spice added
Instructions:
In a small saucepan over medium high heat, soften gelatin in 1/2 cup of water and heat the remaining water. Stir sugar and instant coffee into the softened gelatin and keep stirring until the gelatin dissolves. Add whiskey and remove the pan from the heat. Pour evenly into small bowls or demitasse cups and chill until the blend is firm. Serve with whipped cream over top.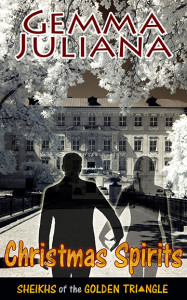 I recently wrote a holiday novella for this time of year called Autumn Masquerade. When I began planning the story I thought it would just be a Halloween story, but it quickly became clear it encompassed a theme of gratitude as well. That meant it could also be a Thanksgiving story. Once that became clear, it made a lot of sense to broaden the scope and make it a tribute to the glorious colors of foliage at this time of year. I've had more compliments on the cover of this story than on any other cover so far.
Here's a little bit about Autumn Masquerade:
Anna Spencer is a smart young woman with a corporate career that is moving in the right direction. She's also very psychic and has the gift of being able to communicate with the dead, but she learned at a very young age that she needed to hide this gift, as it brought rejection and sadness into her life, and the fear of losing those she loved. Richard Bentley, her boss, is a wealthy widow with an international chain of hotels. The burden of guilt he has carried since his wife's death two years earlier has weighed heavily on his shoulders. Can Anna successfully hide the fact she is the exotically dressed psychic at the Autumn Masquerade ball thrown by their client? Especially since she has a message for him from his deceased wife…
If you are so inclined, please tell us what kind of personalized gifts you plan to make for your family this year.
Wishing you all the very best of the season!
GEMMA JULIANA is a multi-published author who lives in an enchanted cottage in north Texas with her handsome hero, teen son and a comical dog. She loves making new friends and hearing from readers. Exotic coffee and chocolate fuel her creativity.
Connect with Gemma
GemmaJuliana.com | Twitter | facebook
Buy Gemma's Books on…
Amazon
Barnes & Noble
Kobo
Apple
SmashWords
Amazon Author Page:
Gemma Juliana