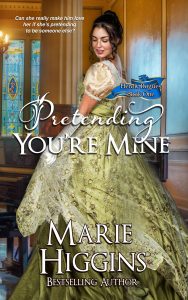 Reviews
* This was a very intriguing book; it held my attention from start to finish–so much so that I read it in one day! I liked it and would highly recommend it as a worthwhile read. ~Amazon review
* I am so pleased to be able to give this book my highest rating and recommendation. It was an absolute delight to read, and I cannot think of any portion of the book I did not like. ~Barnes and Noble review
* One of the best stories I've ever read! ~Wattpad review
* Well done❤
I count always count on your books to be well written and well thought out. I don't get to see that very often. I really love your stories. They make me… happy!
When I first wrote the Heroic Rogue Series, each book was set in the Colonial era in the US, just before the Revolutionary War. I have revised them and placed each story into England during the Regency era. It surprised me how differently the stories turned out.
GIVEAWAY – leave a comment on this blog with your name and email, and you'll be entered into a drawing to receive a free book of your choice! (I have 42 to choose from)
Heroic Rogue Series – Heroes who fight to protect their country from Napoleon's controlling hand…and men who won't give up on the women who have captured their hearts.
"Pretending You're Mine" (previously published as Take My Heart) – Portraying her twin is the only way Mercedes Maxwell can get close to her sister's husband to learn his secrets. William Braxton is confused about the sudden change in his wife, and yet, now he'd drawn to her like never before. Can they fall in love with numerous secrets between them? http://a.co/9899GMP
"After the Loving" (previously published as Falling in Love Again)  – Marcus Thorne / Captain Hawk is determined to capture Napoleon's spies, even if one is so very lovely and seductive. Isabelle Stanhope gives her heart to her captor, even if she's forced to marry a man she doesn't love. Can they fight against fate's rules? http://a.co/4A2MMbm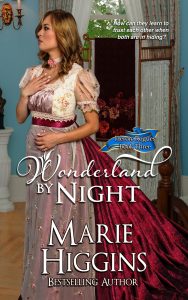 "Wonderland by Night" – Nobody must know that Lady Emiline Lucia's uncle is Napoleon Bonaparte. She must protect herself against those who hate France's emperor. Gabriel Lawrence hides his identity as a spy. How can he protect them both if a spy against the crown is always one step ahead…and wants Gabe dead? http://a.co/gCyWsns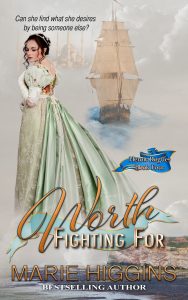 "Worth Fighting For" – Lindsay Lennox, youngest daughter of Turkey's governor, will do anything to meet and kiss a man…even sneak aboard a ship that is sailing to England. Captain Barry Braxton is heading home to take over his dying father's place, co-partnering with his uncle (William Braxton). Will the lovely stowaway stop his plans? http://a.co/hu8dWdQ
Author's Bio
Marie Higgins is a best-selling, multi-published author of Christian and sweet romance novels; from refined bad-boy heroes who make your heart melt to the feisty heroines who somehow manage to love them regardless of their faults. She's been with a Christian publisher since 2010. Between those and her others, she's published over 40 heartwarming, on-the-edge-of-your-seat stories and broadened her readership by writing mystery/suspense, humor, time-travel, paranormal, along with her love for historical romances. Her readers have dubbed her "Queen of Tease", because of all her twists and turns and unexpected endings.
Visit her website / blog to discover more about her – www.mariehiggins.com
Find her on Facebook – http://www.facebook.com/marie.higgins.7543
And Twitter – https://twitter.com/mariehigginsXOX