How did you get started writing?
I started writing poetry in high school. (many, many years ago.) About six years ago, after going through a period when the poems just wouldn't come, I decided to try my hand at writing fiction. And I haven't stopped!
What genre(s) do you write in and why?
I'm currently wring an urban fantasy/paranormal romance series (The Free Wolves) and a cozy mystery series. (The Oak Grove Mysteries.) Although they are very different in style, they share a common denominator- strong female leads.
Tell us about your current series.
My newest release is "The Baron's Cufflinks," the third book in the Oak Grove Mysteries. My main character, Harmony Duprie, is up to her normal antics. After a less-than-stellar Girls' Night out, she becomes a suspect in a murder.
What inspired your latest book?
Harmony is an interesting character. Frankly, I'd love to hang out with her in real life. So when she lets me know that she has a story to tell, I listen. Sometimes she and I disagree on the details on the story, but she normally wins the argument.
What is your favorite part of writing?
I love starting a new story. So many possibilities for the story and my characters. It's a lot of working setting the tone for the rest of the book while getting the first few lines perfect, but if I get it right, it's such a great feeling.
What is your least favorite part of writing?
Editing. I wish I was a better writer and editing wasn't such hard work. Wouldn't it be wonderful to get done with a first draft and have it be perfect?
What is your next project and when will it be released?
I'm currently working on two projects. One is a short story for a Christmas collection. The story is tentatively titled "Love on the Dunes." The other is the third book in the Free Wolves series. It's called "Wolves' Gambit" and is the story of one of the very minor characters from the first book, Wolves' Pawn.
What is most difficult for you to write?  Characters, conflict or emotions?  Why?
Emotions are tough for me. In fact, I say that I write action with a touch of romance. I'm not sure why is so hard, but I blame it on my characters. They are so busy overcoming the obstacles that life throws at them that they don't necessarily have time to stop and think about how they are feeling. When things settle down, the emotions come all in a rush.
Give us an elevator pitch for your book.
"What starts as Girls' Night Out ends in murder and Harmony Duprie is a suspect."
Tell us about your heroine.  Give us one of her strengths and one of her weaknesses.
Harmony is a highly intelligent individual who cares about her friends and her community. Since she lives in a small town, she's able to reach out beyond her circle of close friends for assistance when it's needed. However, I suspect she had a touch of an obsessive-compulsive disorder, but has never been diagnosed. That makes for some interesting interactions with her friends and even with new acquaintances.
The Baron's Cufflinks
The Baron's Cufflinks is the third book in the Oak Grove Mysteries, and Harmony Duprie is up to her usual antics.
Blurb:
What starts as Girl's Night Out ends in murder, and Harmony Duprie is a suspect.
She's innocent, of course, but with no alibi, the sheriff's department won't remove her from the list of suspects. It doesn't help when a waitress from the bar gets beaten up and the only clue is a slip of paper with Harmony's name on it. Throw in a rookie deputy dead set on building his reputation and Harmony must tread carefully.
But caution isn't Harmony's middle name and she plunges head first into danger to defend her honor.
What she finds is a web of half-truths and suspicions implicating several law enforcement agencies, with Jake, her ex-lover, stuck in the middle of it all.
Can Harmony rescue Jake and find the real culprit before she becomes the next victim?
Excerpt
Not that I particularly liked Agent Felton. But I only knew two FBI agents and couldn't tolerate the other one. Although Felton didn't count as a friend, he wasn't an enemy either. Still, it surprised me when he agreed to meet for lunch, no questions asked.
I spotted him right away when I entered the small Chinese buffet place, his suggestion, near his office. He stuck out like a sore thumb amid the crowd of secretaries having lunch.  It had been a few months since I'd seen him, and gray hairs were now scattered in with the brown. Meeting him on his home turf meant I'd need to be on my best behavior, but I was good with that.
The restaurant's Shanghai soup dumplings were a treat and I was on my second serving when Felton wearied of our sporadic chit-chat. "You didn't call me to talk about the weather. Or to tell me you've realized that you're deeply in love with me. What is it you want, Miss Duprie?"
I could play it for kicks or play it straight. The choice seemed obvious if I didn't want to tick him off. I swallowed and looked him square in the eye. "Information. Do you know anything about a guy by the name of Tadd Foard?"
The agent leaned back in his chair, crossed his arms, and thought for a moment. "Can't say that I do. Why?"
"He was murdered a few days ago."
"And you care why?  Are you sticking your nose where it doesn't belong again?" He grinned as he raised a spoonful of the egg drop soup towards his mouth.
"I may be a suspect."
We spent the next few minutes cleaning up the soup that had sprayed everywhere.
Buy Links:
https://www.kobo.com/us/en/ebook/the-baron-s-cufflinks
Books2read Universal https://www.books2read.com/u/b5OVGp
https://www.amazon.com/dp/B072P6CD3D
https://itunes.apple.com/us/book/id1232223538
http://www.barnesandnoble.com/w/the-barons-cufflinks-pj-maclayne/1126317718?ean=2940157511692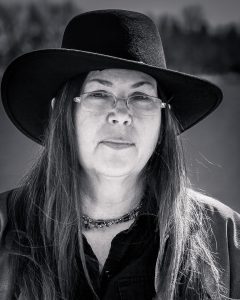 Author's Bio
Born and raised among the rolling hills of western Pennsylvania, P.J. MacLayne still finds inspiration for her books in that landscape. She is a computer geek by day and a writer by night who currently lives in the shadow of the Rocky Mountains. When she's not in front of a computer screen, she might be found exploring the back roads of the nearby national forests and parks. In addition to the Oak Grove Mysteries, she is also the author of The Free Wolves series.
P.J. MacLayne can be reached on:
Facebook https://facebook.com/pjmaclayne
Twitter https://twitter.com/pjmaclayne
Google + https://plus.google.com/u/0/+PJMacLayne/posts
Amazon http://www.amazon.com/P.J.-MacLayne/e/B00HVE8WZI
Blog: http://pjmaclayne.blogspot.com/