Thank you, Cynthia, for having me back as a guest. I believe the last time I was here was in October. I'm very excited to be back to tell everyone about my newest novella, Daring Return, which is part of the Dare To Love Amazon Kindle World. As some of you may know, my release last year, Forever Yours, was part of another Amazon Kindle World. I'll be self-publishing again in May with yet a third kindle world book, so stay tuned!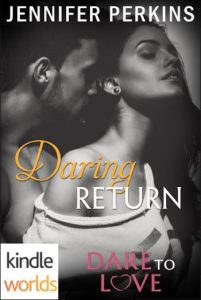 How has your experience with self-publishing been?
It's actually been an exciting experience. I was originally invited by Roxanne St. Clair to write my story, Forever Yours, in her Barefoot Bay world. This has led to being able to write in other kindle worlds, for which I'm grateful.
What advice do you have for other authors wanting to self-publish?
Writing a good story doesn't end there. After a writer goes through their story and revises many times, they should hire a professional editor. They are an invaluable part in any writing process, because no matter how good an editor you think you are, the professional editor always find something that needs to be redone. Having a published author recommend someone or looking at the acknowledgements in a book is a good place to start the search. Next, they'll want to have a good cover artist create a professional cover, and they'll also want to hire someone to professionally format the book if they don't already know the process. They shouldn't be afraid to join professional writing organizations to learn as much as possible about self-publishing. There's a lot involved in self-publishing, and doing it right will help them reach out to readers.
 How likely are people you meet to end up in your next book?
Haha, that's funny because I've also written a cozy mystery and had someone I used to work with ask if I could put him in my next mystery as the dead body. I recently ran a contest where everyone knew the prize was the winners name in a future book, so that wouldn't be an issue because it was up front. Other than that, I can see putting people's habits or quirks in a book. We're all different and we run across many unique people all the time with the same habits but, other than a contest winner's name, I wouldn't write anything that identified anyone. I just don't know how someone would react.
Do you write every day? Every week? Odd times?
I definitely write every week and try to write every day. I haven't gotten my routine down where I could tell you I write thousands of words every day. Sometimes the words don't flow as easily as I'd like. I'm up early every morning writing before breakfast and sometimes I'm even at my computer until 1 in the morning writing. So, I don't have a set schedule, but I try to get some words written every day.
If you weren't writing as a career, what would you be doing?
Okay, that's a joke, right? Ha, I can't imagine not being able to write! I have so many different story ideas that I don't think I'll ever stop writing. I know I said that sometimes the words don't flow as easily, but that's different than not knowing what story you have in mind. One thing people don't know is that I've written several children's stories. They're not published, but that's one avenue I'd like to pursue in the near future.
I'd like to thank you for hosting me today and I hope everyone enjoys my new novella.
I'll end with my book blurb:
Rose Perez is a physical therapist who shares a secret with Miami Thunder halfback, Bruce Hawkins. They also have separate careers outside of their shared world that could become derailed if their secret gets out. Neither had wanted a relationship.
Does Rose have what it takes to look past the life Bruce is trying to portray or is she starting to fall in love?
Bruce decided early in life that true love was something other men wanted. Does he have what it takes to help Rose find real happiness without risking his heart?
EXCERPT
Before Bruce could say anything else, he heard the slam of Rick's phone in his ear. The noise factor was probably one of the reasons Rick hadn't used his cell. After the falling out he had with Rose, Bruce decided she'd be the best person to work with. He'd acted as a jerk, not letting her explain what happened. He needed to give her the benefit of the doubt and if he had to, he'd apologize to her. This day couldn't get any worse. Then Bruce's phone rang and he saw Randy's number on the display.
"How much are you looking for or are you calling to tell me you found a real job?"
"That's no way to greet your little brother," Randy said.
"You stopped being my brother when you decided drugs, booze, and women were more important than family." Bruce got out of his car and slammed his door shut in frustration. This was one conversation he'd rather not have.
"That's why I'm here. So we can bond. Actually, it was mom's idea. She suggested I crash here with you a while. You know, maybe pick up some kinda inspiration."
Bruce had just gotten in the elevator and punched the number for his floor when his brother's request registered with what he said. "What do you mean crash here? Where the hell are you?"
"Sitting on your couch looking at the great views you have. You know you've got a really nice place."
Bio:
Jennifer Perkins grew up in a small New England town where quaint neighborhoods still remain hidden. This combination has led to a sweet mix of her love of family, romance, and imagination.
With a degree in Marketing, she's held a potpourri of jobs. She's an active member of RWA. Her two young adult children, while pursuing their careers are, with her husband, her greatest cheerleaders. Jennifer lives in Florida with her husband. When she isn't dreaming of interesting ways to enable everyone to join in her characters' lives, she loves to spend time with family, garden, dabble in photography, and go for long walks on the beach.
Links:
Website:    http://www.authorjperkins.com/
Facebook:  https://www.facebook.com/authorjperkins
Twitter:      https://twitter.com/AuthorJPerkins
Pinterest:    https://www.pinterest.com/authorjperkins/
Goodreads: https://www.goodreads.com/author/show/15968745.Jennifer_Perkins
Buy Link:
https://www.amazon.com/dp/B06XC5WTST/ref=la_B01M992WVJ_1_2?s=books&ie=UTF8&qid=1488261204&sr=1-2