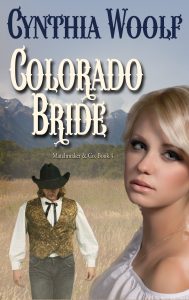 My newest book is called Colorado Bride. It is book 4 in the Matchmaker & Co series. Below is an excerpt for your entertainment.
Blurb
Emily Loring survived the last few years as a governess to a rich family's children. But when the lord of the house can't keep his hands to himself, she's left with no option but to risk everything as a mail-order bride. Raised in a New York orphanage, she's always dreamed of a husband and children of her own, but even that small dream always felt out of reach. The city is all she's ever known, but the promise of a family, a place to call home, drives her to risk everything and head for the wilds of the Colorado Territory, and the arms of a stranger.
Ben Logan fell in love once, to a city girl who left him at the altar to run off with another man. A mail-order bride appears to be the answer to his need for a wife to warm his bed, as long as she loves the country life as he does. He doesn't need much, but he won't risk his heart again. When Emily arrives, her curves tempt him nearly as much as her smile. But his ex-fiancée is back, and determined to have Ben for herself, even if it means murder…
EXCERPT
While Ben unloaded the grain from the wagon, Emily walked over to one of the stalls. Inside were a beautiful golden horse and a pure white baby one.
"They're so beautiful. The mama with her yellow coat and white hair on her neck is striking. Will the baby stay white or change color?"
"The mare is a palomino and, yes, more than likely, the colt will gain the same coloring as he gets older. But he could possibly stay white, which is what I'm hoping for."
She turned to face him where he stood at the end of the wagon.
"Will you teach me how to ride? I don't know anything about horses, but I believe that I should learn in case I need to go somewhere."
He shrugged. "Sure I'll teach you. I'm surprised you don't know anything about ranching. I was pretty specific about it as one of my requirements."
"You said you wanted someone with farming or ranching experience, I know how to milk cows and gather eggs which qualifies, and I'm willing to learn whatever else I need to. I'm a fast learner."
The mare came up to the stall gate where Emily stood. She turned and reached over to pet the horse. Her nose and mouth felt like velvet.
"Oh, she's so soft. I never imagined…"
Ben came up behind her.
"Her name is Champagne, because of her coloring. She doesn't belong to anyone yet. Would you like her?"
"Oh, yes. Can she really be my horse?"
He must at least like me or he wouldn't gift me with my own horse, and such a beautiful one to boot.
"Yes."
She turned and Ben was standing right there. Emily reached up, snaked her hand behind his neck and brought his head down to hers. Remembering the kiss he'd given her at their wedding, she mimicked that kiss. She meshed her lips with his and opened just enough to put her tongue out and touch his lips. She felt him smile and open for her exploration.
He let her take what she needed, let her control the kiss and she was pleased. When she finally pulled back she was breathless and her body hummed with awareness of him.
He held her with his arms wrapped loosely around her waist.
"Well, that was some kiss, wife."
"Just following your lead…husband."
She liked the sound of that. Husband. She'd begun to believe that she'd never marry and certainly never to anyone like Ben. His arms were strong with muscle, she felt them through his shirt. His stomach was flat and hard. She felt that, too. And she could tell his manhood was primed for her as well and knew she blushed.
"Now, look at what you've done to me. I can't go to the house like this. You better stop kissing me."
She smiled and shook her head. "Nope. You can ask a lot of things of me, but that isn't one of them. I'll always kiss you. Even when we fight, I'll kiss you because no fight is worth my marriage. And kissing reminds us that we are married."
"All right, I agree. Besides, I like kissing you."
She raised an eyebrow and cocked her head. "You should. I only know what you taught me."
He tightened his hold on her. "And that pleases me."
"Why? You've kissed other girls and that doesn't bother me. Why should it bother you if I'd kissed another man?"
"Because I want to know that I'm the only man in your life, at least until we have sons."
The thought of having babies and how babies are begot made her blush. At this rate she'd be colored pink all the time.
LINKS
Amazon Worldwide~ http://getbook.at/ColoradoBride
B&N~ http://www.barnesandnoble.com/w/colorado-bride-cynthia-Woolf/1125636394?ean=9781938887871
Kobo~ https://www.kobo.com/us/en/search?Query=colorado+bride+by+cynthia+woulf
iBooks~ https://itunes.apple.com/us/book/colorado-bride/id1202592775?mt=11
BIO
Cynthia Woolf is the award winning and best-selling author of twenty-five historical western romance books and two short stories with more books on the way.
Cynthia loves writing and reading romance. Her first western romance Tame A Wild Heart, was inspired by the story her mother told her of meeting Cynthia's father on a ranch in Creede, Colorado. Although Tame A Wild Heart takes place in Creede that is the only similarity between the stories. Her father was a cowboy not a bounty hunter and her mother was a nursemaid (called a nanny now) not the ranch owner.
Cynthia credits her wonderfully supportive husband Jim and her great critique partners for saving her sanity and allowing her to explore her creativity.
WEBSITE – cynthiawoolf.com/
NEWSLETTER – bit.ly/1qBWhFQ
TITLES AVAILABLE
A FAMILY FOR CHRISTMAS – A Montana Sky Series Novella – Kindle Worlds
KISSED BY A STRANGER – A Montana Sky Series Novella – Kindle Worlds
THORPE'S MAIL-ORDER BRIDE – Montana Sky Series – Kindle Worlds
THE HUNTER BRIDE – Hope's Crossing, Book 1
THE REPLACEMENT BRIDE – Hope's Crossing, Book 2
THE STOLEN BRIDE – Hope's Crossing, Book 3
THE UNEXPECTED BRIDE – Hope's Crossing, Book 4
GENEVIEVE, Bride of Nevada, – American Mail-Order Brides Series
GIDEON – The Surprise Brides
MAIL ORDER OUTLAW – The Brides of Tombstone, Book 1
MAIL ORDER DOCTOR – The Brides of Tombstone, Book 2
MAIL ORDER BARON – The Brides of Tombstone, Book 3
NELLIE – The Brides of San Francisco 1
ANNIE – The Brides of San Francisco 2
CORA – The Brides of San Francisco 3
SOPHIA – The Brides of San Francisco 4
AMELIA – The Brides of San Francisco 5
JAKE – Book 1, Destiny in Deadwood series
LIAM – Book 2, Destiny in Deadwood series
ZACH – Book 3, Destiny in Deadwood series
CAPITAL BRIDE – Book 1, Matchmaker & Co. series
HEIRESS BRIDE – Book 2, Matchmaker & Co. series
FIERY BRIDE – Book 3, Matchmaker & Co. series
COLORADO BRIDE – Book 4, Matchmaker & Co. series
TAME A WILD HEART – Book 1, Tame series
TAME A WILD WIND – Book 2, Tame series
TAME A WILD BRIDE – Book 3, Tame series
TAME A HONEYMOON HEART – novella, Tame series
THE TAME SERIES BOXSET
A TOUCH OF PASSION BOXSET
ONCE UPON A KISS BOXSET