Synopsis:
This novella touches on international adoption, a subject close to my heart as my husband and I adopted our daughter from S. Korea.
A billionaire and a single mother have more in common than they know.
He's a billionaire businessman …
Luciano Donati, entrepreneur and eligible bachelor, lost his first wife to cancer. So though he lives in romantic Charleston, SC, he has every intention of ignoring the upcoming holiday for lovers … at least until he sets eyes again on his younger sister's best friend.
He remembers Anastasia as a teenager who idolized him, not this lovely, fragile woman with heartbreak in her eyes. Heartbreak that he finds himself wanting to cure. Her smile warms his soul, her touch ignites his desire, and her little girl Soo-Min melts his frozen heart. Adopted internationally himself at a young age, Luciano understands all too well the strong need to belong somewhere.
She's a single mom …
Anastasia Markow, cancer survivor and divorced mother, didn't come to Charleston, SC, for romance. She's here to make sure she has custody of her adopted daughter, Soo-Min. But when she encounters the first man she ever loved, here in the city of horse-drawn carriages and candlelight, her battered heart can't help but bloom again. And when Luciano and Soo-Min take to each other, resisting his charm becomes even harder.
Handsome, self-assured, every inch the successful billionaire, Luciano is out of Anastasia's reach. But when a hurricane strands them together and they must trust each other to survive … things heat up despite the driving rain and gale winds.
Can Valentine's Day bring this unlikely pair together … this time for good?
Author's Note: Thousands of families around the world have opened their homes and hearts through international adoption. Soo-Min is the embodiment of many, many fortunate adoptive children and parents who've together created forever families.
Don't miss this poignant story of love, loss and renewed hope—get your copy of the novella today!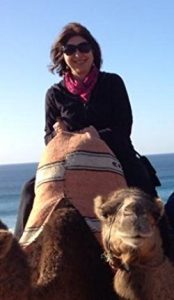 Author bio:
Josie Riviera is a USA TODAY Bestselling Author of contemporary, inspirational, and historical sweet romances that read like Hallmark movies. She lives in the Charlotte, NC, area with her wonderfully supportive husband. They share their home with an adorable Shih Tzu who constantly needs grooming and live in an old house forever needing renovations.
Check out her website and subscribe to her newsletter for a free ebook:
http://josieriviera.com/
Social media:
"Like" her Author Facebook Page:
https://www.facebook.com/Josie.Riviera/
Connect with her on Facebook:
https://www.facebook.com/profile.php?id=100010936808977
Follow her on twitter: @josieriviera
https://twitter.com/Josieriviera
Instagram: https://www.instagram.com/josie_riviera/
PInterest:
https://www.pinterest.com/josieriviera/
youtube:
https://www.youtube.com/channel/UCgqixF8IuUaTgE9lEUnnRQA
Buy Links for I Love You More
Amazon:
Ebook: http://a.co/bQ7xmZ5
Paperback:  https://www.amazon.com/Love-You-More-Contemporary-Romance/dp/0996954112/ref=tmm_pap_swatch_0?_encoding=UTF8&qid=14831
Universal buy link for Itunes, Nook, etc.:
Please note that I Love You More will soon be available as an audio book, as well as a youtube video. I will send you the links once I have them.