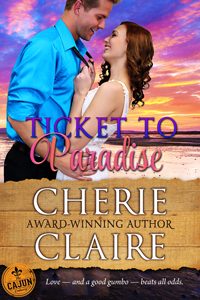 How did you get started writing?
My sister and I slept in the same room as kids and she used to beg me to tell her stories after we were tucked into bed, promising me she would return the favor. Of course, she would fall asleep before that happened. But that pretty much sums up my childhood, always dreaming up stories. My teachers used to write on my report cards that I was a day dreamer. Little did they know I was working on my novels!
 What genre(s) do you write in and why?
I started in historical romance after dreaming up the story behind a beloved Cajun song, "Jolie Blonde," nicknamed the "Cajun National Anthem." I love history and dig research so writing the Cajun Series of six books for Kensington was a natural, absolutely loved it. When I lost my editor at Kensington, I veered into a series of contemporary romances called "The Cajun Embassy." Later on this year I'm debuting my paranormal mystery series. Yes, I love variety. One thread that runs through them all, however, is the Louisiana setting or characters — or both. I live in Cajun Country and dearly love my home state so I love sharing it with readers.
Tell us about your current series.
Three Columbia journalism students homesick for Louisiana meet over a bowl of gumbo at school and become lifelong friends. They nickname themselves "The Cajun Embassy" since every time they cook up a Louisiana dish, everyone comes running, wanting to know more about their unique, colorful state.
Each book in "The Cajun Embassy" contemporary romance series focuses on each journalism graduate and where they are now, and the men they fall in love with. "Ticket to Paradise" is a romantic comedy that centers around a California Lottery ticket. "Damn Yankees" concerns a Deep South journalist who inherits part of "Yankee Living" magazine, falling in love with its New England publisher. The differences between the two make for a fun romantic comedy. "Gone Pecan" (pronounced gone pe-cawn) is an expression we use in South Louisiana when someone splits, and for Caroline Hennessey who went gone pecan 14 years ago, it's about returning home to face old pains and a love that cannot be denied.
Naturally, there's a gumbo recipe in each one. Because love — and a good gumbo — can cure everything.
What inspired your latest book?
The first book in my new "Cajun Embassy" series is "Ticket to Paradise." I love Frank Capra movies (think "It's a Wonderful Life") and I thought a romantic comedy revolving around a Lottery ticket would be fun to write. I was living in Santa Clarita, California, at the time, struggling to make ends meet and missing home in Louisiana.
My main character, transplanted Cajun Lizzy Guidry, is having the worst day of her life, thanks to newspaperman Martin Taylor, whose editorial has raised the ire of Lizzy's boss, the mayor of Santa Helena, California. Martin is on the verge of losing his newspaper, which is why he's buying yet another lottery ticket the night he runs into Lizzy. Still fuming, Lizzy beats him to it, nabbing the last ticket before the machines close. Topping off Martin's worst day, Lizzy's ticket wins. Only she doesn't know it. As Martin attempts to romance his way to five million dollars, will he lose his heart in the process? Will they both realize that love, more than money, is the ticket to paradise?
What is your next project and when will it be released?
I'm a New Orleans native so naturally Hurricane Katrina broke my heart in a million places. I quit my newspaper job, took a massive pay cut and worked two years in hurricane recovery. I stopped writing fiction; my heart wasn't in it. But one blessing that came out of the storm was me following my true passion, that of being a travel writer. It was something I had done on the side but not full-time. Traveling the South (my personal niche), meeting other writers and experiencing press trips was a new and wonderful experience and I kept thinking how it would make a great mystery series, with the main character doing the same and solving mysteries everywhere she traveled. I began writing again, with my main character, Viola Valentine, a New Orleans native who survives Katrina on her rooftop. Because of the trauma, Viola now experiences ghosts who have died by water. But the one person she really wants to contact — her daughter who died young of cancer — eludes her.
"Ghost of a Chance" is part chic lit, part romance, part paranormal mystery. It's humorous, it's sexy, it's heartwarming but most of all, it helps me write down the feelings of grief I carried from the storm.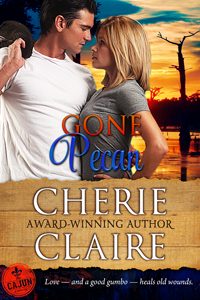 Do you have a view in your writing space?  What does your space look like? 
I freelance write for a living, so I have a designated office space in my home (was the dining room once). I work on my dad's massive old desk, which is filled with items from my travels and artwork, old photos and unusual rocks that make me happy. I have one window and just outside is a bird feeder so I can watch the cardinals and wrens who live in my yard come visit. I adore my writing room, think every woman should have one for their creative endeavors.
Do you write under a pen name?   Why or why not?
Yes, Cherie Claire. My real name is Cheré Dastugue Coen, which my first editor explained had too much punctuation (Cheré – you can't have accents in publishing), was too French (Dastugue) and was too ethnic (Coen). My pen name is pronounced the same as my real name but spelled correctly. Cherie in French should be Chèrie. Claire was a beloved family member.
Do you have any words of inspiration for aspiring authors?
I teach creative writing at the local university and there are three things I try to impress upon aspiring writers.
I hear all the time students saying they aren't writers, as if you get the designation when you publish a book or someone hands you an award. If you write, you are a writer. So stand tall, head high and proclaim it to the world. You are in marvelous company but you absolutely belong here.
Don't compare. This is hard to do if you write genre fiction because some people don't respect books such as romances. Don't let anyone intimidate you or make you feel less worthy because you're not writing what the New York Times puts on the cover of their book section. It's like the Oscars. We honor the complex, serious films and ignore the equally elaborate comedies. But the world needs both.
Last, don't give up. Writing should be a labor of love. Period. Write because you have to. Write because you love it. When those rejections come in, have a cry if you need one but get right back to that keyboard and keep going. Keep learning. Keep growing. Listen to others. But never, ever give up. And if you need an extra boost on this subject, put J.K. Rowling's picture on your computer.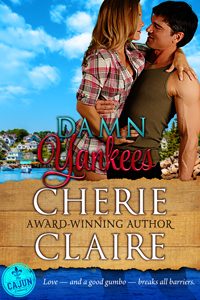 What did you want to be when you were a child?  Did you always know you wanted to be a writer?
Yes, but I fought it for years. I tried several subjects before coming back to journalism as a major. Even after I got the degree I kept thinking I should do something else, something that pays better. LOL
And always I wrote fiction on the side. My first short story was at age 12, my first novel in eighth grade (which was never finished) and I tried screenwriting after college before settling into historical romance and popular fiction.
Will you share some encouraging words for authors still struggling for that first contract? 
Please, please never give up. Follow your bliss.
Buy Links for TICKET TO PARADISE (FREE)
Amazon: https://www.amazon.com/Ticket-Paradise-Cajun-Embassy-Book-ebook/dp/B01I0OBN6M
iBooks – https://itunes.apple.com/us/book/ticket-to-paradise/id1131416489?mt=11
B&N – http://www.barnesandnoble.com/w/ticket-to-paradise-cherie-claire/1124070621?ean=2940153404783
Kobo – https://store.kobobooks.com/en-us/ebook/ticket-to-paradise-8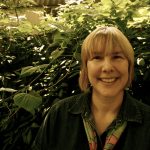 BIO
Cherie Claire is the award-winning author of several Louisiana romances and a paranormal mystery series.
Originally published with Kensington, the "Cajun Series" of historical romance follows a family of Acadians (Cajuns) who travel to South Louisiana and start anew after being exiled from their Nova Scotia home. The first three books ("Emilie," "Rose," "Gabrielle,") follow the Gallant sisters as they attempt to reunite with their father (and find love) in the wilds of Louisiana and "Delphine" (Book Four) takes place during Louisiana's role in the American Revolution. The Dugas family saga continues into the 19th century with "A Cajun Dream" (Book Five) and "The Letter" (Book Six).
Cherie is also the author of "The Cajun Embassy" series of contemporary romances – "Ticket to Paradise," "Damn Yankees" and "Gone Pecan." What happens when several Columbia journalism coeds homesick for Louisiana find comfort in a bowl of Cajun gumbo? They become lifelong friends. Because love — and a good gumbo — changes everything.
Cherie's upcoming novel, "A Ghost of a Chance," begins a paranormal mystery series featuring New Orleans travel writer and ghost sleuth Viola Valentine.
Cherie lives in South Louisiana where she works as a travel and food writer when not indulging in Cajun culture. Visit her website at www.cherieclaire.net and write to her at CajunRomances@gmail.com.
Website: www.CherieClaire.net