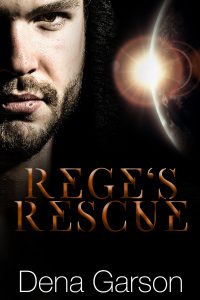 What genre(s) do you write in and why?
I write contemporary, fantasy, paranormal, and sci-fi romance. Why? Because that's what the voices in my head tell me to do. LOL. Actually – I love romance. I love happy ever afters. I read it to escape, so naturally I want to write about it. As for the sub-genres I write it, all I can say is that when I get an idea for a story, I write it. I'm not picky about only writing in category. I just want to tell the story that I see in my head.
What inspired your latest book?
A song! While I liked the original, Five Finger Death Punch's remake of House of the Rising Sun triggered the idea for Rege's Rescue as I drove to work.
What is your next project and when will it be released?
I'm working on a Native American (historical) paranormal. I don't have a release date yet but I have committed to turning it over to my first editor mid July. So, hopefully I'll be able to release it later this year
What is your typical day like?
I do have a day-job. So, M-F I work normal hours. I often use my lunch hour to take care of writer business or get in an hour worth of writing. After work, if one of the boys has a sporting thing (practice or game) I might grab my laptop and head to the fields. Their dad is pretty good about taking them to practices. And now that my oldest has his driver's license (*cringe*) some of the pressure to run here and there is off of me so I can settle in at home and work on my stories! Of course, there is the occasional squirmish to resolve between the boys – always around the xbox.
How has your experience with self-publishing been?
I love it! I love being able to pick my own covers and cover artists. I love deciding when my book will come out and at what price. I love having the control. It does take a lot more of my time, but the benefits far outweigh what I give up to a publisher. And I've learned so much about the inner working of the business doing it myself. That is invaluable knowledge!
Do you have critique partners?
Yup! And I <3 them so hard. If for no other reason than because this is such a solitary business that the touchstone to another person to confirm that I'm not insane makes me feel better.
What is your favorite dessert/food?
Ooooo. Hard question because it varies with my mood – for dessert anyway. I will say that there is nothing better than homemade mashed potatoes. That is my ultimate comfort food.
What is most difficult for you to write?  Characters, conflict or emotions?  Why?
I'd have to say conflict. Probably because I avoid it like the plague in my real life. I am such a mediator! I don't want anyone unhappy or to get their feelings hurt.
What genres are you drawn to as a reader?
Romance for sure, but whatever catches my attention. Historical, paranormal, fantasy, contemporary. I have my go-to authors that I pick up without question. And I read my author friends books too.
Do you prefer to read in the same genres you write in or do you avoid reading that genre? Why?
I do read in the same genre, but I won't read that genre while I'm writing a book in it. So if I'm working on a contemporary, I'll usually pick up a historical or paranormal. I don't want the book I'm reading to influence the one I'm writing.
Has your muse always known what genre you would write and be published in?
I sometimes think my muse has multiple personality disorder. She has no idea what she wants to be when she grows up and, like me, has varying tastes. She makes me hop from book to book at any given time. *sigh*
Do you write under a pen name?   Why or why not?
Yes, I do. I created it because my first books were with Ellora's Cave. And quite frankly, was warned that there are a lot of weirdos out there and I didn't want that creeping over to my kids' lives.
Blurb:
Rege Rovnitov battled his way out of the darkest hell hole in the charted universe to become the best tracker in four galaxies. Fighting injustice, he and his brotherhood have spent their lives with one foot on the shady side of the law. When the daughter of one of his allies is abducted by slavers, he offers his skills to bring her home. On such a dark and dangerous mission, he never expected to find a woman full of goodness and light.
After years in the spotlight as an interstellar songbird, Amethe Madigan only wants to regain a normal life. Her plans are upended when a band of slavers take her captive and drag her to the galactic port known as Sin City. With Rege's help, she narrowly escapes being sold to the highest bidder, or worse, turned over to whoever ordered her kidnapping. As they race across galaxies evading her mysterious abductor's attempts to possess her, she makes the mistake of falling in love with a man whose idea of a normal life is anything but safe.
Rege promised to rescue Amethe but she could be his salvation from a dark and lonely existence. In the end it won't matter who saved whom. Where love is concerned, it's winner takes all.
Tagline:
Her rescue. His salvation.
Buy Links:
Amazon  /  B&N  /  Kobo  /  ARe  /  iBooks
Amazon UK – https://www.amazon.co.uk/Reges-Rescue-Dena-Garson-ebook/dp/B01GH3XSZ2/
Amazon CA – https://www.amazon.ca/Reges-Rescue-Dena-Garson-ebook/dp/B01GH3XSZ2/
Amazon AU – https://www.amazon.com.au/Reges-Rescue-Dena-Garson-ebook/dp/B01GH3XSZ2/
Goodreads:  https://www.goodreads.com/book/show/30340731-rege-s-rescue
Rege's Rescue Excerpt:
Rege Rovnitov's instincts went on high alert as soon as his boot crossed the shop's threshold.
Even over the heavy scent of leather, he detected burned ozone. A weapon had been fired. Debris scattered on the floor and countertop said there had been a struggle.
He pulled his own weapon from its holster at his back and edged farther into Tauxir's store. There were no patrons inside and he hadn't seen anyone leaving. This part of the city drew rough clientele, but Tauxir had a solid reputation for being an honest businessman as well as being a man you didn't want to fuck with.
Whoever decided to take something of Tauxir's must have a death wish.
Rege grinned. Maybe this day wouldn't be a waste after all.
Using all of his senses to piece together what had happened he moved deeper into the store.
A roar followed by a crash came from the backroom. He leapt over an overturned stool and cleared the last steps to the doorway in one bound. Yanking the curtain aside, he leveled his gun's laser sight on the first thing that moved.
His entrance was met by one pissed off and bloodied leatherworker. Tauxir held a similar gun and Rege suspected Tauxir's laser was aimed right at his heart.
"You okay?" Rege asked without relaxing his stance.
Tauxir's jaw flexed as if still debating whether or not to fire. "No," he finally ground out between clenched teeth.
Rege glanced around the room to make sure there were no threats. "What happened?"
Tauxir lowered his gun and spit. "Slavers."
Rege also lowered his weapon but didn't holster it. "What did they want with you?"
Pain flashed in Tauxir's eyes. "Amethe."
Son of a bitch. Tauxir's daughter. "They took her?"
He nodded once then pulled a wicked knife from underneath his worktable and pushed it into a sheath.
"How long has she been back?"
"Two nights." Tauxir strapped the knife to his thigh then grabbed two more and slipped those in their respective places.
Rege pushed the button on the communicator wrapped around his ear. "Call Bolan."
Tauxir half limped, half dragged himself toward the stairs. Thinking he might need help getting upstairs, Rege closed in.
Tauxir leaned against the wall and slid a concealed panel aside. He entered a code which activated a small door at their feet below the stairs. Even from where he stood, Rege could see the impressive collection of weapons.
"Yeah," Bolan's terse answer finally came through Rege's earpiece.
"Grab Vordol and Malir and get to Tauxir's. We've got a situation."
"Be there in ten." No complaints, no unnecessary questions. That was the beauty of the brotherhood. Always there for each other no matter what.
"Not your problem," Tauxir said gruffly without looking up from his stash of weapons.
"You're a brother. If you've got a problem, we all have a problem. You know that."
About the Author:
Dena Garson is an award winning author of contemporary, paranormal and fantasy romance. Her sixth book, Mystic's Touch, won the 2015 Passionate Plume for Futuristic/Fantasy/Sci-Fi as well as the 2015 Reader's Choice Award for Science Fiction/Fantasy/Time Travel. Ghostly Persuasion was a finalist in the 2014 Passionate Ink contest and the 2014 Reader's Choice Award.
When she isn't writing you can find her at her jewelry workbench playing with beads. She is also a devoted Whovian and Dallas Cowboys fan.
Social Media Links:
Website – http://www.denagarson.com/
Blog – http://denagarson.net/
Facebook – https://www.facebook.com/dena.garson.7
FB Author page – https://www.facebook.com/AuthorDenaGarson
Twitter – https://twitter.com/DenaGarson
Goodreads – https://www.goodreads.com/dgarson
Sign up for Dena's Newsletter at – http://eepurl.com/b2TWxv