Last year I was privileged to be asked to write a book for Debra Holland's Kindle World. Her world includes Sweetwater Springs and Morgan's Crossing, both in Montana. My story for this world is Thorpe's Mail-Order Bride. The following is an excerpt from that book.
BLURB:
Lena DuBois never knew her father until he suddenly reappeared in her life to tell her he's arranged for her to marry one of his business partners. Lena flees, deciding to become a mail-order bride, where at least she's the one doing the choosing. Her future husband, John Thorpe, has requested a woman of good moral character which Lena considers herself to be. The problem is her mother is the most celebrated madam in all New Orleans. What will happen if he discovers her secret?
EXCERPT:
Lena looked at her reflection in the small mirror over the wash stand. Patting her hair into place, she turned and gazed around the room. The furnishings were austere in the extreme. With the bit of furniture present the space was all but used. In addition to the washstand was a simple four-poster with a patchwork quilt and a bureau. Pegs fastened to the wall held various items of clothing.
A few minutes later, Mrs. Norton returned with a copper kettle, the handle of which was wrapped with a towel. She poured hot water into the basin and cooler water from the chipped rose-patterned pitcher from the bureau.
"The towels next to the ewer are clean. When you've finished washing, come meet your groom. I sent him next door to get my husband. We'll get you two married shortly."
"Married? I know we are supposed to marry right away but thought we might get to know each other for a few hours."
"That won't be possible. He has to return to his business in Morgan's Crossing right away. Unless, of course, accompany him now and marry in a couple of weeks." Mrs. Norton frowned. "But I don't think you'd want to take that action. Your reputation, which you so diligently defended little more than an hour ago, would be ruined."
Lena swallowed hard. A marriage and changing her name was the best way to stay hidden. "Well then," She jutted her chin. "Let's get this wedding started."
She followed Mrs. Norton back to the parlor.
Dominating the room was the largest man Lena had ever seen. He was easily a foot taller than she was and very wide, though he did not appear to be fat. He wore a black suit, the same one as in the photograph he'd sent. His face was covered with a thick, well-trimmed beard and mustache, though his coal black hair was a little on the long side, as it curled over his collar, but his deep blue eyes caught her attention. They were not only a beautiful dark blue, but she saw kindness in them as well.
The man moved forward to greet her, and Lena was surprised at how graceful he was.
He extended his hand. "I'm John Thorpe."
She grasped his hand, calloused from hard work. "Lena DuBois. Pleased to meet you."
"And I you. I'm sorry I was late. The snow delayed me."
Lena nodded. "Mrs. Norton said as much."
"Would you like to get married now, Lena?"
"I'm ready. I understand you have to get back to your work."
John worried the brim of his hat. "Yes, I do. I'm the only blacksmith in town and folks do depend on me. But we can sit and talk for a while before the ceremony if that would make you more comfortable."
She shook her head. He was so sweet to make such an offer. "No, please, that's fine. I'm ready to get married if you are. I didn't come all this way to back out now."
He smiled. "I'm very glad, Lena. Very glad indeed."
"Sit down children." Mrs. Norton pointed at the sofa.
Lena sat on one end and smoothed her skirts.
John sat on the other end. He held his hat in his hands between his knees.
"You are getting quite the feisty woman for your bride, John. I witnessed her defend her honor a short while ago when she was accosted by a drunk from the saloon." Mrs. Norton then related everything she'd seen.
John grinned and arched an eyebrow. "Good for you Miss DuBois."
Lena's cheeks heated, and she dipped her head. "I was simply doing what any self-respecting young woman would have done."
"No, that's not true," said John. "You saved yourself and didn't wait to be saved by someone else. Not a lot of women would have beaten off their attacker with an umbrella."
"That reminds me, John," said Mrs. Norton. "You must buy her a new umbrella. She broke hers over that drunks head."
Reverend Norton entered the living room.
"Ah, I see everyone is here. Are you two ready to get married?"
Lena and John looked at each other.
"Well?" asked John.
"I'm ready if you are," responded Lena.
John stood and walked to the reverend.
The men shook hands.
"We are ready, Reverend."
Mrs. Norton and Lena both stood as well.
"I think we can do the ceremony right here. Lena, you and John stand behind the sofa and the Reverend will stand in front of it. I'll be over here just behind Lena."
The couple did as Mrs. Norton instructed.
The reverend took out a small notebook and a pencil from his pocket. "Before we start, I need to know your full names."
"Helena Marguerite DuBois."
"John Wilfred Thorpe."
"Wilfred?" Lena giggled.
John smiled and blushed. "It was my grandfather's name."
Lena nodded. "Marguerite was my grandmother's name. It would appear we have the same traditions, at least as far as naming children."
The reverend opened the good book and began the ceremony.
"Please join hands. Dearly beloved we are gathered here…"
Soon Lena's turn to take her vows arrived.
"Do you Helena Marguerite DuBois, take John Wilfred Thorpe, to be thy wedded husband, to have and to hold, from this day forward, for better, for worse, for richer, for poorer, in sickness and in health, to love and to cherish, till death do you part, according to God's holy ordinance; and thereto pledge to forsake all others?"
Excitement ran through her like a lightning bolt. "I do." She put the ring she'd bought in Denver on John's finger. The circle of gold went up to the second knuckle and stopped. Eyes wide, she looked up at him. "Oh, my." Quickly she took the ring off his third finger and slid it on his little finger. It fit. "That will have to do until we can get is sized correctly."
The reverend repeated the vows for John who answered "I do." He put on the plain gold band he had for her and it was too big.
She took it off and put it on her middle finger which fit the ring perfectly. "That will do, don't you think?" asked Lena with a smile.
John grinned. "I believe it will."
Reverend Norton smiled. "You may now kiss your bride."
John's grin disappeared and he studied her face. He bent until his face was next to hers and then touched his lips to hers in a sweet, gentle kiss.
Her first kiss.
When he pulled back he winked.
Amazon Buy Link:  http://amzn.com/B01BL0HKL4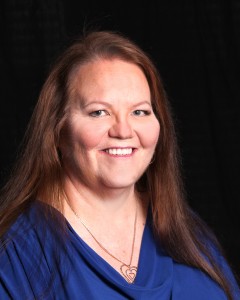 BIO
Cynthia Woolf is the award winning and best-selling author of nineteen historical western romance books and two short stories with more books on the way. She was born in Denver, Colorado and raised in the mountains west of Golden. She spent her early years running wild around the mountain side with her friends.
Their closest neighbor was about one quarter of a mile away, so her little brother was her playmate and her best friend. That fierce friendship lasted until his death in 2006.
Cynthia loves writing and reading romance. Her first western romance Tame A Wild Heart, was inspired by the story her mother told her of meeting Cynthia's father on a ranch in Creede, Colorado. Although Tame A Wild Heart takes place in Creede that is the only similarity between the stories. Her father was a cowboy not a bounty hunter and her mother was a nursemaid (called a nanny now) not the ranch owner.
Cynthia credits her wonderfully supportive husband Jim and the great friends she's made at CRW for saving her sanity and allowing her to explore her creativity.
TITLES AVAILABLE
GENEVIEVE: Bride of Nevada, American Mail-Order Brides Series
THE HUNTER BRIDE – Hope's Crossing, Book 1
GIDEON – The Surprise Brides
MAIL ORDER OUTLAW – The Brides of Tombstone, Book 1
MAIL ORDER DOCTOR – The Brides of Tombstone, Book 2
MAIL ORDER BARON – The Brides of Tombstone, Book 3
NELLIE – The Brides of San Francisco 1
ANNIE – The Brides of San Francisco 2
CORA – The Brides of San Francisco 3
JAKE (Book 1, Destiny in Deadwood series)
LIAM (Book 2, Destiny in Deadwood series)
ZACH (Book 3, Destiny in Deadwood series)
CAPITAL BRIDE (Book 1, Matchmaker & Co. series)
HEIRESS BRIDE (Book 2, Matchmaker & Co. series)
FIERY BRIDE (Book 3, Matchmaker & Co. series)
TAME A WILD HEART (Book 1, Tame series)
TAME A WILD WIND (Book 2, Tame series)
TAME A WILD BRIDE (Book 3, Tame series)
TAME A SUMMER HEART (short story, Tame series)
TAME A HONEYMOON HEART (novella, Tame series)
WEBSITE – www.cynthiawoolf.com
NEWSLETTER – http://bit.ly/1qBWhFQ