Please help me welcome CJ Burright to my blog today. CJ is going to give one lucky commenter a $5 Starbucks card, so be sure to leave her a comment.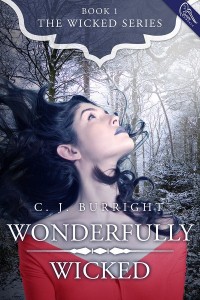 Are you a full time writer or do you have a "day job"?
I'd love to write FT, but there are those pesky bills that need to be paid. And food is nice to have around.  My goal is to eventually write full-time. My day job is working for an attorney. I actually enjoy my job most of the time, and helping people is a bonus. There's not an abundance of happy circumstances that bring people into a lawyer's office, so it's a good feeling to be a bright spot in a dark place for people who really need a smile or a kind word.
How did you get started writing?
Originally, my story-writing stemmed from boredom. I grew up in the boonies in a time when kids were expected to entertain themselves. No video games for me! I read. A lot. And I dreamed even more. An overactive imagination plus a love of reading led to fantastical tales of my own.
Tell us about your current series/WIP.
The Wicked Series is urban fantasy with a paranormal romance edge, focusing on brooding, damaged heroes and the women who they can't live without. Wonderfully Wicked is the first novel in the series, scheduled for release on May 13. There are the V'alkara – men who invade dreams and feed on nightmares. Their counterparts are the dreamcasters – women whose nightmares leak and come to life. The V'alkara hunt dreamcasters, which becomes a bit of a problem when the V'alkara falls for his target, but romance demands a HEA, right?
What is your favorite part of writing?
Definitely when the story unfolds like a movie in my head. It's so exciting to see it in action play by play in my mind! Writing it down takes a lot longer, but it's very satisfying to see the visions in my mind's eye described how I want on paper—and sharing it with other people.
Do you have critique partners?
Oh, yes! I'd be nothing without my CPs! When I joined the Fantasy, Futuristic & Paranormal chapter of RWA, I was very involved with the MudPuddle (their critique group). I met lots of fabulous writers, many who are now friends, and I eventually splintered off with my current critique partners into our own little group. It's so important to have like-minded people to support and encourage each other, not to mention kick your hiney when it needs to be kicked!
Tell us about your heroine. Give us one of her strengths and one of her weaknesses.
Kalila Montgomery is used to being on her own and mopping up her messes. She longs for nothing more than to be rid of her nightmares and lead a normal life—to be accepted instead of a freak enduring a lifetime of self-imposed solitude. She's compassionate, especially for the broken, and fights for what she loves. But Kalila is also stubborn and distrustful. What she wants—to be accepted—is also what she's too skeptical to believe when it comes around.
Do you have any words of inspiration for aspiring authors?
Keep writing in the face of rejection. Write for yourself. Write what you love. Never stop learning the craft. When you least expect it, everything will click together, and you'll snag that agent or editor. Don't ever give up on your dream!
Do you or have you belonged to a writing organization? Which one? Have they helped you with your writing? How?
I mentioned RWA and the FF&P chapter earlier. The great support and learning experience in the MudPuddle was phenomenal—interacting with other aspiring and published authors, having the opportunity for guidance, and a sounding board for ideas. And did I mention the fabulous classes offered through RWA? Not only are they taught by experts in the field, they're freakin' cheap! I aim to take several classes a year. There are always new things to learn. The community RWA offers, especially the chapters, is something all writers should seek out—meeting other people who truly understand the ups and downs of the writer's life. It's nice to share victories and find encouragement when you need it from others who can empathize because they've been through it too.
What's next for you?
I'm only a few chapters away from completing the rough draft of Beautifully Burned, the next book in The Wicked Series, and I've got the hero from the third book already demanding to have his story written. I also have a fantasy romance out on submission and hope to find a home for it soon. It happens to be my favorite. 
BIO
C. J. Burright was born and raised in Oregon and loved it so much she never left. While she has worked for years in a law office, she chooses to avoid writing legal thrillers and instead leans toward urban fantasy, paranormal romance, or—since all things medieval and magic fascinate her—fantasy romance. A member of Romance Writers of America and Secretary for the Fantasy, Futuristic & Paranormal special interest chapter, C. J. also has her 4th Dan Black Belt in Tae Kwon Do and believes stories should always include a gratuitous fight scene. In what spare time she has, she enjoys working out, reading, gardening, and rooting on the Seattle Mariners with a nice glass of wine. She shares a house with her husband, daughter, and a devoted herd of cats.
Amazon pre-order link: http://www.amazon.com/s/ref=nb_sb_noss_1?url=search-alias%3Daps&field-keywords=wonderfully%20wicked&sprefix=wonderfully+w%2Caps&rh=i%3Aaps%2Ck%3Awonderfully%20wicked
Website: http://cjburright.com/
Facebook: https://www.facebook.com/pages/CJ-Burright/362988090450604?ref=hl
Twitter: https://twitter.com/CJBurright
Goodreads author page: https://www.goodreads.com/author/show/7824091.C_J_Burright
Add Wonderfully Wicked to your Goodreads list: https://www.goodreads.com/book/show/18685379-wonderfully-wicked
Amazon page: http://www.amazon.com/C.-J.-Burright/e/B00IRT3972/ref=sr_ntt_srch_lnk_1?qid=1398486199&sr=8-1
From his post at the door, he smoothed one errant lock of hair back into place. Powerful arms folded over his chest. If the knife wound bothered him, he hid it well.
"You,"—he breathed—"are magnificent."
The soft sincerity in his voice shoved her right back into the seductive arms of her dream. A lightning bolt of heat struck her gut, igniting wildfire in her veins and a rolling thunder in her chest. She doused the flames with a cold scowl. How dare he distract her by saying such things before he attempted to kill her.
"Kalila." Lydon took a step forward.
Her gaze darted to the dangerous beauty of his face, drawn by the choked, reverent way he spoke her name. A strange need tugged within her, soul-deep and insistent. He lifted a hand out to her. She took a step.
Run, idiot!
Her inner voice of survival broke free from the daze Lydon created. She blinked. He stood so close his body heat licked the bare skin of her shoulders. With a gasp, she stumbled backward until her calves hit the coffee table.
"Don't run from me."
"Make it nice and easy for you, huh?" She skirted the coffee table. "Want me to slice my own throat too? Save you the time and effort?"
Swathed in shadow, Lydon resembled a dark angel, exquisite and lethal. "I—"
For a moment, he seemed so lost she had an inane urge to wrap her arms around him and hold him tight. A night-vision memory tickled at her mind, of affection and laughter and home. Her stomach twisted. Stupid dream. Score one for unfulfilled visions.
"I don't want to hurt you." Lydon's jaw clenched.
"Ha ha. Which is why you broke into my house, lurked around in my bedroom, and are now preventing me from leaving. Makes total sense.
Psycho."
He blurred. Faster than she could blink, he loomed across the table, his breath in her face. Murderers should not have clean, minty breath.
"Don't make me change my mind." His expression banked no mercy, a dark promise the price for disobedience.
Time for drastic action. Kalila lowered her head and slumped in feigned surrender. She riffled through the compartments of her mind until she found what she wanted. Dirtbag, meet Secret Weapon.
"Um, Lydon?" She lifted her gaze to his and batted her eyelashes slow, the mark of utter innocence.
His attention dropped to her mouth, lingered.
Her pulse quickened. Was he seriously considering kissing her? She'd prefer a punch in the face.
"Yes, Kalila?" His voice flowed over her skin with smooth heat, the slow burn of cinnamon whisky.
She shook off a shiver and jerked her chin at what now seethed in the shadows by the front door, partially hidden by his broad form. "There's something behind you."