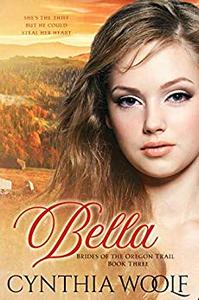 Bella Devereaux dreamed of being a restaurateur, not a thief. But life had other plans. Forced to compromise her principles to survive, Bella always gives half of her ill-gotten gains to the French émigrés in New Orleans and saves the other half to fulfill her lifelong goal of opening her own French café. A priceless cache of jewels was supposed to be her last job, but the police are on to her, and so is another criminal—Jack Pasquin. He's more than a thief, he's a murderer, and he's willing to do whatever it takes to force Bella's hand—including kill her. Taking the jewels and fleeing to Oregon City as a mail-order bride seems to be her only hope.
Marshal Robert McCauley never forgave himself for being on the job when his first wife passed away. Guilt has kept him from falling in love again, but a mail-order bride seems to be the perfect answer. When Bella arrives, not only is she beautiful and intelligent, but her mysterious ways intrigue him more than he cares to admit. Neither of them wants to admit they have fallen in love, but when Bella's past catches up to them, Robert will have to choose—once more—between the woman he loves and the duty he serves.
Can Bella save the husband she'd fallen in love with? Or will she become a widow before she becomes a real wife?