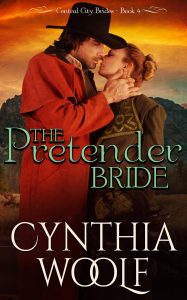 Here is an excerpt from Central City Brides, Book 4, THE PRETENDER BRIDE. I hope you enjoy it.
CHAPTER 1
April 10, 1871
Rockford Residence, Brooklyn, New York
"Detective Nelson. What are you doing in here?"
Katie Kennedy asked the man she found in her stepfather's bedroom. He appeared to be looking through the books on Noah's nightstand.
"Oh, I…ah…was looking for the bathroom."
She lifted an eyebrow. "I'm sure you won't find it in Noah's books."
He set the book in his hand back on top of Noah's Bible.
"I…I wanted something to read…you know…"
"You'll find reading material already in the bathroom across the hall."
She pointed out the door.
"Oh, well, I don't seem to need to use it after all."
Katie thought that was the oddest conversation she'd ever had. What was David Nelson looking for?
*****
"Goodbye. Thank you for coming. I'm sure Noah would have been glad you were here."
Katie Kennedy closed the door on the last caller to her stepfather's wake, except for her friend Geneva Watson who offered to stay and was in the kitchen cleaning up.
Ten o'clock. She slumped back against the door. She'd put her little brother and sister to bed several hours ago. Ethan was five and Ruthie just three. They didn't completely understand what was happening and this was much too late for them. Heavens, she thought, the hour was too late for her as well. Ten o'clock before she could chase the last well-wisher out the door.
Noah Rockford had been well liked in the neighborhood and apparently among his fellow policemen as an endless stream of blue uniforms moved before her eyes in and out of the house today. She'd hated having to host a wake for him. Katie had loved Noah. He'd raised her since she was ten years-old and married her mother.
Katie sighed. Yes, he'd been liked by everyone except the person who shot him.
She looked around at the mess and shook her head. Cups, plates and cutlery were on every flat surface here in the living room, waiting for her to gather and clean them. She gathered dishes from the coffee table, the end tables, and the bookshelves. She should be thankful she and the children still had a house to hold the wake in. Noah hadn't owned the home but rented it from Mr. Doolittle next door.
After Noah's murder, the elderly man said Katie and the children could stay for a month before he'd have to get another renter. Katie thought that was because he felt sorry for them and her little brother and sister reminded him of his grandchildren. For whatever reason, she was grateful. That was a week ago and she still didn't know what she would do. She'd get a furnished room if she had to, all of the furniture here belonged to the house. The only thing she had to move were their clothes, books, pictures, a few keepsakes such as the jewelry Noah gave her and Ruthie. It was pretty and he'd taken such joy giving it to them. Good memories were attached to the jewelry.
The one thing Noah had which she would have kept regardless of needing it to move their things, was his trunk. The piece of luggage was beautiful with brass scroll-work on the steel hinges, corners and lock. The inside was lined in heavy red silk, unlike most trunks which were unlined and it was oversized. Between the trunk and her two valises, they would hold everything she wanted to take,
She wasn't taking any of the knickknacks her mother had all over the walls. To Katie the plates with kittens, small shelves with ceramic animals and shadow boxes full of nature scenes, were just clutter she had to dust. Mr. Doolittle could sell them or just leave them up. Her mother wouldn't be happy with that decision but now was not the time to be nostalgic. Memories flooded her anyway.
Mama's been gone for three years now, ever since my sweet Ruthie was born. I regret Mama's death, but I certainly don't blame Ruthie for it. For a long time I blamed Noah thinking that he'd wanted more children and forced Mama to try to have more, but I was wrong. Mama had wanted more children, wanted to give Noah more children even though he tried his best not to let her. I don't know exactly what that means and Noah didn't explain other than to say he'd tried.
Katie sighed, walked into the kitchen and sat at the table, still laden with food from the wake. She sipped a cup of tea with her friend, Geneva Watson. Geneva was thin but had a pretty face and beautiful golden-brown hair. "What am I supposed to do now with two small kids and no way to support us?"
Just the thought of her future made her stomach roil. I've always had someone I could go to for help with such matters…Mother or Noah…now both are gone.
"I know this isn't the most normal of suggestions, but why don't you become a mail-order bride?" suggested Geneva, who looked at the ceiling with some interest. "I have a friend who did that and she seems very happy." Geneva took a piece of paper from her reticule. "Here. This is where my friend went. She gave this to me from the newspaper."
That's not how I'd hoped to be married. I always pictured my life married to the man I love and full of children of our own. The man I obviously haven't met yet, as I'm not in love with anyone right now. Still…
Katie shook her head. "What man wants a spinster woman for a wife and two young children for an immediate family?"
Geneva waved her hand in the air. "So don't be a spinster. Say that you are recently widowed and still in mourning. You're a beautiful woman, Katie. You have blonde hair, blue eyes and a figure I'd kill for. Ethan and Ruthie look just like you and could easily be your children. You might want to say you're older than twenty-five, since Ethan is five. You'll have to wear black all the time, but that will also go for keeping your new husband from bedding you."
"I don't like the idea of lying, besides, Mama said those men who advertise for brides only want wives so they'd have someone to warm their beds, cook and clean for them. She refused to go down that road, though she could have. The businesses for mail-order brides were just starting up then. But she wanted more than that, so she waited until she found Noah. She fell in love with him almost instantly. He was always nice to me, too, from the very beginning."
"My brother says that's the only reason he married. So he'd have someone to…well you know…to bed."
"I don't know your brother but do you believe him? You don't think he loves your sister-in-law?"
"Maybe. That's not a subject that most brothers and sisters discuss but I asked why he got married and that was what he said. He seems to be in love with Claire, so I don't know if he's teasing me or not."
"What makes you think I would lie? Have I ever given you the impression that lying is something I would do, because I won't."
"You will. Because I know you have two young children to care for unless you are planning on putting them in an orphanage and I don't think you are."
"I don't think I could keep up with a lie like that. Besides, I don't want to begin a marriage that way…with a lie. Anyway, there's got to be a position I can get teaching in a wealthy home, or working as a nanny." Her shoulders slumped. "I just haven't found it yet."
Geneva shook her head. "You've been looking?"
"Yes, I've been trying to no avail. But I'll keep trying. There must be some—"
"Listen to you. You're talking like you don't have responsibilities, but you do. Can you imagine any of the homes you've applied to actually giving you a job with two young children in tow?"
"Well, I…I…I've been trying."
Geneva cocked her head. "Just say it. 'No'. They won't and you know it. You've applied to become a governess, a nanny and a teacher and that was before you had two children to care for. Positions are hard to come by, and they're even harder for an unmarried woman with children. Becoming a mail order bride is the only reasonable solution and you know it."
Katie sighed and rested her chin in her hand, her elbow on the table. "I suppose you're right. It does sound like being a mail-order bride is the only way I can keep the children with me and that is what's paramount."
"Go see the matchmaker. She said she's made some great matches. I trusted her."
Katie read the advertisement and nodded. "All right, I'll go see her, but as the widow Kennedy, not the spinster Kennedy." What else can I do? I'm determined to care for Ethan and Ruthie. I have no choice.
"Good. I'll come by in the morning and stay with the kids while you are gone."
Katie reached across the table and took her friend's hand. "Whatever will I do without you? I'm not even gone yet, and I already miss you dreadfully."
Geneva laughed and squeezed Katie's hand. "We'll write often. You have to write me as soon as you arrive and give me your address and you must tell me about your husband."
Katie was warming to the idea of having a husband, but that didn't stop her stomach from turning over and over. She really hated the thought of lying, but she would do whatever she needed for those kids. "I will. Hopefully I'll be able to let you know something about him before I go."
"I hope so, too. Maybe he will have sent a picture.
"Yes, but who's to say it's really him and not his best friend or something."
"She says she's very careful who she matches with whom and she has an assistant who verifies the men are who they say they are."
"Well, that does sound better than what I thought. I'll go but if I don't like the way I see the business being run, I won't sign up." She sighed and slumped back in the chair. "Though I don't know what other option I have."
A few minutes later Geneva left and Katie looked around the kitchen. She should clean it up but she just couldn't face it right now.
Katie headed to bed. As she passed Noah's room, she remembered the strange behavior of Detective Nelson. She went into the room and gathered Noah's Bible from his nightstand and put it on the shelf with her books. She didn't want to forget it. That Bible was part of the few things that Noah had left for his children and she'd make sure they got it.
It was too bad that all the jewelry Noah bought me, Ruthie and Ethan wasn't real. I could have sold some and stayed in the house. But then what? Even then I'd still need some way to support us. It doesn't matter anyway. The best thing I can do for us, for the children, is become a mail-order bride. My dreams don't matter now. Ruthie and Ethan matter now and I'll do whatever I have to do.