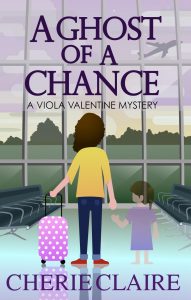 What genre(s) do you write in and why?
Call me a mass market novelist.
I started writing historical romance years ago, focusing on Acadian (Cajun) history. I sold my first book, "A Cajun Dream," in 1999 to Kensington and it was followed by a novella and a four-part series. All six of those books are now ebooks (The Cajun Series) and available at all online bookstores. I also penned a three-book contemporary romance-girlfriend series called The Cajun Embassy series and it's also online.
Now, I'm veering into paranormal mysteries.
Tell us about your current series.
My latest series is the paranormal Viola Valentine Mystery Series, starting with the first book, "A Ghost of a Chance." It concerns a Katrina survivor named Viola Valentine who decides, after the storm, to reinvent herself and follow her dream of becoming a travel writer. But the storm also blew open a psychic door and now she sees ghosts who have died by water as a SCANC, a person who experiences "specific communication with apparitions, non-entities and the comatose." As she enters her new career, solving mysteries that appear with apparitions everywhere she goes, the one person she hopes to speak to — her daughter who died of leukemia years before — continues to elude her. Or does she?
What inspired your latest book?
When Hurricane Katrina slammed into the Gulf Coast, my heart shattered into a million pieces. I knew I had to do something to help my hometown of New Orleans so I quit my newspaper job and was hired for a Unitarian Universalist recovery program. At the same time, I started freelance writing on the side. One thing I was never able to do as a newspaper editor was travel writing, my dream job, and my new flexibility allowed me to do that.
Both experiences inspired me to write "A Ghost of a Chance," a story about a newspaper reporter named Viola Valentine who ends up on her roof after Katrina floods New Orleans and experiences an epiphany of sorts. She leaves her loveless marriage, boring job and overbearing family and follows her dream of becoming a travel writer.
What is your favorite part of writing?
Making things up!
What is your least favorite part of writing?
Editing. It's a necessary part of creating a book but it's tedious, not much fun.
What is your next project and when will it be released?
The second book in the series, "Ghost Town," is now available, continuing Viola Valentine's story. I've discounted "A Ghost of a Chance" to a free download to encourage readers to check out my new series.
Here's the description of "Ghost Town": Every day at dusk, in a small Louisiana town, the dead emerge from Lorelei Lake. And travel writer Viola Valentine must use her "gift" of seeing ghosts to rid this town of its apparitions. Viola struggles not only with the task at-hand, but hopes that this evolving ability she obtained after Hurricane Katrina will help her reach her beloved Lillye.
Yet, the more Viola struggles to talk to her departed daughter, the more frustrated she gets. Plus, it's 2008, the height of the Great Recession, travel jobs are hard to come by, and her suffocating family and ex-husband keep making demands. She takes solace in a new love interest, one who teaches her how to harness her anger.
In the end, Viola realizes that only love can solve her problems, from ridding ghosts of lakeside towns to healing a broken heart.
Where do you get the ideas for your stories?
From real life. My day job, so to speak, is travel writing. Some of my journalist friends are now scared I will put them into my books.
Do you write under a pen name?   Why or why not?
My pen name is Cherie Claire. I was told by my editor at Kensington, when I was first published with them that my real name, Cheré Dastugue Coen, didn't work because there's an accent, an unpronounceable French name (which is my maiden name) and Coen is too ethnic. I made Cherie sans accent and Claire was my favorite aunt. On social media, I claim that Cheré is my twin. When you have two lives as freelance writer and author, it feels like there are two people.
What are you currently working on?
Book three in the series, tentatively titled "Ghosts of Mississippi," and I'm sure you can guess where the story takes place.
Describe the genre of this particular title? 
"A Ghost of a Chance" in my Viola Valentine series is part paranormal, part mystery and a little romance/sensuality with a chick-lit narrative. Hard to find an appropriate genre — fantasy, mystery, ghosts — but I believe fans of Charlaine Harris will enjoy my books.
Are you a member of any writing organizations and, if so, have they helped.
I'm a member of Novelists, Inc., which has helped tremendously. I highly recommend it for those pursuing a career as a novelist, especially if they want to tackle self-publishing.
EXCERPT
I quickly shampoo my hair, feeling better despite the anchor attached to my heart, and step out of the tub. I grab the lush bathrobe on the back of the door and slip inside its comfort, but the ever-present pain won't let me relax.
It was like this when Lillye died, the endless crying, the dark hole of depression. I could never understand how human beings don't dehydrate from the amount of water we exude through grief.
I gasp for breath, then exhale, ready to steady my emotions and face the world when I see her in the mirror, faintly, the line of her figure like a shadow marked by a Sharpie. She wears the schoolgirl outfit of the blond in the cave, but her hair combed back into a bun is a muddy red, the unfashionable color, not the one everyone emulates through Clairol. She stares at me sadly through pin-prick eyes above an unremarkable nose. Plain Jane is what comes to me in a flash. And although this apparition, if that's what I'm seeing, isn't offering emotion of any kind, I feel her pain. Loneliness, heartbreak and something much more acute.
The loss of a child.
Links
Website: https://www.cherieclaire.net/
Amazon: http://littl.ink/GhostChance
B&N: http://littl.ink/GhostChanceBN
Kobo: http://littl.ink/GhostChanceK
iTunes: http://littl.ink/GhostChanceA
Blog: https://www.cherieclaire.net/my-louisiana-home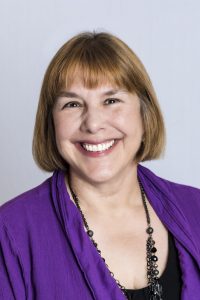 AUTHOR BIO
Cherie Claire is the award-winning author of several Louisiana romances. "A Ghost of a Chance," begins a paranormal mystery series featuring New Orleans travel writer and ghost sleuth Viola Valentine. Cherie lives in South Louisiana where she works as a travel and food writer when not indulging in Cajun culture. Visit her website at www.cherieclaire.net and write to her at CajunRomances@Yahoo.com.