Thanks, Cynthia, for having me today. It's such a pleasure to be here and talk about writing.
As the title suggests, today I'm blogging about writing in winter. I live in Maine on the shore of Cobscook Bay which is an offshoot of the Bay of Fundy. And right now it's February and of course cold… and dark. This impacts my writing in ways that when I lived in my previous home in Austin, Texas I couldn't imagine.
So why is my writing different in the winter? First, it's cold. Second my house is old and very drafty. Third, there's little daylight, almost like the arctic with the sun going down right after 3 in the afternoon. And fourth, it's cold. I imagine you see where I'm going with this.
By way of contrast, let me back-track to our lovely summer when the sun rises before 5am and doesn't set until after 9pm. That's a long day in which to get things accomplished—19 hours of pure productivity. Well, not every day of course. Some days I just kick back and watch the butterflies and birds flittering around and take my big, old, black dog, Zach, on long walks down to my beach. A wonderful excursion for both us, but still, there are a lot of hours in which to be writing or thinking about writing. And summer these past few years has very gently morphed into a lovely fall. However, I find myself doing more work outside in the fall… no bugs. We have enormous mosquitoes during our summers. Anyway, my writing schedule is a bit curtailed during the fall.
Then comes winter, which usually starts after Thanksgiving and goes through March. However, with climate change… and if you don't believe this is happening then you should be up here to experience our increasing storms and unusual fluctuating temperatures. The winters for the past three years have been variable, sometimes wildly so. In 2015 we had 15 feet of snow. In 2016 the winter seemed normal with snow falling at appropriate times, but this year January temps varied from the 30s to the 50s and little to no snow at all. February is making up for lost time though with a foot on the ground then a fierce blizzard that dropped another 2 feet with 50 mph winds as well. Another milder blizzard followed a few days later. And a sneak overnight snowstorm piled on another six inches. God knows what the rest of February and March will bring. So I've experienced climate change from the trenches I guess you could say. Not so much a warming trend although January felt that way, but increasingly harsh storms and gale force winds.
Changing temperature and the increasing incidence of strong storms including tornadoes is the reason I left Texas. I thought nothing would get me out of there, but after so many summers with growing numbers of days over 100 degrees and a decade of drought when the lake view from my front yard dwindled from lake to caliche cliffs, I packed up and left the first of August almost 6 years ago. The drought has eased since, but the storms there are worsening and it isn't getting any cooler. That probably means I won't move back however much I'd like to. Adapting myself to Maine winters is a must.
Over the last 5 years since I've been writing, I've noticed that my writing schedule as well as writing style change drastically season by season particularly in the winter.
Frankly, I become a hermit. I hardly ever go out of the house except to walk the dog and get the mail. My son does all my grocery shopping and errands. I sit at home in my tights, baggy sweat shirt and thick socks and spend most of my day in front of the computer in the kitchen… where it's warm… and I write.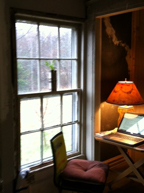 The winter view from my office/kitchen window
And in the winter my writing seems to adjust its themes with the available daylight hours. The books I write in the summer include some light-hearted banter and tongue-in-cheek attitude to match the gorgeous light outside my office that is almost like Alaska's midnight sun. Not quite, but close to 24/7 daylight. In the winter I write about dark emotions, passionate encounters, lots of instances of mayhem because, well, it's dark outside almost all the time. Then I use the early spring to lighten those when I edit them just so I won't scare my readers away. Seasons works for me in unexpected ways it seems.
And my winter themes this year are… Russia on the cusp of revolution, cyber-hacking, black-market artifact sales, a re-telling of The Little Match Girl and you all know how that story turns out, and finally sharks, human trafficking and pirates. Fun stuff. But the spring cometh! My editor and I can interject some levity into the final versions, at least my Little Match Girl won't die in the snow… I hope. And I'm leaving my light-hearted anthology of wedding stories for this summer when I'm in a better mood. But my writing in the winter is necessary particularly when it mediates Seasonal Affective Disorder (SAD, a very good description of the condition). Without removing myself from my real surroundings into a make-believe world, I'd be a mess. So, I thank you winter and my novels thank you as well. I have a lot more hours trapped indoors to think up stories.
Happy reading!
Min
The following is a snippet from Precious Stone, my current publication, which came out in November (but was begun in the winter of 2015… the Russian mob and lots of mayhem occur). Enjoy.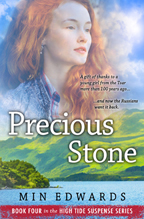 Precious Stone, Book 4 in the High Tide Suspense series, available now:
Amazon: http://amzn.to/2fM6a85 to purchase
and
ePub Universal link: https://www.books2read.com/u/bP1Gk7 to buy at ePub retailers such as iBooks, Barnes & Noble, Kobo and others.
A gift of thanks to a young girl from the Tsar more than 100 years ago… and now the Russians want it back.
Collee McCullough, the owner of The Bakery in Stone Bay, Maine, has a perfect life until early one morning men in suits come calling. She has something someone dangerous wants. Something that her Russian great-grandmother, Natasha took when she fled Russia in 1913. Too bad Buka never told her family what she had or where she left it.
Jake Elsmore, visiting Stone Bay to sell his mother's house, walks into The Bakery for a cup of Earl Grey tea, but gets more. There she is. Collee McCullough, stepping out from behind the Chief of Police, a lovely, fiery-haired fairy toting a shotgun while two men lay insensate on the floor of her shop. Looks like that tea will have to wait.
Bio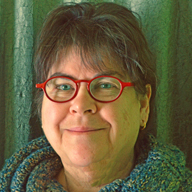 About the Author:
Min Edwards is the pen name of Author, Archaeologist, Book Designer, and owner of A Thirsty Mind Publishing and Design, Pam Headrick.
She has lived in many countries in her life—England, the Philippines, Cuba, Texas (yes, Texas thinks of itself as a separate country)—gathering experiences for her writing along the way. She earned Undergraduate and Graduate Degrees from Texas Tech University and The University of Texas at Austin in Anthropology with minors in Art, Geology and Geography, and she spent her early professional career as an Archaeological Illustrator and staff historical archaeologist at the University of Texas – Texas Archaeological Research Laboratory.
In 2012, after participating in a round table discussion on self-publishing at a writers' conference she was inspired to began writing down the stories that had filled her head for decades and now works from a small office in her 180 year old Greek Revival farmhouse at Pheasant Cove Farm near the village of Lubec, Maine, the most eastern spot in the U.S. In the summer she walks on her private beach every day, listening to the song of the pebbles being washed back and forth in the tide. It's a musical and inspiring sound. In the winter though, she'd rather the beach be sand and maybe transported to someplace warmer… Tahiti seems to be most often on her mind.
Her first novel, STONE BAY, a Contemporary Romance, was published in March of 2014. It was followed by a new Romantic Suspense series, Hide Tide Suspense, bringing danger to the small village of Stone Bay, Maine. Out now in the series are STONE COLD, STONE HEART, STONE FALL and PRECIOUS STONE. Finally for the conclusion of the series, THE RUSSIAN PHOENIX, a women's fiction historical and the prequel to PRECIOUS STONE is coming soon. These books can be found on her Amazon Author Page: http://amzn.to/2bHJ1kb
You may also find all of her published books at sites such as iBooks, B&N and Kobo through Books2Read.com
Stone Bay: https://books2read.com/u/bw8gDG
Stone Cold: https://books2read.com/u/49x5y8
Stone Heart: https://books2read.com/u/b6QP9J
Stone Fall: https://books2read.com/u/mgK8V6
Precious Stone: https://www.books2read.com/u/bP1Gk7
Drop in on her alter-ego at the business website at www.athirstymind.com where you can learn all about the book design business, and visit with Min at www.MinEdwards.com where you can learn about her writing life.
You can also find her on:
her blog for all things technical:
and on her website blog page for her writing thoughts:
Twitter @MEdwardsAuthor
Min's Facebook:
www.facebook.com/AuthorMinEdwards
Personal Pinterest:
www.pinterest.com/athirstymind
Min's Pinterest Page: