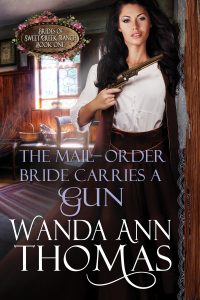 How did you get started writing?
Two books were milestones for me prior to my taking up writing. Pride and Prejudice introduced me to the world of historical romance. I was always drawn to historical novels, but adding a romance totally enchanted me. Julia Quinn and Mary Balog books are on my keeper shelf. In my search for historical fiction containing a great love story, I eventually stumbled onto Diana Gabaldon's Outlander series. I loved, loved, loved Jamie and Claire, and they provided the inspiration for me to try my hand at writing.  As an odd juxtaposition, I had also read the works of the ancient historian Josephus, and fascinated by that time period I wrote several Christian Fiction/Romance hybrid books. Once I had honed my writing skills I published a three-book series – The Herod Chronicles.
The time period limited my word choices, but stretched me as a writer. Most clichéd phrases and similes are too modern to work in ancient times, which forced me to be creative. The Herod Chronicles is a family drama, and I learned I enjoyed creating a world centered around the love, joys, trials, and tribulations of a dynamic family. The experience also taught me that I enjoyed writing the romance more than the history.
Tell us about your current series.
When I decided to write Sweet Historical Westerns I knew I wanted to write romance focused stories. I centered the series around a family of adopted brothers struggle to carry on the legacy of operating a cattle ranch dedicated to rescuing homeless boys.  The cowboy heroes of the Brides of Sweet Creek Ranch have been fun to write.  The tone of these books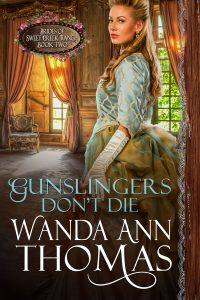 is lighter, a change that is a better fit for me.
What genre do you write in and why?
I love writing historical romance for the same reason I love reading it.  The chance to escape into past worlds, with larger-than-life heroes and heroines finding their happily ever after.  If I ever venture outside writing historical romance, the only genre that holds any appeal is a post apoplectic / syfy story.  Which makes a strange sort of sense, as it is an escape into a future world of limitless possibilities.
Excerpt – The Mail-order Bride Carries a Gun – Book One Brides of Sweet Creek Ranch
Ella jumped at the knock on the plain wooden door. The tinkle of out-of-tune piano music drifted up from the saloon. She smoothed the wrinkles of her blue woolen dress. "Come in," she called, her voice too shaky for her liking.
Ty Haven ducked through the door and removed his hat. Sandy-blond bangs slid over dark perfect eyebrows. "Miss Hunter…ma'am, may I call you Ella?"
Good glory, a justice of the peace was waiting below to make them man and wife. Ty Haven would be her husband before the next song on the piano faded. How was she going to marry the man who killed Johnny? "Call me any name you like, Mr. Haven."
"Call me Ty, ma'am…um I mean Miss Ella." A slash of red showed on strong cheekbones and he held out a box tied with a rose ribbon. "A wedding present."
She backed up and bumped into the narrow bed. Ty Haven's towering presence stole her breath. "You didn't need to do anything special." Heart pounding in her ears, she ran her fingers over the smooth satin bow.
She stared into Ty Haven's golden-brown eyes for the telltale signs of the man she'd seen twenty years ago. She wanted to snatch up her journal and compare the photo pasted inside with the man standing before her. Could this man who took in homeless boys be the same person who had murdered Johnny?
"What's wrong?" he asked.
What was wrong? She was attracted to a no-good Yankee devil, and sweating like a thousand-pound hog, and her brain was in danger of turning to mush. She didn't come to Wyoming Territory for pretty presents. She was here to take back Johnny's saber.
She shoved the box at Ty Haven. "Are you prepared to uphold our agreement?"
His eyes clouded. "A man doesn't forget a small matter like agreeing to not consummate his marriage on his wedding night."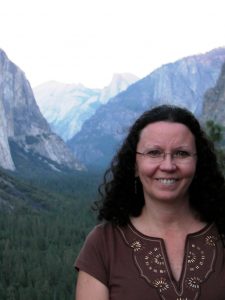 Author Bio
Wanda Ann Thomas is the author of Sweet Historical Western Romances and Historical Christian Fiction. She adores heart-felt love stories, featuring honorable heroes and courageous heroines. Men and women who will brave any danger for loved ones and who struggle against overwhelming obstacles to win their happily ever after.
A native of Maine, Wanda starts each day bright and early at her computer writing and drinking coffee. When the weather allows she and her husband average three rounds of golf a week. She confesses to being overly fond of chocolate chips cookies, winter vacations spent in sunny Florida, and her large boisterous family.
Author Website
Amazon Author Page