How does a lonely shapeshifter find love? That was the "what if" question that helped me create the concept for my current release, Alpha vs. Alpha. I reasoned that it isn't as if your average shapeshifter could advertise on eHarmony or Match.com. After all, explaining "and oh by the way I can change into a wolf sometimes," would not be great icebreaker material on a date with one of the typical subscribers.
So, I came up with the concept of an online dating service which is supplemented by an office staff that could also provide personalized service if someone was willing to pay the price to be personally matched. The heroine of Alpha vs. Alpha is Serena Goldwolf is a bit abrasive and volatile but in her defense, this is only because she's on the verge of going into heat. A heat cycle she wasn't expecting because it's brought on by meeting her True Mate, Damien Blackwolf.
What's a True Mate? It's a shapeshifter's destined mate—a life partner and lover from whom there is no escape because they are fated to be together. A True Mate is the very last thing Serena wants in her life. Her parents are True Mates, and her perception is that her mother gave up everything to support her father.
Her mother put off college and had a pup as soon as they met. Serena can't remember ever hearing her parents argue. Her mother would smile and nod when her father made decisions regarding how the Goldwolf pack will be run. Serena can't and won't live that way, so meeting Damien Blackwolf is a nightmare. She doesn't want to find herself saying "Yes, dear" like a wolf-bitch version of a Stepford Wife no matter what half-assed pronouncement comes from her True Mate's mouth. She fears that's her destiny because her True Mate is an Alpha male. The conflict raging through her is, "do I have to give up me to be with you?" She fears the answer is yes, so she fights her attraction to Damien.
Damien is at the age where he wants to settle down. He has approached Predator-Match.com (Serena's matchmaking service) to find a Chosen Mate, never expecting that he'd meet his True Mate. All he hoped for was a compatible female with whom he could share his life and have pups together. A female he could fall in love with and with whom he could share the rest of his life. Instead, the first female Predator-Match.com found for him was a scary stalker type female and he's ticked. When Serena realizes that he'd been matched with a female she'd thrown out of the service, she's angry too because it means she has to apologize and she hates it. And she especially hates apologizing to Damien.
All it takes is one deep breath, and Damien is sold on Serena. She's his True Mate and he wants her in his life now and for always. When she runs, he gives chase…because that's what True Mates do. Is he able to convince her that he wants her just the way she is? Pick up Alpha vs. Alpha to find out.
BLURB
Alpha vs. Alpha by Francesca Hawley
Alpha female Serena Goldwolf has spent a lifetime vowing never to be a submissive mate to any Alpha male. But all it takes is one surprisingly sexual meeting with Damien Blackwolf, a dissatisfied client of her shapeshifter dating site Predator-Match.com, and she is aching to be owned by the hottest male on two legs—or four.
Damien Blackwolf doesn't understand why the voluptuous Serena won't admit they're True Mates. To convince her, he decides to bring out her desires by dragging her to someplace private to get to know her…intimately. But how can he convince her of their destiny when she refuses to acknowledge their connection and runs away from him?
In a passionate battle of wills, there most definitely can be two winners.
Note:  This book was previously published elsewhere but has been revised and updated.
EXCERPT
Alpha vs. Alpha
Copyright © 2005, 2011, 2016, Francesca Hawley
Serena Goldwolf's head shot up at the irate shout coming from the outer office of her shapeshifter matchmaking business, Predator-Match.com. She brushed her bangs off her forehead with a sigh. Damn it, couldn't anyone in this office take care of stuff without her intervention?
The male voice continued to roar out there, and she knew her secretary wouldn't be able to handle him because Kara was such an omega even omega males dominated her. Serena sighed again, saved her database update and headed out to confront the wolf male jerk. Serena took in the male outrage with a shake of her head. Asshole. He shook his head as if he'd heard her. Yeah right. She wished.
"I'm sorry, sir. Really." Kara huddled in her chair, her head dipped and her eyes on her desktop. Submission in her posture and her voice.
"You people set me up with some stalker bitch! I want to talk to one of the owners, now." A tall black-haired man with dark-brown eyes leaned on the desk, his large hands flat on the wood.
Serena took him in, her body responding immediately. Damn it. She didn't need this shit, but she couldn't take her eyes off him. He wore a very expensive, black Italian suit, Italian black leather loafers, a crisp white shirt and red tie. The ultimate in power wear for the busy executive. And he was so good-looking he resembled an escapee from Fashion Week. She shook her head to remind herself that he wasn't all that…he was just a wolf like any other.
BIO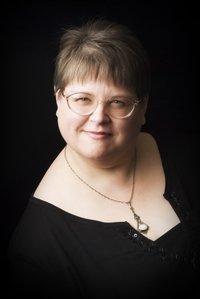 Hi. I'm Francesca Hawley and I'm a fat chick. A woman with dangerous curves just like my heroines.
Many people don't like the word, "fat" but I do because it's the truth and I've learned to own it. I am a fat chick and I always will be. When I first began to read romance, the heroines were all thin. I kept wondering, where were the fat heroines? I wanted to read about a fat chick who loved herself—or at least learned to love herself—and a hot alpha hero who liked her jiggly bits just the way they were. Since I didn't find many big girls to read about, I decided to write about them, so Francesca Hawley – author of Romance with Dangerous Curves was born.
In a Francesca Hawley romance, my readers will find authentic, sensual, fat heroines who love and are loved by their intense, passionate, and seductive Alpha heroes. I hope you enjoy their dangerous curves just as much as their hunky heroes do.
Web site: http://www.francescahawley.com
Blog: http://www.francescasmindstream.blogspot.com
Facebook: https://www.facebook.com/francesca.hawley
Twitter: https://twitter.com/francescahawley
Pinterest: http://www.pinterest.com/francescahawley
Good Reads: https://www.goodreads.com/FrancescaHawley