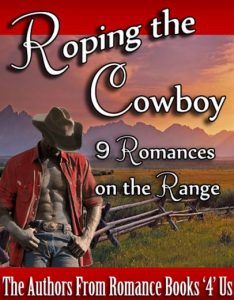 There's something special about the cowboys of old. Their word was their bond, and they lived and died for their beliefs. Promises were made to be kept. They did what they said they'd do, unless they died trying.
The cowboy was tough but fair in his assessments. He listened more than he spoke, but when he did speak his message was potent. There was no laziness or putting things off until another day. A work ethic ensured things got done, and they took pride in their work.
The cowboy image was one of strength and courage. They never shied away from a fight if it was to uphold justice or defend those who were defenseless. They chose their battles wisely, knowing some could be won, while others were best left alone.
They also understood that not all things have a price, and not everything could be bought or sold.
Our world could do with more strong, silent heroes who lived with a similar outlook.
When I wrote Love, Texas Style for Roping the Cowboy, the RB4U 2016 anthology, I chose to write a contemporary novelette where the old values are still important today. This is my first cowboy story, and is set in rural Texas, a place where a man's word is still his honor, and a handshake is as binding as a signed contract. The hero thinks like a cowboy of old. Both characters grew up with cowboy values and a code of decency. That's why Chase's betrayal hit Amy so hard.
Roping the Cowboy has 9 unique novelettes from sweet to sizzling. It is available on Amazon now for preorder: https://amzn.com/B01M0V7X71 and will be delivered to your reading device on October 15, 2016. For story excerpts go to: http://www.romancebooks4us.com/Roping_the_C.html
FOLLOW YOUR COWBOY HEART by Janice Seagraves
Max struggles daily to hide his psychic gift with animals. Being a hired hand at a local dairy probably wasn't his best idea, but his mom needs the money he brings in. And there's the dairy owner's sexy daughter he can't stop thinking about. Will he ever have anything other than himself to offer her?
Genre: Paranormal Romance
COWBOYS ONLY by Nicole Morgan
Terry Reynolds runs his family's cattle ranch in Antonito, Colorado. Born and raised on the one-hundred-plus acre property, it's the only life he knows. Much to his match-making mother's dismay, it's the only thing in his life he truly cares for.
Andie Donahue has just moved to Antonito after inheriting a small two-bedroom cabin from her late aunt. She wants a new start and decides this is her chance. After discovering a dating site has matched her to a handsome cowboy in the same town, she wastes no time sending the hunk a message.
Terry has no clue why some strange woman has shown up at his ranch, or what the heck
she's talking about. After running the adorable brunette off, he finds out the truth. Now he's faced with making amends for his mother's meddling. But did he just blow the best chance he had for love right out of the water? And worse…what does he do now?
Genre: Contemporary romance
LIGHTNING STRIKES TWICE by Rose Anderson writing as Madeline Archer
In 1919, with soldiers off to war in Europe and influenza taking the heartiest in the homeland, a small ranch in New Mexico hangs on the edge of foreclosure. After the granddaughter of a Yaqui medicine man prays to the ancestors for guidance, a stranger arrives seeking work and he's is unlike any vaquero they've ever known. Be not forgetful to entertain strangers: for thereby some have entertained angels unawares.
Genre: Paranormal
THE SHADOWS IN OUR PAST by Denyse Bridger 
Enroute home to Gold Ridge, Colorado after their honeymoon, David and Hannah Logan are attacked by a pair of bandits who plunge them back into a past they shared, but never truly came to terms with together… It's been almost a year since the nightmare of violence and assault tore Hannah from David's side and left him bereft and angry. When she returned to him, determined to rebuild what they'd lost, the light of love had come with her. Now, a new torment threatens to destroy everything, and Hannah's biggest enemy might just be David himself…
Genre: Historical Western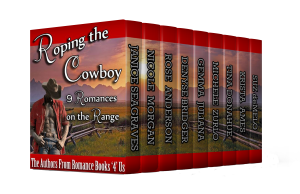 LOVE, TEXAS STYLE by Gemma Juliana 
Amy Waterstone must return to the family ranch in Glen Creek, Texas because her father had a serious accident. Then she learns her father compromised the ranch by taking a loan from Chase Storm that he can't repay. The cowboy next door is the one man she never wants to see again. Chase has waited seven years for Amy to come home, and for a chance to redeem himself in her eyes. They're both older, but are they any wiser?
Genre: Contemporary
BEAR COUNTRY by Michele Zurlo 
Tasked with scattering the ashes of her beloved aunt at the source of the Big Bear River
high in the mountains, Mallory must swallow her pride and ask Gavin, a laconic, sexy ranch hand, to guide her.
Genre: Paranormal/shifter
PLEASURING PANDORA by Tina Donahue  
This luscious cowboy's been on her radar for years, but he's never noticed her. A speeding ticket changes everything, leading to a sultry weekend and no-holds-barred romance – Texas style.
Genre: Erotic Contemporary
WHISKEY'S SWEET REVENGE by Krista Ames  
Dr. Miranda Chase didn't want to be home but she'd do just about anything for her dad
including temporarily taking over his veterinarian practice. However, once she met her dad's client Garrett, she wanted to drop everything and run. Cocky cowboys just weren't her thing.
Garrett Jackson cares more about his horse than himself or anyone else and when a tiny bit of a thing calling herself a vet blows into his life like a tornado, he's literally knocked for a loop. He doesn't have time for women.
But, when Garrett's horse turns up missing, Miranda isn't going anywhere. Forced to work together, they'll learn a little bit about each other or die trying.
Genre: Western Contemporary Romance
THE COWBOY, HIS COUNTESS, AND HER COMPANION by Suz deMello
(England, 1870) The Honorable Amelia Haddon must marry, or lose the income that supports her and her "companion."  Averse to men, she is desperate until an American cowboy proves to be her unlikely rescuer. But will judgmental society drag this happy trio apart?
Genre:  Historical (Victorian England)
~*~*~*~*~*~*~*~*~
Please share in comments what you enjoy most about cowboy stories.
~*~*~*~*~*~*~*~*~
GEMMA JULIANA is a multi-published author who writes love stories of all kinds, from contemporary to paranormal. She has a penchant for romantic international settings, whether real and fictional. Gemma lives in a cozy cottage in Texas with her very own hero, teen son, and a dog who rules them all. Chocolate and coffee nourish her muse and fuel her creativity. She enjoys traveling for research and spending time with family and friends. Gemma loves hearing from readers and making new friends.

www.gemmajuliana.com
http://www.gemmajuliana.com/blog/
www.twitter.com/gemma_juliana
www.facebook.com/gemma.juliana
https://www.pinterest.com/gemmajuliana/