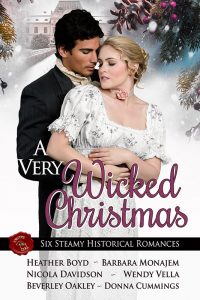 Tell us a little about yourself.
Greetings. I'm Heather Boyd a regency historical romance author, indie published, and sole female in a testosterone fueled household. (Even the cat is male)
 Have you always known what genre you would write and be published in?
The first books I read to death, and devoured, were regency romance novels. But that wasn't until I had worked my way through fantasy, science fi, and paranormal novels as a young adult. Romance books kept me up late, made me laugh out loud, at a time when I really needed that. It seemed natural to write my own stories in that genre. Regency romance makes me happy.
 How has your experience with self-publishing been?
Self-publishing has been fantastic. I love all the ins and outs of producing my books the way I want them and setting my own schedules. I'm a full time writer and I'm grateful that my self-employment allows me to drop everything when family needs me. Which they have of late. My usual writing routine has been turned on its ear by a new and ongoing family commitment that takes me away from my desk for a greater portion of my writing week. I'm attempting to adapt and because I'm self-publishing I only answer to me.
 What advice do you have for other authors wanting to self-publish?
Be aware that self-publishing is for the long haul and its often a bumpy road. Keeping your own motivation and confidence up can be an ongoing battle. Keeping on track to meet your deadlines, keeping your relationships and yourself healthy is important too.
 What is your next project and when will it be released?
My next project is a multi-author Christmas anthology: A Very Wicked Christmas. Releasing October 18, A Very Wicked Christmas anthology features the best in regency romance. Here's a little taste:
 Six of today's most popular regency romance authors come together to deliver a holiday anthology full of passion, promise, and scandalous dalliance.
In Heather Boyd's The Christmas Affair, a lonely shopkeeper offers shelter to a beautiful, not so innocent miss to overcome the bitter memories of Christmases past, but could such a wicked connection ever lead to a happily-ever-after? A dashing spy with marriage on his mind seeks to rekindle the spark by any means possible with the woman who claimed his heart in Love at First Dance by Barbara Monajem. A scandalous widow rescues the man of her dreams – but his secrets could destroy their love in Nicola Davidson's Joy to the Earl. A masquerade ball was no place to be reckless with your innocence, and yet one scorching look at the masked highwayman urges Miss Partridge to do just that in Mistletoe and the Marquess by Wendy Vella. In Lord Misrule by Donna Cummings, a young widow chooses a handsome rogue to be her first lover, but his regrets from a past Christmas may end their affair before it even commences. A blue-stocking becomes a courtesan to escape a murderer in The Glittering Prize, an intrigue-filled romance by Beverley Oakley about finding love where it's least expected.
I have a long excerpt from my story The Christmas Affair available to read on my website, but here's a short peek at it here too.
"Shouldn't you get back inside to the warmth? Your wife will be wondering where you are."
He stared at her a long moment and then blinked. "My wife passed away."
A hard lump formed in her throat, and she took a step toward him. So that explained why she'd not seen his wife recently. But then, to her shame, she had only ever really cared about the ever-changing window display and Mr. Cabot's fine and unavailable presence. "I am so sorry."
He nodded sharply, his lips pressing together, and glanced aside. "It was sudden."
Amy took another step closer as he shivered. He was not dressed to be out of doors. His hair was wet and slicked back from his face, and he wore a banyan of thick and luxurious brocade, the type a wealthy lord might wear in the privacy of his own bedchamber.
He looked as if he had been getting ready for bed.
A warm bed.
An empty bed.
It took a second to formulate a new plan for her night, but then she felt shame and disgust in herself. She could not attempt to seduce a man who was grieving. It was not fair to him and would only lead to her own humiliation. She had had enough of that for one day. "You should go in, sir."
He refocused his attention on her. "Were you going to sleep under those crates tonight?"
She hesitated to answer but then nodded. What was the point of lying about it? Since her mother's death, she had learned to accept that she did not deserve anything more than to be where she was. "I will be quiet. I promise. You won't even know I'm outside your door."
"Have you no home, no one to wonder where you are?"
He frowned when she shook her head again and then glanced around at the deserted, dirty lane.
He really needed to return indoors before his hair froze. Amy backed away. If she pretended to leave, he would not have an excuse to linger. Once he had gone inside, she could sneak back and quietly creep into her shelter again.
"Please go back inside before you catch a chill. I will go. I don't want to be any trouble."
He stared at her so long she started to tremble for an entirely different reason. Mr. Cabot saw her at last, but this was not how she had imagined the moment. She had nothing to recommend herself. No money to spend in his shop, no beauty with which to capture his attention.
He followed her a few steps and then bent down to pick up the sticks she'd dropped when he'd first made himself known to her.
He turned them over in his bare hands a moment, eyes widening, but then shook his head repeatedly. He flung them aside and gestured to his open rear door. "You should come in. There's a safer and warmer place for you with me."
The A VERY WICKED CHRISTMAS ANTHOLOGY is available for digital and print pre-order now at:
What is your favorite dessert/food?
All of them: Baked Cheesecake, Pavlova, Fruit Salad, Ice Cream, Apple Pie, Bread and Butter Pudding, Plum Pudding, Trifle and many, many more. I have a wicked sweet tooth and dessert IS the most important meal of the day. *grin*
 Do you have a view in your writing space? What does your space look like?
My house has a great view of Lake Macquarie on the Australian East Coast, however it's a huge distraction so my writing space is at the very back of the house. The glare off the water can also be a pain and without the views I'm much more focused and productive. Last Summer I finally set up the room properly, de-cluttered, repainted, upholstered my writing couch, hung favorite pictures. It's a lovely space to work in and it's a pleasure to go to work.
 What are you currently working on?
I am currently writing the fourth story in the Rebel Hearts regency romance series, and a sixth story in the Hunt Club gay regency romance series, and for something fun I'm venturing into contemporary romance.
More about Heather Boyd?
Bestselling historical author Heather Boyd believes every character she creates deserves their own happily-ever-after, no matter how much trouble she puts them through. With that goal in mind, she writes sizzling regency romance stories that skirt the boundaries of propriety to keep readers enthralled until the wee hours of the morning. Heather has published over thirty stories. She lives north of Sydney, Australia, and does her best to wrangle her testosterone-fuelled family (including cat Morpheus) into submission. Connect with her at:
Website  |  Twitter  |  Facebook Page  |  Mailing List  |  Goodreads