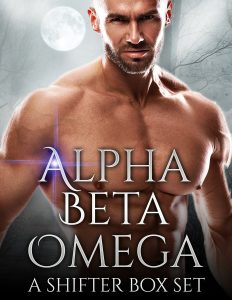 Healer's Fate
by Beth Caudill
Liam couldn't watch the ceremony that would mate Corliss to someone else. He could've challenged for her, but that meant fighting his father—the ruling wolf, who was neither a tyrant nor senile. Both of them in their prime, a fight would have ended in one of their deaths, and he couldn't justify the loss of life.
Not even for her. Unable to keep control of his wolf, Liam shifted to animal form and sought solace in the forest. Except every tree, every fragrance roused memories of her, and the wolf sprinted towards the ceremonial clearing. His paws swiftly traversed the distance until he scented the woman who should be his.
Stark quiet alerted him to trouble as the wolf crept along the edge of the grass. People were missing and those who remained stood as if waiting for the ceremony to start. He circled around to the front to get a better view, hiding in the shadows so as not to alert anyone. Raymond was unaccounted for. Corliss stood stiff-backed, facing away from the audience.
Her caramel-colored hair was piled atop her head, darkened to walnut in the moonlight. Shadows hid her sea-green eyes and emphasized her high cheekbones. She appeared cold, harsh, and removed from events going on around her. Yet he knew her to be warm and caring, often too caring.
Through her healing powers, she gave more of her personal energy than she should. As her friend, he could offer support, but he couldn't push too hard for her to rest, or she'd rip out his throat.
He chuffed. The dark green specks in her eyes glowed when she was angry. That spark had been missing from her eyes for days. He repressed a growl as Corliss bit the inside of her cheek. Before the wind shifted, he backed away. She wouldn't appreciate anyone seeing her close to tears.
The wolf wanted to rip a hole in Raymond's belly, but even their animals had rules for a challenge. He trotted to a cache of clothes. Only the human half of his soul could help her now.
He let the ever-present hum of insects and familiar mossy pine scent calm his inner turmoil. No one could explain the magic of the werewolves shifting forms, but sometimes an unfocused change resulted in monstrous configurations. And death.
Centered by will alone, he called forth the transformational shift. His fur stood on end as an electric charge built in an invisible bubble around him. Pressure pricked against his skin until just before it became painful. His fur receded and then his body stretched, grew until once again he was Liam, the man.
The tranquility brought on by the change vanished beneath the fury within his heart. Yanking on his jeans, he'd protect Corliss the only way he could. By hunting down his prey.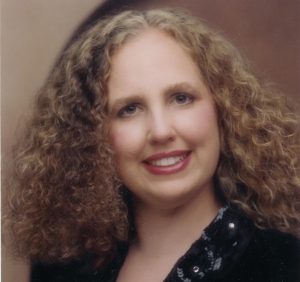 Beth Caudill Bio
Although Beth grew up in West Virginia, she currently resides in North Carolina with her husband, two sons and a Cavalier King Charles Spaniel who makes an excellent lap warmer. Blending the analytical and creative sides of her brain, she delights in creating fantasy worlds for others. Catch her online most days except when NCIS and Once Upon a Time air.
Book Details and Purchase Information
Book Title: Healer's Fate
By: Beth Caudill
Published by: Moonlight Mountain Books
Series: Paranormals of Arilase – Novella 1
Genre: Paranormal Romance / Fantasy Romance
Length: Novella – 21,100 words
Heat Level: Spicy
Available for Sale at:
Amazon – http://www.amzn.com/B00DR28SA2/
Barnes and Noble – http://www.barnesandnoble.com/w/healers-fate-beth-caudill/1029825898
iBooks – https://itunes.apple.com/us/book/healers-fate/id668865764?mt=11&uo=4
Kobo – http://store.kobobooks.com/en-US/ebook/healer-s-fate
Google – https://play.google.com/store/books/details/Beth_Caudill_Healer_s_Fate?id=jKfiAwAAQBAJ
All Romance eBooks – https://www.allromanceebooks.com/product-healer039sfate-1225903-140.html
Retail Price for eBook: $0.99
eBook ISBN: 978-0-9853781-2-7
Book Website: http://bethcaudill.net/novellas/healersfate.html
Publisher Website: http://MoonlightMountainBooks.com/
Author Website: http://BethCaudill.net/
Author Newsletter: http://eepurl.com/fs6SU
Author Email: beth@bethcaudill.net
Author Twitter: http://www.twitter.com/beth_caudill/
Author Facebook: http://www.facebook.com/AuthorBethCaudill
Author Pinterest: http://pinterest.com/bethcaudill13/
Author TSU: http://www.tsu.co/bethcaudill
Author Goodreads: http://www.goodreads.com/bethcaudill
Amazon Author Page: http://www.amazon.com/-/e/B00538IWEU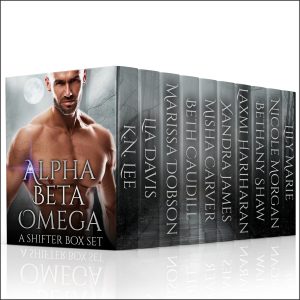 Alpha Beta Omega: A Shifter Box Set
By Lia Davis, K.N. Lee, Marissa Dobson, Beth Caudill, Misha Carver, Xandra James, Laxmi Hariharan, Bethany Shaw, Nicole Morgan, and Lily Marie
From today's hottest USA Today and Bestselling authors comes a collection of 10 novellas, featuring hot alpha, beta, and omega shifters. If you like tigers, bears, wolves, and more you'll love this box set. Each story is either a first in a series or a stand-alone novella.
AND it's only on sale for a limited time so be sure to grab while it's available. #99cents
Available at:
Amazon: http://amzn.to/29NbiRa
iBooks: https://itunes.apple.com/us/book/id1135317236
B&N: http://www.barnesandnoble.com/w/books/1124115749
Kobo: https://store.kobobooks.com/en-us/ebook/alpha-beta-omega-a-shifter-box-set
Are: https://www.allromanceebooks.com/product-alphabetaomegaashifterboxset-2091589-166.html
What's inside:
A Tiger's Claim by Lia Davis
As the Alpha's only daughter Shayna Andrews has always been treated like a rare gem, protected like royalty, and she's suffocating. Her longing to be independent has driven her to sneak out one evening after dinner. After relishing in being able to run free without an escort, she finds herself face-to-face with the enemy, miles from home, and nearly loses her life until a lone wolf comes to her aid. But when he discovers she wears the enemy's brand, things will go from bad to worse.
The Scarlett Legacy by K.N. Lee
Wizards. Shifters. Sexy mobsters with magic.
The arrival of Avalon Prince brings a century-old feud to a dangerous climax. Scottish Old-World magic, mixed with a dangerous obsession with Evie and a sinister plot for revenge threatens to bring the Scarlett family to its demise.
Tiger Time by Marissa Dobson
Tabitha Leigh has no idea her mundane life is about to change or that danger stalks her every step. Now as the Queen of the Tigers with a bounty on her head, she must embrace her future and her mate. If she doesn't, it will mean the end of everything she's come to know and never realized she needed.
Healer's Fate by Beth Caudill
Corliss Rumdone's the healer of her werewolf clan, destined to save lives and live in the shadows. He's the alpha's son, destined to mate to cement his status at the top of the pack. What happens when he chooses her instead?
Bearly Smitten (The Alpha's Bride Book 1) by Misha Carver
When bear shifter Jed Barton's keynote speaker engagement and his role as pack alpha require him to have a wife, he does what any other tycoon would do – he hires one – the  last thing he wanted to do was fall in love with her.
Reluctant Revenge – Under the Demon's Skin by Xandra James
Demon-hybrid Nash is hungry for revenge. Promising to protect the daughter of his sworn enemy, he's torn between his duty as an Alpha Enforcer and his desire to avenge his murdered fiancée. Can Nash forgive the past? Or will losing Sienna be the only way to heal his dark heart?
Feral – A Many Lives Story by Laxmi Hariharan
He was her destination. She just didn't know it. When Maya leaves Luke to go in search of her blood family, nothing prepares her for the secrets she uncovers about herself.  An intense, shifter romance, set in a Bombay of the future.
The Beta's Mate by Bethany Shaw
Nina's tired of the lies and disappearances. Her marriage is on the verge of dissolving, but fate has other ideas. Now if she could only get in touch with her soon-to-be ex. Logan hates that his wife filed for divorce, even though everyone tells him it's for the best. He's the beta of the pack—second in command—and she's human. When he discovers he's going to be a father, he'll do anything to keep Nina and the baby safe. But will she let him back in when she finds out he's been lying to her for years about turning into a giant wolf?
Night Falls by Nicole Morgan
When Paul, the leader of the Racinitine Pack crosses paths with Kinzey, a tenacious reporter, he knows he's in trouble. Not only can he see the fire in her, but he can feel it as well. When Kinzey gets too close to his secrets, it may change the only way of life his pack has ever known.
Wounds to Bear (Heart of The Bear Book One) by Lily Marie
A wounded shifter, and a beautiful, curvy woman. Two hearts, with one goal – to save the children taken by an old enemy.
Roman Black's past has finally caught up with him – and he isn't the only one paying for his mistakes. Dr. Jenna Morgan is running from her own past – and hopes to find her place in the small town of Pine Heart. When a wounded bear shows up at her door, she discovers that the rumors about this small town are true, and that one of those shifters is bleeding all over her front porch. She treats him, and learns that he was shot protecting a group of shifter and human kids – who are now being held by an old enemy