Cynthia, thank you so much for having me back on your blog! It's a pleasure being here.
It's my pleasure, Ella ~~ Cynthia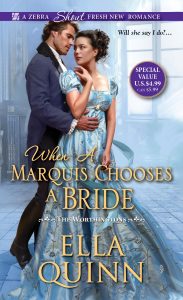 Tell us about your current series: The Worthingtons begins with eleven children, including two eighteen year olds who are having their first Season and two Great Danes. In the first book, Three Weeks to Wed, Grace and Matt Worthington marry. They each have guardianship of their brothers and sisters, so we have a blended family of sorts.
 What inspired your latest book? At the end of Three Weeks to Wed, one of Worthington's cousins, Dominic, Marquis of Merton shows up. He's very handsome, but full of himself, or as a Regency person would say, puffed up in his own consequence. He really had to be taken down a few notches. Dotty Stern, a life-long friend of Charlotte, Grace's sister, was raised by an egalitarian father and seemed to be just the person to do it.
What is your next project and when will it be released? The next book is about the Dowager Lady Worthington. It's a novella and will release sometime in March. However, I'm also working on a self-published novella series called The Trevors. That book, It Takes a Hero, will release in September in a boxed set.
How has your experience with self-publishing been? I can't say horrible because I have not even done any of the heavy lifting, but I still don't like it. I wish, for example, that I'd pitched the novella series to my publisher. I really love being traditionally published.
Tell us about your hero.  Give us one of his strengths and one of his weaknesses. Dom's strength is loyalty, to his family and country. His weakness is his inability to stretch and see beyond what his uncle taught him. But we're working on that.
Tell us about your heroine.  Give us one of her strengths and one of her weaknesses. Dotty's strength is her compassion. She is determined to cure as many ills of the world as she can. Her weakness is that she will barge into a situation without thinking of all the consequences.
Has your muse always known what genre you would write and be published in? Ever since she came to live with me, she has proven to be much smarter than I am. She absolutely knew that I need to write Regencies instead of my journey to buying boat.
Did you have several manuscripts finished before you sold? If so, did you send them out yourself? When I started out a friend, who'd worked for a publisher in Europe, told me to write three books, so I did. That worked out very well as my editor was able to read all three books in the series when he made the offer.
When A Marquis Chooses A Bride (The Worthingtons, Book 2)
Thanks to their large extended family and unconventional courtship, the Worthingtons have seen their share of scandal and excitement. But nothing has prepared them for this…
The Dowager Lady Worthington isn't quite sure what to make of country-girl Dorothea Stern. As the granddaughter of the Duke of Bristol, Dotty is schooled in the ways and means of the nobility. But her sharp wit and outspoken nature has everyone in a tizzy. Especially their cousin, Dominic, the Marquis of Merton.
Prematurely stuffy, Dom was raised by his cheerless uncle to be wary of a host of things, including innovation, waltzing, and most perilous of all: true love. Still, there's something about Dotty, beyond her beauty, that Dom cannot resist. But the odds are against him if he intends to win her as his bride. Will he choose loyalty to his family—or risk everything for the one woman he believes is his perfect match…
Purchase Links:
Amazon https://goo.gl/RbNQLh
Barnes & Noble http://goo.gl/NSuQtM
GooglePlay https://goo.gl/Jm9pHm
Books-A-Million http://goo.gl/W4YauS
Powell's http://goo.gl/Abnlk8
iBooks https://goo.gl/2OfDsd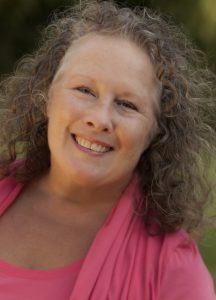 Ella Quinn Bio
Bestselling author Ella Quinn's studies and other jobs have always been on the serious side. Reading historical romances, especially Regencies, were her escape. Eventually her love of historical novels led her to start writing them. She has just finished her first series, The Marriage Game, and her new series will start in April 2016.
She is married to her wonderful husband of over thirty years. They have a son and granddaughter, one cat and a dog. After living in the South Pacific, Central America, North Africa, England and Europe, she and her husband decided to make their dreams come true and are now living on a sailboat cruising the Caribbean and North America.
She loves having readers connect with her.
Website: www.ellaquinnauthor.com
Facebook: www.facebook.com/EllaQuinnAuthor
Twitter www.twitter.com/ellaquinnauthor
Blog http://ellaquinnauthor.wordpresscom
Rafflecopter Giveaway – 5 Autographed print copies of When A Marquis Chooses A Bride