Hey, all. I'm Pam Headrick and I wear many hats… sometimes simultaneously. I also change my name at will. Today I'm speaking to you as Min Edwards, Romance and Adventure author. But in a past life, I was an archaeologist. I even have credentials: an MA from The University of Texas at Austin (and yes, The University of Texas is the correct way to refer to UT).
I worked several decades in my profession, doing a bit of field work but early on my professors and other archaeologists discovered my talent for illustration. In all those years affiliated with The University of Texas at Austin as a technical illustrator as well as a staff archaeologist at the Texas Archaeological Research Laboratory, I probably drew more than 2000 points and tools, shells, site plans, maps and stratigraphic images. Unlike most other archaeologists working from contract to contract, I was continuously employed, i.e. I actually made a living wage.
It was a good life for a single mother. The lab let me work on my own schedule, half a day at the facility, half a day in the office at my house. Full benefits, and if any of you have been employed by a university, you'll know how good those benefits can be. I didn't know it then, but now I realize what a great job I had. I could indulge in 'what if' thoughts about the past even as I was bent over my drafting table sketching a never-ending collection of archaeological wonders. But time marches on and eyes grow dim. Now I couldn't draw a hundred foot tall tree much less a tiny 'bird' point less than an inch long.
Nevertheless, my time post-archaeology, has been fun, too. I was a bookstore owner, then a formatter when Amazon and other venues made it easy for indie-authors to self-publish. Then, of course, obviously one day I thought… "I can do this, too. I can write a novel." So I did. Three years ago, I started publishing my own stories.
My debut novel, STONE BAY, was a bit auto-biographical: A Texas woman, bookstore owner, archaeological illustrator, moves to Maine to start her life anew. Yep, that was me writing as Min Edwards. However, after this first novel, I changed pace for a couple of years, writing a Romantic Suspense series: High Tide Suspense. I have three novels published in that series and a fourth in final edits. The threads that bind them together are a group of close friends living most of their lives in the small Downeast village of Stone Bay on the shores of the Bay of Fundy.
I've loved writing these: STONE COLD, STONE HEART, STONE FALL, and the newest, PRECIOUS STONE coming in the summer of 2016. But of them all, STONE BAY's theme trends closest to archaeology. I'll give you an excerpt in a moment.
But throughout my reading (am I've been an avid reader since I was six and won a prize in First Grade for the most books read in a year) and writing life, I've been searching for novels about finding the past, depicting archaeology accurately in a fictional story. When I read Jean Auel's CLAN OF THE CAVE BEAR, I felt like I'd found my passion anew. This is what I'd been looking for. An author who was unafraid, whose imagination put life into those stone tools I had been drawing for years.
Since then, I've solidified what I want to see in novelizing archaeology.
I want an author to understand the past, the cultures that are only present as small chips of stone, beams of hand-hewn wood buried under thousands of years of peat deposits or volcanic ash, long sunk ancient ships spilling hundreds of wine amphora from their cargo holds.
I want an author who searches out new theories, and they're being championed at an increasingly fast rate. Theories of the migration of ancient people into the Americas, Australia, and Europe, theories of the truth of ancient legends. New dates for the onset of agriculture, ornamentation (cave painting, stone carving), writing and domestication of animals.
I want to see current technology at work, new methods of doing archaeology. Every month in the pages of Archaeology Magazine (the publication of the American Institute of Archaeology), you can read of fabulous finds, incredible technology, as well as tremendous destruction done to the remains of past cultures all over the world. That's my first stop on researching a new story.
I don't want a sermon in the novel on protecting our past. What I do want is instruction as to why it's necessary, and how archaeologists ensure that our pasts are
I want a good story, engaging characters who work in often terrible conditions, face danger from man and beast, manage to protect the artifacts, and still have time to have a life and love around a campfire or in a tent. There's a lot of that going on in real life, believe me.
What I don't want is another Indiana Jones because that's not what archaeologists today are… well most aren't. The profession is exciting without stooping to whips and fedoras.
This all said, I've decided to join with a friend, L.W. Ellis and co-author a series of our own archaeological novels… the TARE: Talon Archaeological Research and Exploration series. Our first novel will be coming out in August, if all the stars align. THE RUBY EYE. The location is a very large body of water in northern Luzon, the Philippines: Lingayen Gulf. The plot involves finding a 300 year old British East India ship sunk in a storm. There are pirates, sharks, big snakes and recalcitrant governments… as well as the depiction of a contemporary Filipino village and its people, the most generous folks on earth. I know. I've stayed in several of these villages while living on Luzon. My only caveat: don't pitch your tent under a coconut palm; those falling nuts can be lethal!
Follow me on Facebook, Twitter and Pinterest for research tidbits for this new series and for excerpts as we polish our stories:
Facebook Min Edwards: www.facebook.com/AuthorMinEdwards/
Facebook TARE series: www.facebook.com/TalonArcheo/
Twitter: twitter.com/medwardsauthor
Pinterest: www.pinterest.com/minedwards/
Website: www.MinEdwards.com/
If you're interested in archaeology, here's a list of a few authors I have found sticking pretty close to the technology and theories of archaeology as it's practiced today. There are more good novelists out there, but these are the ones I particularly enjoy:
David Gibbins (an English archaeologist and novelists with eight novels in the Jack Howard series beginning with Atlantis)
Michael Gear and Kathleen O'Neal Gear (People of the Earth series)
Kirk Mitchell (southwestern archaeology)
Tony Hillerman and his daughter Anne (Mr. Hillerman has passed away, but his daughter took up his pen and is writing her own novels. They aren't about archaeology so much as they're mysteries with their main characters being Navaho Tribal police officers… an interesting subject in itself.)
Some good archaeology websites:
And here's an excerpt from my first novel, STONE BAY. Some archaeology, some history, some technology, but mostly rehab of a house similar to mine — an 1830s Greek Revival farmhouse on the coast of Maine — and falling in love (which unfortunately hasn't happened to me yet).
In this portion of the story, the heroine, Amanda, and her builder and love interest, Kevin, are in a cave previously hidden behind a rock wall in her cellar. A cave that holds a link to the War of 1812.
STONE BAY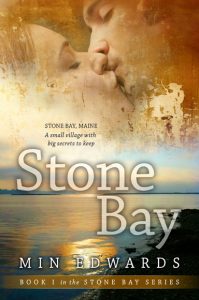 Kevin squatted beside the rock mound on the floor of the cave and carefully started to lift off the bigger stones. Underneath the top layer, he found cloth, a jacket it looked like. Then more bones, then a skull showing a large hole in the temple—probably the cause of death. Here he stopped. "Why don't you men wait outside until Ms. Warner gets here? She should be in on this discovery since it's on her property. Greg, could you go get her? I think she's in the kitchen with Liz."
A minute later Amanda rushed into the cave and stood over Kevin, who still crouched by the body—bones actually—and cloth. It had obviously been there a long time.
"Kevin, oh, how awful. What do you suppose killed him and when?" Amanda couldn't look away. A phrase suddenly popped into her mind, I don't want to die in the dark. She jumped back, startled, and looked around, but there was only Kevin kneeling by the body and Greg and the guys looking into the cave from the opening.
Kevin stood and seemed to lose his balance for a moment. He looked down at his feet as if he'd stumbled on a rock, but it wasn't a rock under his boot, it was something wrapped in an old piece of oilcloth.
"Amanda, would you run upstairs and get your camera," he murmured to her.
"Oh, yeah, a camera. Good idea. And put your measuring tape next to the bundle while I'm gone, please. You know, for scale." She turned and rushed out of the cave.
When she came back only moments later, she hurried to his side, knelt and began taking a series of images from all angles.
"Okay, I'm done," she said as she nodded to him. "You can pick it up now, but be careful. Try not to disturb the ground around it or any more of the rocks near the bones."
Kevin carefully got down on his knees and picked the bundle up out of the rubble, gently dusting it off.
"What is it?" Amanda asked, touching his arm.
He slowly opened the cloth covering as Amanda snapped more pictures and there lay a small leather book.
"Oh my God," she exclaimed. "Is that what I think it is? A journal? Like spies carry?"
BIO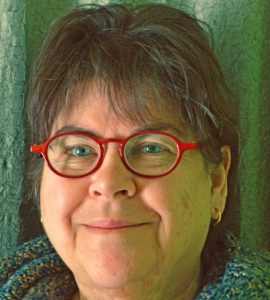 Min Edwards is the pen name of Archaeologist, former bookstore owner, and proprietor of A Thirsty Mind Book Design, Pam Headrick.
The Author has lived in many countries in her life: England, the Philippines, Cuba, Texas (yes, Texas thinks of itself as a separate country), gathering experiences for her writing along the way. She earned Undergraduate and Graduate Degrees from Texas Tech University and The University of Texas at Austin in Anthropology/Archaeology with minors in Art, Geology, and Geography, but she spent her early career as an Archaeological Illustrator of some renown. Radically changing track in 2004 and opening an independent bookstore in an affluent community outside Austin, A Thirsty Mind Words & Wines (one of the first bookstore/wine bars in the country), started her on the road to careers in bookselling, eBook formatting and ultimately writing.
In 2011, she and Zach the dog moved to her small coastal property, Pheasant Cove Farm, in Downeast Maine. She continues her book design and writing careers in the office of her Greek Revival farmhouse surrounded by acres of woods populated with pheasant, moose, deer, raccoon, porcupine and the occasional weasel. She also enjoys her own private beach!
Her first novel, STONE BAY, a Contemporary Romance, was published in March of 2014. It was followed by the High Tide Suspense series, bringing danger to the small village of Stone Bay, Maine: STONE COLD, STONE HEART, STONE FALL, and PRECIOUS STONE (coming summer of 2016). In addition, this summer she and her co-author, L.W. Ellis are publishing Book 1 in their new archaeological adventure series, TARE: Talon Archaeological Research and Exploration… THE RUBY EYE.
Drop by her website often for updates: