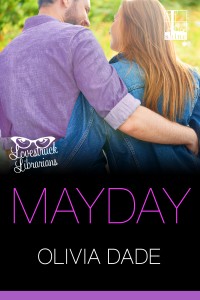 Tell us a little about yourself and your latest book.
Hello! My name is Olivia Dade, and my third Lovestruck Librarians book, Mayday, comes out May 10. It's a contemporary romantic comedy full of sex, banter, and assorted nerdery, set in and around the Downtown Niceville Library. In fact, the heroines of my entire Lovestruck Librarians series all work in the same Maryland library system.
The whole library connection isn't a shock, considering that I worked at a public library for five years. Before that, I taught high school and led tours through Colonial Williamsburg. So basically, I've held lots of jobs that required me to feign a certain level of decorum I don't actually possess. Now I don't need to pretend anymore. Such a relief!
Tell us about your hero.  Give us one of his strengths and one of his weaknesses.
Mayor Wes Ramirez may be my favorite hero I've ever written. Handsome, well-respected, and ambitious, he wants desperately to bring locals and tourists back to his economically troubled hometown via the city's May Day celebrations. On the surface, he seems polished and confident. But in reality, he still struggles with a deep, abiding sense of failure that lingers from the abrupt ending of his athletic career—and from his ill-fated one-night stand with Helen, the local librarian he finds so appealing. So he'll use every tool at his disposal to save his town and reclaim his woman: his intelligence, his creativity, his persistence, and (in the case of Helen) his sexual prowess.
And oh, does he deliver. This is definitely the sexiest book I've written to date!
Tell us about your heroine.  Give us one of her strengths and one of her weaknesses.
I hope my readers will find my heroine, Helen Murphy, as delightful as I do! A loyal, funny part-time reference librarian living with her parents, she's eager to declare her independence at long last. So she's looking to snag a full-time position as the library liaison to the mayor and the Niceville community, and she's willing to do just about anything to get the job. Anything. Even work side-by-side with the source of her greatest humiliation, Mayor Wes Ramirez.
Nerdy, bespectacled, and plus-sized, she's nothing like his usual girlfriends. And like him, she has confidence issues. She can't see how he might want her for long. But she's exactly what he needs. He simply has to convince her that he can make up for their past and become what she needs as well.
Did you always know you wanted to be a writer?
Maybe? For a long time, I was certain I'd become a professor, so I assumed I'd end up writing a lot of academic essays using the words "problematic" and "furthermore." But I always believed I couldn't write fiction, that my imagination simply didn't work that way. You often hear authors talk about how they always made up new endings to books, kept journals, or spun tales to entertain siblings or children. I did none of that. I do none of that. So it shocked me when I sat down and wrote my first romance at the age of thirty-seven. Now, though, I can't imagine doing anything else.
How did you get started writing?
I've been reading romances since well before I had any idea what a "manhood" was or why it kept throbbing so desperately. If I was going to write fiction of any type, then, it was definitely going to be romance. And after five years at the library, my work there had come to revolve around troubleshooting our public computers. A necessary job, but not one I especially enjoyed. I often came home with nothing to say, no stories to tell. Then one day, I sat in front of my computer and started randomly making up my own damn stories. I don't remember the exact day, and I don't remember the thought process involved. I think I simply needed an outlet for all the creativity my work wasn't harnessing. So thank goodness for those public computers and their endless problems!
What is your favorite part of writing?
I have days when each new word comes hard, and I struggle to fill a page or two. But on good writing days—the best writing days—I enter a flow state, where I become so immersed in my writing that it's no longer a conscious process, really. I look back at the screen filled with sentences and paragraphs, and I know I wrote those words, but I don't have much memory of how they came to me or why. It's a profoundly joyful experience. For one of my books—a futuristic romance written under the name Olivia Dart—I spent the entire first draft in that zone. I wrote the whole thing in three weeks! Usually, though, each book has its difficult moments interspersed with days when the story emerges effortlessly. At this point, I've learned to push through the former and celebrate the latter.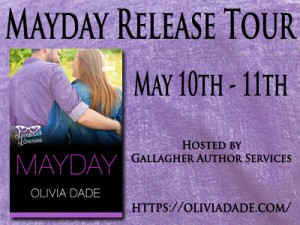 Do you have critique partners?
I have one critique partner, the amazing, whip-smart, and hilarious Mia Sosa. I first saw her on the "craft" forum of the Romance Writers of America website. She was looking for a CP, and we've been writing partners and good friends ever since. I can't overstate her importance to my writing life. When I hit an obstacle, she helps me clamber over it. And when I accomplish something, she rejoices as wholeheartedly as I do. I'm lucky to have her, and I know it. By complete coincidence, her second book—One Night with the CEO—also comes out this month, which we think is pretty exciting.
What are you currently working on?
I'm about to finish revisions on the fifth book in the Lovestruck Librarians series, Driven to Distraction. In Mayday, I actually introduce the hero and heroine for the book and set up their dynamic: instant attraction followed by intense bickering. I love Constance and Sam's story so very much, especially the way they circle closer and closer to each other with every day spent together in the tight confines of the Bookmobile. As it turns out, Niceville's pragmatic, metaphor-mangling Bookmobile manager might not be able to resist the siren call of a hot, geeky IT guy once he gets under her skin and by her side. (Not to mention: in her bed!)
Excerpt:
After almost twenty years, Wes had managed to clear the stench of failure from his lungs. The air smelled cleaner. The chatter he heard from the arriving committee members sounded sweeter. More cheerful. Even the colors looked more vivid.
One color in particular, actually. A flash of brightness came bobbing in from the doorway, almost entirely obscured by a tall blond woman walking ahead of it. He craned his neck, trying to figure out what source of light had caught his eye. Then the blonde moved to the side, and he could finally see. His gaze focused on a head of coppery red hair and a pale, dimpled face.
He froze, unable to breathe for a long, painful second.
Helen. Former schoolmate. One-time lover. To his shame, one mediocre time at that.
Helen, the woman who had unwittingly served as the catalyst for his recent successes.
Helen, his greatest regret of the past year.
Chatting with the blonde and not looking his way at all, she selected a seat at the end of a back row. From what he could tell, she hadn't changed much in the last ten or so months. She still appeared soft, all curves and gentle, round warmth. Her fiery mane of red curls hung maybe an inch longer than he recalled, barely brushing the shoulders of that dress. And as he watched, she pushed the frames of her horn-rimmed glasses onto the bridge of her nose, precisely as he'd seen her do that night.
Helen. Still lovely. Still exuding intelligence and lively enthusiasm.
Their encounter nearly a year ago should have been all about her. Even through a haze of self-disgust and frustration, he'd noticed how she shone in a crowd. But he'd needed a way out of his own head more than he'd wanted the possibility of a real connection with a woman.
So he'd used her. Used sex to distract himself from his failures, in a grim repetition of old patterns he'd tried so hard to break. And afterward, he'd looked down at Helen sprawled across his bed—all tousled red curls and pale, velvety flesh, the embodiment of his secret dreams—and known he'd screwed up. Big-time. Because a man wanted to give a woman like her the world, and he couldn't give her anything. Not even a decent romp in bed, and certainly not a man worth her attention and energy. So he'd turned her away, hurting her. Hurting himself.
 She's still a woman who deserves more than you can offer, an insidious voice whispered inside his head. A whiff of that familiar stench drifted his way again, and he shook his head hard to remove it from his nostrils.
No. That wasn't true anymore. Now he could offer her something. An apology. An explanation. Above all else, a man worthy of her time.
What would happen between them without alcohol and despair muddying their interactions? Would they enjoy each other's company? Would she accept his apology? Could the two of them make a fresh start and see where it led?
He didn't know. But he could find out. Right now.
Author bio:
 Olivia Dade grew up an undeniable nerd, prone to ignoring the world around her as she read any book she could find. Her favorite stories, though, were always romances. As an adult, she earned an M.A. in American history and worked in a variety of jobs that required her to hide her bawdy interior under a demure exterior: Colonial Williamsburg interpreter, high school teacher, academic tutor, and (of course) librarian. Finally, though, she realized the call of the hussy could no longer be denied. So now she writes contemporary romantic comedy with plenty of sex, banter, and nerdery. When not writing, she cooks alongside her husband, dabbles in photography, and tries to hide her collection of throbbing-intensive romances from her curious daughter.
Purchase links:
 Here are the individual purchase links:
Amazon: http://www.amazon.com/Mayday-Lovestruck-Librarians-Book-2-ebook/dp/B013ZNGZW0
Barnes & Noble: http://www.barnesandnoble.com/w/mayday-olivia-dade/1122536585?ean=9781616509378
Google: https://play.google.com/store/books/details/Olivia_Dade_Mayday?id=Ld5fCgAAQBAJ
Books-A-Million: http://www.booksamillion.com/p/Mayday/Olivia-Dade/Q672234296?id=6300597355308
iBooks: https://itunes.apple.com/us/book/mayday/id1039679614?mt=11
Kobo: https://store.kobobooks.com/en-us/ebook/mayday-17
To find the links all in one place, readers can go to either of these sites:
The Kensington website: http://www.kensingtonbooks.com/book.aspx/32306
My website: http://oliviadade.com/books/
Author website (which includes my blog):
 oliviadade.com
Rafflecopter Giveaway – ebook copy of Mayday