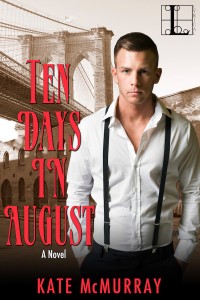 What genre(s) do you write in and why?
I am undoubtedly a romance author (I've been drawn to love stories my whole life, and I find a great deal of comfort in the HEA, as a reader and as a writer), though I dabble in a few different genres. Most of my published books are contemporary, though I have also written what I think of as light paranormal stories (books that are largely contemporaries with some paranormal elements) and now historicals.
What is your next project and when will it be released?
The current book is Ten Days in August, a historical romance set in NYC during a heat wave in 1896. This summer, I also have a category romance called The Greek Tycoon's Green Card Groom coming out, part of Dreamspinner Press's Dreamspun Desires line (gay romances in the mold of old Harlequins, a project that I, as a longtime Harlequin reader, am delighted to be a part of). I also have two backlist reissues out this year: Out in the Field, a romance between two major league baseball players, will be out in May, and The Boy Next Door, my take on a contemporary small-town romance, will be out in August.
Tell us about your hero.  Give us one of his strengths and one of his weaknesses.
Ten Days in August has two heroes. Hank Brandt is a no-nonsense police detective. He's clever and willing to take risks, but this sometimes means he prioritizes justice over practicality and his own career. He's a little sloppy, too, preferring his own comfort over protocol, as demonstrated in the excerpt. Nicky Sharp sings and dances at a club for men seeking men, and he usually does his act in drag. Nicky is friendly and loves his family, but he doesn't trust easily and tends to keep people at a distance. For both heroes to get their HEA, they have to overcome a lot of their own limitations to be with each other.
What genres are you drawn to as a reader?
I read a little of everything, although I love in particular historical romance (I like binging on Regencies), contemporary romance (especially if it's a little edgy or different), and romantic suspense.
Do you prefer to read in the same genres you write in or do you avoid reading that genre? Why?
I tend to read in the same genres I write. I draw inspiration from good writers, and I write books that I'd want to read. I also like a lot of edgier books that deal with heavy issues I don't see myself writing, although who knows?
Has your muse always known what genre you would write and be published in?
Probably. I'm not sure that I did. True story: when I was in sixth grade, we read a short story in my English class, and one of my assignments was to write an alternate ending to the story. It seemed obvious to me that the big warrior and the princess from the story were going to fall in love and get married. Apparently I'm the only one who thought so; my teacher told me I was a romantic. Then I graduated from college with a literature degree and thought I was writing mainstream literary fiction for awhile, but after a hiatus from reading romance, I got back into it and realized it was what I'd been wanting to write all along.
What are you currently working on?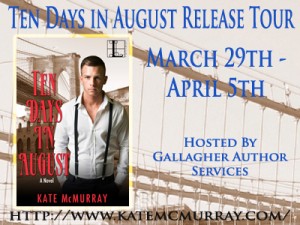 I have a bunch of projects in various states of completion, including a romance between a second-chance romance fashion designer and a photographer, a series about the lawyers who work in a well-respected law firm with lots of political intrigue, and a series about cops in the 80s that is really at its beginning stages. (I always work on 2 or 3 things simultaneously. It's just how my brain works.)
Do you have any words of inspiration for aspiring authors?
My advice: believe all things are possible. I think writers get in their own way a lot, thinking they aren't good enough or that their work doesn't have value. I know a couple of writers who are brilliant but not published yet because they keep holding themselves back. Readers aren't interested in what they write, they tell me, or they'll never get an agent, or they'll never sell more than ten copies. But I'm here to tell you, nothing will happen if you don't start shopping that story around. It may just be the next big thing.
What did you want to be when you were a child?
I've wanted to be a teacher on and off over the years. I never really pursued it, but have found a way to incorporate it into my career in other ways. (I work in educational publishing, writing and editing textbook content mostly, and I teach classes at writers conventions, which I find really rewarding.) When I was a teenager, I really wanted to be a fashion designer. I took fashion drawing classes and made a scrapbook of looks cut out from the catalogs my mother got in the mail (which is essentially how I use Pinterest now; that scrapbook is a digital compendium of pretty clothes), and I had notebooks full of sketches of my designs. I chickened out and didn't apply to art school, but I think it's always been clear I'd end up doing something creative when I grew up. If I hadn't become a writer, I would have gone into art or music.
 Do you or have you belonged to a writing organization?  Which one?  Have the helped you with your writing?  How?
I'm currently president of the New York City chapter of Romance Writers of America. I ran for president because I wanted to give back, because I've gotten a lot out of my membership. I've met so many wonderful people, gotten lots of good advice and encouragement, networked with people who have helped my career. I really do think it is absolutely worthwhile to join if you're a romance writer.
Blurb
From the Lower East Side to uptown Manhattan, a curious detective searches for clues on the sidewalks of New York—and finds a secret world of forbidden love that's too hot to handle…
New York City, 1896. As the temperatures rise, so does the crime rate. At the peak of this sizzling heat wave, police inspector Hank Brandt is called to investigate the scandalous murder of a male prostitute. His colleagues think he should drop the case, but Hank's interest is piqued, especially when he meets the intriguing key witness: a beautiful female impersonator named Nicholas Sharp.
As a nightclub performer living on the fringes of society, Nicky is reluctant to place his trust in a cop—even one as handsome as Hank. With Police Commissioner Theodore Roosevelt cracking down on vice in the city, Nicky's afraid that getting involved could end his career. But when he realizes his life is in danger—and Hank is his strongest ally—the two men hit the streets together to solve the crime. From the tawdry tenements of the Lower East Side to the moneyed mansions of Fifth Avenue, Nicky and Hank are determined to uncover the truth. But when things start heating up between them, it's not just their lives on the line. It's their love…
Buy Links:
Kensington: http://bit.ly/1ParSam
Amazon: http://amzn.to/1OGl1WF
Google: http://bit.ly/1Rju0US
Kobo: http://bit.ly/1pJy1Wp
Apple iBooks: http://apple.co/252HUz0
Excerpt:
Nicholas Sharp—stage name Paulina Clodhopper—stood outside Club Bulgaria in his street clothes, smoking the last of a cigarillo. It was doing nothing to calm his nerves. He tossed the butt of it toward the street and rearranged the red scarf draped around his neck. It was too hot for such frippery, but he had an image to maintain, and besides, the police were on their way. He wanted to look somewhat respectable. Really, though, Nicky would have much preferred a long soak in an ice bath while wearing nothing at all.
The sun blared down on the Bowery and it smelled like someone had died—which, Nicky acknowledged, had happened in truth—and it was nearly unbearable, but he couldn't stand inside any longer. Not with Edward laid out on the floor like… well. Nicky didn't want to think of it.
A man in rolled-up shirtsleeves and an ugly brown waistcoat, his hands shoved in his pockets, walked down the street toward Nicky. The man beside him must have been boiling inside his crisp police uniform.
The man in uniform looked Nicky up and down with an expression of deep skepticism on his face. "Are you Mr. Juel?" His tone indicated his real question was, Are you even a real man?
Nicky bristled. "No, darling. He's inside."
The man in shirtsleeves said, "You work here?"
"Yes."
This man was really quite attractive, in a sweaty, disheveled way, though Nicky supposed there was no way around that in this weather. The man pulled a handkerchief from his pocket and then pulled the dusty bowler hat off his head, revealing dark brown hair cut short. He wiped his whole face from his damp forehead to his thick mustache before he dropped the hat back on his head. There seemed to be a strong body under the wrinkled clothing, but it was hard to tell. Still, this man intrigued Nicky. His companion in the uniform was blond and bearded and looked considerably more polished, but in a bland way. The disheveled man was far more interesting.
"I'll take you in to see Mr. Juel," Nicky said. "That is, if I could have your names."
"I'm Detective Stephens," said the uniformed man briskly.
"Hank Brandt," said the man in shirtsleeves.
"Acting Inspector Henry Brandt," Stephens said. "Honestly, Brandt, there are protocols."
Brandt grunted and waved his hand dismissively at Stephens. To Nicky, he said, "And you are?"
"Nicholas Sharp. Come with me." He led the police officers inside.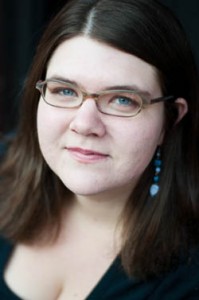 Bio:
Kate McMurray is an award-winning author romance author and an unabashed romance fan. When she's not writing, she works as a nonfiction editor, dabbles in various crafts, and is maybe a tiny bit obsessed with base­ball. She is currently president of the New York City chapter of Romance Writers of America. She lives in Brooklyn, NY.
http://www.katemcmurray.com
Rafflecopter Giveaway- Ebook copy of Ten Days in August