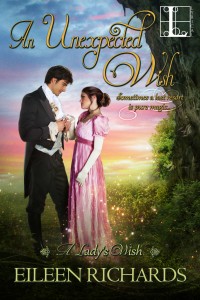 Tell us about your current series. My current series, A Lady's Wish, is centered around three sisters who are a bit down on their luck and a mystic place called the Fairy Steps in the Lake District of England. The year is 1818.  Our sisters have been abandoned by their brother and are dependent on the kindness of a nearby family.  Each story is about wishing for something and then getting it. Of course, the wishers are never careful what they wish for, not to mention the mischievousness of fairies.
What inspired your latest book? I was between stories and surfing the internet. I came across a site called Mystical Britain. It spoke of the Fairy Steps in Beetham, Cumbria. They were used to lower caskets down to St. Michael's Church in Beetham. Curious, I stumbled upon a website from a lovely retired couple who liked to walk the dales of England. The gentleman was a wonderful photographer and took some great photos of the Fairy Steps.  From there I had to write a story about it and this series was born.
Tell us about your Heroine: Anne Townsend is the eldest daughter of a baronet. Her brother, who is a jerk, has forced his step sisters out into the world to fend for themselves. She settles them in Beetham where they have the patronage of a nearby lady who was a friend of their mother. With little funds, Anne has to resort to a wish to better their circumstances. Unfortunately it backfires and chaos ensues. Anne is twenty-seven, rather plain, but very dependable. She is a wall flower, not used to the attentions of anyone in the room. The results of the wish push her out of her comfort zone where she finds self confidence and of course, love.
Tell us about your Hero. Nathaniel Matthews is a self-made man. His parents died when he was in school leaving him to care for his younger brother. His father also left them penniless. He and his brother were forced to move in with their grandmother in Beetham. He is smart, very business savvy and very protective of his younger brother. When he finds out that his brother is about to make a bad marriage, he arrives to put an end to the infatuation. This is where he meets Anne. Nathaniel is very alpha male. He knows what he wants and usually gets it. It is really too bad that Anne doesn't feel like cooperating with him too much.
Do you write under a pen name? Yes. My pen name is my middle name and my husband's first name. I was asked to come up with a pen name because I have a very odd but very German last name. My husband came up with this one and it stuck.
What is your favorite part of writing: Plotting and drafting. I love coming up and expanding on story ideas. I have notebooks filled with different ideas to work on. Drafting is like painting with words. I get to discover my character people through the plots I plan. I am a plotter too, but I don't like to plot too much. I like to leave some of it to serendipity.
What is your least favorite part of writing: Revisions. Revising is all about rolling up your sleeves and polishing. I have such a hard time editing my own work. I'm working on this skill. Revision is what makes good stories great.
Did you always know you wanted to be a writer? Yes. There have been notebooks of stories under my bed since I was little.  My sisters and I wrote and recorded our own soap operas onto cassette decks for fun. I took a break from writing to raise two boys. In 2008, I finished a manuscript and decided it was time to try to get published. I joined RWA and my local chapter and started submitting. It took seven years to finally get published.
Why have you become a published author? I wanted to see my books in the library. Growing up in a small southern town, the library was my lifeline to a larger world.
Do you have any words of inspiration for aspiring writers? Never stop learning your craft and write every day. If you want it, work for it. Make it a priority. Strive to make every story better and to learn something from every story. If I can do you it, you can too.
Bio:
Eileen Richards has been writing for most of her life. Poetry, totally inappropriate answers to essay questions in school, and interesting error codes during her 30 year IT career has prepared her for the manic world of publishing.
She writes sassy regency romps set in the small villages of England where the rules are bent a bit and gossip rules the day.
Eileen resides with her husband and their diva of a greyhound in North Carolina.
Website: http://www.eileenrichardsauthor.com
Buy Links:
Amazon US:  http://tinyurl.com/p7bvfuz
Barnes and Noble: http://tinyurl.com/prwaqdc
IBOOKS:  http://tinyurl.com/o475rom
Kobo: http://tinyurl.com/q43vg6j
Blurb:
An Unexpected Wish
 LOVE IS IN THE AIR
 Anne Townsend doesn't ask for much. Plain and poor, she'd settle for the funds to put food on the table. Making a wish on the fabled Fairy Steps is hardly a solid solution, but to see her two sisters taken care of, Anne's willing to try anything. Yet when she finds herself suddenly surrounded with suitors, romance is now a possibility for the spinster everyone always ignored except with the one man who will never want her…
Nathaniel Matthews has no time for courting. As the eldest, he has his family's lost fortune to rebuild, and his reckless brother to manage before he gambles his future away. Odd that Nathaniel can think of little but kissing bright-eyed Anne, who seems to be fighting off admirers from all sides. Is it the country air, or is Nathaniel ready to discover that love has a magic all its own?
Excerpt:  Setup: Anne has made her wish at the Fairy Steps but things are not going as she thought they should. In this scene the vicar, Cecil Worth, starts reading some very inappropriate Bible text in Sunday morning service while under the spell of the wish.
Juliet elbowed her in the side. "Anne, are you paying attention?"
"What?" she whispered back.
"The Vicar, Mr. Worth. He's acting very strange."
Anne looked up at the pulpit and noticed Mr. Worth's eyes on her. She met his eyes and saw the change wash over his face. "Oh Lord."
"What?" Sophia whispered.
"We have a special Biblical text today," Mr. Worth droned. "Song of Solomon, Chapter Seven. And I shall read:
"'How beautiful are thy feet with shoes, O prince's daughter! the joints of thy thighs are like jewels, the work of the hands of a cunning workman.'"
Gasps echoed around the church. Anne looked down at her hands, now knotted in her lap. Please God, don't let this be happening. Mr. Worth's high-pitched voice droned on.
"'Thy navel is like a round goblet, which wanteth not liquor: thy belly is like an heap of wheat set about with lilies.'"
"I didn't know there were texts like this in the Bible," Juliet whispered. "And here I've been wasting my time on novels."
Sophia giggled at Juliet's remark. "You have to admit, it's more interesting than his usual sermons."
Anne prayed that the ground would open up and swallow her. She glanced up at Mr. Worth and he smiled back at her.  Could things get much worse?
"'Thy two breasts are like two young roes that are twins.'"
Oh heavens, he said 'breast' in church! Some teenage boys laughed in the back. Anne risked a look around her. Many, including Lady Danford, were frowning. Mrs. Worth was glaring at her.  She sunk lower in her seat and tucked her head down. Please God, let it end soon.
Rafflecopter Ebook Giveaway for An Unexpected Wish