Thank you so much for interviewing me on your blog today, Cindy! It's exciting to be here and a part of your world!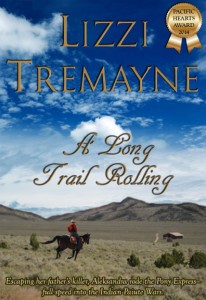 You live in New Zealand, but you are writing Western Historical Novels?
Yes, although I now reside in New Zealand, I was born and raised in the Santa Cruz Mountains of California. My family later farmed bison in northern California. My first series begins in the Utah Territory of 1860. I get to use my love of horses, the Pony Express, the wilderness and romance in my stories. I have a gutsy heroine, a tough—but sensitive—hero, plenty of horses and people from many backgrounds to make my stories spicy and chock-full of western adventure!
Have you always wanted to be a writer?
When I was seven, I decided to become an equine (horse) veterinarian. A little later, I heard one needed good grades for that… Sooooo…I stuck to it and made it happen, despite everything that came along! Writing? I've always liked writing, but it was mostly personal journals (I have one I've kept since I was 14…plenty of story material there!). After veterinary school, I wrote for horse magazines and veterinary journals. There were stories in me, but I was too busy to seriously contemplate them, being a solo mum of two with my own solo equine veterinary practice and a farm. Still have the rest, but they're older now, and after a serious injury, had to rethink my life. Now, I'm a writer… I take it seriously! I am just starting out, however, and must still feed my family until it takes off! Following an injury four years ago, I've limited my time in my equine veterinary dental specialty practice and I relief-teach chemistry, biology and physics at local colleges.
Tell us about your current series.
The Long Trail Quadrilogy is a series of sagas of factual fiction, adventure stories rich in historical detail, following the escapades of Aleksandra and Xavier as they traverse two continents through the1860's.
Book Two: The Hills of Gold Unchanging, is nearly completed.  
In this sequel to A Long Trail Rolling, Aleksandra and Xavier's 1860 saga continues over the Pony Express Trail of Utah via the silver and gold mining country of 1860's Nevada and California and through Old San Francisco to Xavier's family hacienda, the Californio Rancho de las Pulgas. Secession menaces, with Southerners desirous of dragging the new state from the Union and making it their own—and they will stop at nothing to accomplish it.

 Book Three: A Sea of Green Unfolding is even more complete!
Follow the young couple's journey to adventure in the turbulent wilderness of 1863 New Zealand. When tragedy strikes in Aleksandra and Xavier's newly found paradise on their California Rancho, Von Tempsky's invitation draws them to a peaceful new life in New Zealand—where they arrive to find the land wars between the European settlers and the local Maori have only just begun.
Book Four: A Bold Country Evolving
Aleksandra and Xavier have come a long way to seek a home, but will they find the peace they desire as Aotearoa/New Zealand continues to be divided by strife? Conflicted, their feelings for native peoples at odds with many white settlers, Xavier reluctantly goes to war, leaving Aleksandra alone to negotiate the beginnings of their life in this young country.
I've written and published Book One, A Long Trail Rolling, and Book Two is half-completed. Book Three is 85% finished, and Book Four is partially researched! I'm also writing an equine veterinary book for owners and starting some children's NZ books.
 Do you ever get writers block?
I've experienced 'writers block', but it my case, it's laziness and unwillingness to work. To get through it, I just make myself write. Doing NaNoWriMo helps immensely, as you don't have the leisure to have this dreaded malady. Sometimes I find just doing something different within the realm of my writing helps…maybe starting at a different place in the story, or researching some more. I use Scrivener and it makes it easy to fill in the blanks later!
 What is the most rewarding thing about writing for you?
Making a difference in people's lives. It is lovely to see people, especially young ones, enjoy my work and understand what I've tried to convey. This Facebook message I received from a thirteen year old horse enthusiast I met at a big horse show really tickled me.:
"my book arrived today i can't wait to read it but i have a thing that if I'm reading a book i have to finish it but the book I'm reading at the moment has like 80 pages to go and i read pretty fast so ill probably be finished it by the end of the night and should be starting your book tomorrow  and i will send you the photo of me, Fiin [her horse] and the book tomorrow "
The following week, after she'd read it, she was raving. J
 Why did you decide to write romance novels?
Because I love them!
How much of your personality and life experiences are in your writing?
I think there's a lot of my personality in Aleksandra…her responses are often my own, from an earlier time.. (or maybe now, if I have to admit it…). My life experiences fill my stories, comments people make to me, attitudes I see, the horses I've know in my life, surgeries I've performed, owners I've known in my 25 years as an equine vet.
 What kind of research do you do for a book?
My research is fairly exhaustive. I research the area and time for as much as I can find, then write my story into it. I've been writing as an equine vet, with a dental specialty, for years, both for owners as well as other veterinarians and the research comes naturally. The biggest dilemma I find with my researching is I don't know when to quit!
When did you first think about writing and what prompted you to write your first ms?
I first thought about writing when I met a writer through carriage driving! She was going to a local chapter RWNZ meeting the next weekend and she took me along! The assignment was a 500 word sex scene. Talk about falling into it head first!  That became the start of A Long Trail Rolling! I finalled in a big competition after I'd just written part of it, and that motivated me to keep going! The following year, I won the Pacific Hearts Award, the award of the RWNZ for the best unpublished manuscript of the year! It's onward and upward from there!
What genre is it?
The genre is a mixed one, which seems to be more accepted now, like the Diana Gabaldon stories. A Long Trail Rolling is a Western Historical Romantic Adventure.
 Would you like to write a different genre than you do now, or sub-genre?
I'd be happy to try to write anything, once I let go of my guiding rope of the historical framework to structure my story upon! It'll come with experience, no doubt! I'd like to write contemporary stories about small-town America.
Tell us about your latest book. What motivated the story?
My latest book.. A Long Trail Rolling… I was inspired you to write A Long Trail Rolling by my love for history, the Pony Express, the wilds of my country of origin, horses, adventure and veterinary medicine. When I was a young teen, I wanted to enter a long distance horse race running over the Pony Express Trail, from coast to coast. It didn't eventuate, but in A Long Trail Rolling, Aleksandra gets to do what I dreamed of doing.
Where did the idea come from? When did the idea for the book come to you?
I'd just returned from Poland and was thinking of the Polish Immigrants as I researched one of my favourite things, the Pony Express and the history around the time it was running in America. Did you know the 'Pony', as it was called only lasted for eighteen months, and several of those months, it wasn't running at all because of the Indian attacks?
Talking about books, here's a little bit about my first novel!
If you love horses and watching stroppy chicks getting tangled up with handsome Latino men, (Californio, even better!) you might just enjoy this saga!
Roll on up and have a great read!
~    ~    ~ 
A Long Trail Rolling by Lizzi Tremayne
The Long Trails Series, Book 1
Novel 
Western Historical Romantic Adventure
She didn't expect to become a target, but she is one now!
 It might have been the mare that did it, stopping dead in her tracks, nearly dropping Aleksandra over her shoulder, or maybe it was the flies that buzzed around the blood pooling beneath the butchered man in the Pony Express station doorway. Whichever it was, it got her full attention.
Seventeen year old Aleksandra, trained in the Cossack arts from infancy by her father, finds herself alone and running to prevent her Pa's killer from obtaining a secret coveted by the Russian Czar, one which could alter the forces of power in Europe. Disguised as a Pony Express rider in 1860's Utah Territory, she finds herself in even deeper trouble when she rides full speed into the middle of the Indian Paiute Wars. Her Californio boss Xavier has a strength to match her own, but can they overcome their differences before the ever-increasing odds overtake them?
Who might like to read this?
With this debut Western Historical Adventure, Lizzi Tremayne won the 2014 RWNZ Pacific Hearts Award and was a finalist in the 2013 Great Beginnings. A saga of the Old West with a multicultural cast of those who make up America, it would interest readers who enjoy Westerns, horses, American Indians, immigrants, and the Pony Express. It has a capable heroine, strong historical detail, period veterinary treatment and frontier-pushing characters. It has been compared to the work of Phillipa Gregory, Diana Gabaldon and Jean Auel, with a little Laura Ingalls Wilder thrown in.
A Long Trail Rolling is the first novel in The Long Trail Quadrilogy of historical adventure sagas following Aleksandra and Xavier from the wilderness of 1860 Utah to Colonial New Zealand.
Author Biography: Lizzi grew up riding wild in the Santa Cruz Mountain redwoods, became an equine veterinarian at UC Davis School of Veterinary Medicine, practiced in the California Pony Express and Gold Country before emigrating to New Zealand. She is the proud mother of two boys in that sea of green. When  not writing, she's swinging a rapier or shooting a bow in medieval garb, riding, driving a carriage or playing on her farm, singing, or working as an equine veterinarian or science teacher. She is multiply published and awarded in special interest magazines and veterinary periodicals.
Author Links: You can read more about me and what I write, as well as contacting me at:!
Website and blog   Buy Link   Amazon Author page   Goodreads Author page  Pinterest   Twitter A_Long_Trail_Rolling Facebook Page   LizziTremayneWriter Facebook page   LizziTremayne
Here's a bit of bling from Book 3 
Available from:
Blue Mist Publishing and online.
Click HERE for purchasing options.
~   ~   ~
Excerpt ©Blue Mist Publishing/Lizzi Tremayne, 2014, All Rights Reserved
Lookout Pass, she reminded herself as she neared the summit. Glancing north to the distant white tops of the Onaqui Mountains, she swallowed hard as she thought again of her papa and the fossil he'd fossicked for her from its rocky ledges.
The spotted pony broke into a lope over the crest of the hill and began the mile-long descent. Aleksandra's thoughts filled with memories, she was absentmindedly fingering the fossil inside the medicine bag hung about her neck when she felt the first arrow whizz past her head.
Her heart stopped in its tracks and she flung herself to the left side of the Palouse's neck in a Cossack hang, lying flat against his side.
'Yah! Yah! Let's go, Scout!' she shouted, throwing the reins at him.
He needed little urging to run full tilt down the steep and treacherously rocky trail as the yells of Indian warriors echoed through the narrow valley. The arrows came hard and fast from the southwest, screaming like a mad bunch of hornets.
Smart. Her lips curved in the hint of a wry grin.
The Indians had placed themselves between the trail and the setting sun, so Aleksandra couldn't see her attackers in the glimpses she stole,from beneath Scout's neck, of the world whizzing past. With the ground only three feet from her head, the scent of sage filled her nostrils when Scout crashed through a clump of brush. Briefly considering letting go of one of her death-grip holds onto the racing horse to pull a gun from her holster, something akin to suicide, she tightened her lip in a grimace and stayed put, trusting far more in the Palouse's speed and handiness to save them. Knowing her weight hanging off to one side had to put him off his best, she tried to stay out of his way, keeping as still as possible, tucked down on the side of the skidding and leaping beast. Praying the cinch would hold, she sent fervent thanks to the pony selectors for their choice of horses.
How I'd love to have my bow and arrows, but I only need to get us through to Doc Faust at Rush—
The Palouse interrupted her musings as he threw up his head and reared, angrily trumpeting and shaking his head for a moment, nearly dropping Aleksandra, then resumed his headlong rush down the hill. When he carried on, she heard whistling sounds with every breath and turned her face forward to see where the noise was coming from.
Then she saw the arrow.
~      ~     ~
Author Links:
Thanks for reading!
Regards,
Lizzi