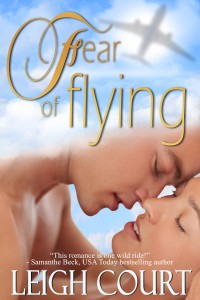 Confession: I've pretty much always been afraid to fly. It started at age 18, with a rough plane ride on my first flight to Europe. Since then I've tried not to let my fear of flying control my life, but every time I board a plane, I can't help but get a little nervous. Ironically, (since I didn't actually search them out), I've had a fortune teller assure me I'll never die in a plane crash and an astrologer friend tell me I will live to a nice old age. I think of those two women every time I buckle my seatbelt!!
But now I've found a way to turn my fear of flying into a positive thing.
I'm the author of nine books, and the advice always given to writers is "write what you know." So for my latest story, aptly titled Fear Of Flying, I decided to get semi-autobiographical. I gave my heroine, Jessie Jordan, a fear of flying and wrote her story based on many of the real-life experiences I've had.
A job as a book publicist? Check. On a nationwide book tour with a travel writer? Check. Winter de-icing of plane wings and bouts of white-knuckle clear air turbulence? Check!
Everyone probably has stories of scary plane flights, me just more than most people. And I included them all in this book! Pretty much everything in it is true, except for the ex-military travel writer hero of the story, Regan Quade, whose lust for Jessie helps make this a very hot contemporary romance!
Here's the blurb:
"You're never going to die in a plane crash…"
A mysterious fortune teller's prediction plays right into book publicist Jessie Jordan's biggest fear. A difficult childhood has left Jessie determined to control all aspects of her life, but she can't control airplanes…
 Travel writer Regan Quade also has control issues. A devastating event during his time in the military has scarred him into believing he needs to remain single. He can't risk being responsible for anyone else's life.
But during a nationwide media tour to promote Regan's newest travel book, Jessie's fear of flying prompts Regan to help calm her anxiety in a shocking – and highly intimate! – way.
The sudden change in their relationship unleashes their mutual attraction, but Jessie doesn't know if there's any way to pierce the wall Regan's built around his heart.
And here's a short excerpt:
The pilot's voice came over the intercom. "Flight attendants, please be seated."
Jessie leaned back into her seat on the plane. Of all the words in the English language, those were the five she most hated to hear in one sentence.
She let go of her death grip on her seat's armrest only long enough to reach out and shove down the shade over the window. There was no way she was going to watch the plane shake and shudder during the turbulence.
In the seat next to her, Regan ripped open the plastic wrapper and shook out the navy blanket.
"What are you doing?" she asked through clenched teeth.
"Testing a theory." He spread the blanket over her. Actually, he spread it over both of them. "Just relax, Jessie."
She would have thrown off the stupid blanket, but her fingernails were now too firmly embedded back into the material of the armrests. The plane lurched to the left, and she let out a low moan of panic.
With her fear of flying, why the hell did she do this job?
Regan turned his body slightly so that he was able to face her in the seat. "Just breathe."
 Easy for you to say! Jessie leaned back into the cushion, closed her eyes, and inhaled deeply. In. Out. In. Out. Her yoga instructor always said concentrating on your breath meant you were in the present moment. You couldn't worry about the future or think about the past. Being aware of your breathing forced you to be right here, right now. No room for anything else.
Except there was something else. Under the blanket, Jessie felt Regan's hand on her right knee.
What the—
Dear God, had he run his hand all the way up her boot and slipped under the hem of her skirt without her even noticing it?
The plane dipped and then fell about a hundred feet, a sickening drop that Jessie felt in the pit of her stomach. She gasped and sunk her fingernails even deeper into the armrests, keeping her eyes screwed shut. Meanwhile, Regan's warm hand inched from her knee up the inside of her right thigh.
 "Regan—"
"Don't think, Jessie. Just feel. Concentrate on my hand. Let me take your mind off your fear."
Copyright © 2014 by Leigh Court
This romance is definitely one wild ride! I've gotten some great reviews and some wonderful feedback from readers. Here are two buy links if this sounds like a fun read to you…
Amazon: http://amzn.to/1CNHQX5
Nook: http://bit.ly/1xoXbsy
Smashwords: http://bit.ly/1xuh2tH
Now that you know I'm afraid of flying, it's time to share! Tell me about one of your fears and how you cope with it. I'll pick a comment at random to win an e-copy of Fear Of Flying.
And thanks so much to Cynthia for letting me blog today!
Best,
Leigh
Website: www.leighcourt.com
Blog: http://fierceromance.blogspot.com/
BIO
Award-winning author Leigh Court has been writing since age eleven, starting with wild adventure stories for her elementary school newsletter, and then growing up to be a television news journalist whose assignments took her on real life adventures. Having reported on more than her share of bad news, Leigh now writes romantic fiction because she wants her readers to be able to escape into a story guaranteed to have a happy ending!