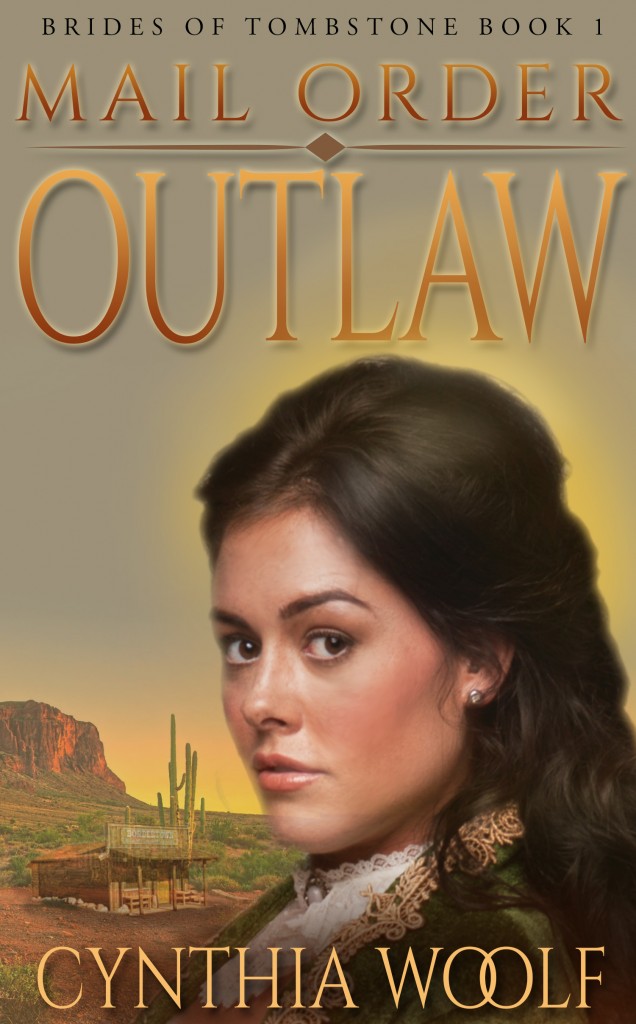 The first book in my new series, The Brides of Tombstone, is now available. Mail Order Outlaw tells the story of Lizzie Cobb and Ed Talbot. Their romance is anything but ordinary.
Here is the blurb.
Ed Talbot isn't husband material. He's an outlaw, was forced into his father's gang at the age of thirteen, and is wanted Dead or Alive in more than one territory. But now his father is dead, he hates the life, the blood, and his brother's rages. When a stagecoach robbery goes awry, Ed ends up with a satchel full of charming letters from an enticing young miss. Unfortunately for Miss Lizzie Cobb, her betrothed is now dead, and Ed Talbot sees a way out. Impersonating a fine, upstanding young man shouldn't be too difficult. Despite the risks, falling in love with her proves to be all too easy.
Isolated on her mother's ranch just outside of Tombstone, Miss Lizzie Cobb doesn't have the time or the means to find a respectable husband. As a half Apache woman in the Arizona Territory, being a mail order bride seems like the only solution to her problem until she realizes that San Francisco is too far away, and she'll have to leave her vulnerable mother and baby brother behind. Her solution? Call off the wedding.
When her groom shows up on her doorstep, she's shocked. He's handsome, strong, and has traveled hundreds of miles to claim her. His kisses inflame her body and his presence soothes her soul. Falling for the rugged man is beyond her control. But the past has a way of catching up to outlaws, and facing the truth is going to be hard…for both of them.
Available at:
Amazon:  http://amzn.com/B00XEKFLIE
Barnes & Noble:  http://www.barnesandnoble.com/w/mail-order-outlaw-cynthia-woolf/1121894192?ean=2940151415125
Apple:  https://itunes.apple.com/us/book/mail-order-outlaw/id993479746?ls=1&mt=11
Kobo:  https://store.kobobooks.com/en-US/ebook/mail-order-outlaw
Google Play:  https://play.google.com/store/books/details/Cynthia_Woolf_Mail_Order_Outlaw?id=U74kCQAAQBAJ
EXCERPT
As he read a plan formed. His only worries were how much Lizzie knew about Malcolm Brandon. The dead man signed his later letters 'Mal' so Ed would go by that name. He was only a little taller than the man had been so his clothes would pretty much fit, might be a little tight.
Could he do it? Could he become Mal Brandon?
The more Ed thought about it, the more he liked the idea. He'd have to sneak away in the middle of the night. If his brother knew of his plan to leave the gang, Harvey'd stop him; maybe even kill him if he had to. Especially if he knew about the money Ed had found in the lining of the valise, a lot of money. Enough for a fresh start.
Ed didn't want to be in the gang anymore. He'd never wanted to be in it to begin with. His mother had wanted him to go to school and become a teacher. Ed had wanted that, too or at least to do something…legal.
As a kid he'd never really known Josiah. He was just the man who stopped by and spent the night every couple of months when Ed was growing up. Then when his mother died, Ed had been by himself for a few weeks before Josiah showed up. A few glorious weeks where he could mourn his mother, Becky Brody in peace. When Josiah found out Ed's mother had died, he took Ed with him. Ed had been in Josiah's gang ever since. The only things he had left of his mother were her green eyes.
He did have some things he was thankful to his father for. Josiah had taught him to use a gun and to ride like the wind. He could speak Spanish as well as anyone, because Josiah's mother had been Mexican and he made sure both his sons could speak it. He was big; six-foot-four and muscular.
Only Harvey had been bigger.
Harvey was also meaner. He had no problem killing people.
Ed thought he actually liked it.
Harvey used and abused women, as well. He liked that, too.
Ed hated to see and hear the abuse, when there was nothing he could do. Once he'd tried stopping Harvey and nearly died for his efforts. Now he just stayed away from camp whenever Harvey brought a woman there, which thankfully wasn't often.
Unless it was Belle. For some reason Belle James could give as much as she took and Harvey liked her best. Maybe loved her, if he was even capable of that emotion.
Ed didn't have women very often. He'd fallen in love once.
When Harvey found out, he had taken the woman, raped her and left her for dead. There was no way he or Josiah, either one, would let Ed leave the gang for any reason.
Ed watched Joe stoke the fire and add wood to it. It was cold in the mountains and on the desert at night. It shouldn't have been considering how blistering hot they were during the day, but at night the temperature dropped to uncomfortably cold.
Ed didn't want to be responsible for that happening to any other woman, so he stayed away from them. He visited the occasional brothel. He was a twenty-eight year old man, after all and had needs just like any other man. But other than those visits, and he never saw the same girl twice, he stayed away from women.
Except for the valise Ed had, there was only a strong box on the stage. The box was locked and Harvey let the boys use it for target practice until the safe was opened. There was a small payroll inside. Only a thousand dollars, but that was enough to keep the men in liquor and women for a couple of weeks and then they'd plan another robbery of a stage or train or bank. Probably a stage because it was easiest and Harvey was all about easy.
Plans made, he waited for two weeks knowing the men would eventually go into Tucson to let off some steam. They never lasted longer than a couple of weeks after a score. By then the liquor ran out and so did the ammunition from the target practice and the money they'd gotten was burning a hole in their pockets.
This time, he'd leave. He had the knowledge and ability to take over another man's life. His brother wouldn't know where he'd gone and there was no one in the gang who could track worth beans.
Finally Ed could begin a new life. A good life as a good man and leave the gang and all those memories behind.
He was ready.
Harvey came over to him as usual. Ed was playing solitaire on one of the blankets.  "Come on, little brother. Let's go into town. Have a few drinks and screw some women."
"Ya'll go on. I'm staying in camp."
"You need to let off some steam, just like the rest of us." Harvey laid his hand on Ed's shoulder and squeezed. "Come on. Let's go."
Ed shrugged off his hand. "I don't want to. Leave me be."
Harvey looked at him, gaze narrowed.
Sweat beaded under his collar. Ed wondered if he would force him to go. But finally Harvey shrugged. "If that's what you want, so be it. Let's go men. We've got drinkin' to do and women to fuck."
Ed waited for two hours after his brother and the other men rode out before he took the valise and headed the opposite direction from Tucson. South seventy miles to Tombstone. Toward a new life. One he couldn't wait to start.
The ride took him three days, taking care to go easy on his horse across the mountains and desert. He skirted the way stations, not wanting anyone to see him. He did stop at several smaller watering holes along the way that were off the beaten path. When he got outside of Tombstone, he made camp, changed into the clothes out of the valise and shaved off his beard. The clothes were small and a little short, but not enough to make a difference…he hoped. He was trying his best to put a new foot forward and put Ed Talbot behind him in another life.