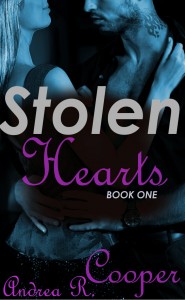 What genre(s) do you write in and why?
I write in multiple genres, but they all have something in common and it's my author tagline: Romancing Adventure. For me, it's the characters and stories that matter, not the genre first. Therefore, I write the same genres I love reading: Fantasy, Paranormal Romance, Historical Romance, and Romantic Suspense.
Tell us about your current series.
My current series is the Heart Series. It's my Romantic Suspense series featuring two fraternal twin sisters. Stolen Hearts Book 1 is available now. Crystal must steal evidence to prove her father's innocence against a corrupt company, but when private investigator Kade takes the case things heat up.
What is your favorite part of writing?
Discovering the story. I'm a pantser-meaning I write by the seat of my pants. No outlines, no notes. Just a general idea of the main characters and story. Often, the characters surprise me and I hope if I'm amazed, my readers will be too.
What is your next project and when will it be released?
Currently I'm working on Captive Hearts Book 2 of the Hearts series. This novel will feature Crystal's twin sister and her love interest. I hope to have Captive Hearts released the end of this year or first part of next year.
And since I can't only work one project at a time, I'm simultaneously writing a paranormal romance series and Fallen Book 2. Claimed Book 1 is currently with two publishers who are debating accepting it (fingers crossed). This series features a Succubus or Incubus love story.
What is your typical day like?
During the work week, I go into work early (not by choice since I'm not a morning person. But my husband drops the kids off at school and daycare, so I pick them up in the evenings). After work and picking up the kiddos, I race home in traffic, get my five year old doing his homework, take care of my two and half year old, check emails and do a little marketing (Twitter & Facebook), cook dinner, throw a load of laundry in the wash, feed the kids, get out their clothes for bed and the next day, play with them, then bathe them and put them to bed.
Oh, did you mean writing time? That's between 8:30-10:30pm if I'm not a zombie by the end of the day J
What is your favorite dessert/food?
Favorite dessert – anything with chocolate (except Milky Way candy bars). Oh, and I really like chocolate cake with white icing. Favorite food – anything with cheese and spicy. I love living in Texas and the great TexMex food that has both.
Give us an elevator pitch for your book.
Stolen Hearts Book 1:  She stole a cop's heart; will this thief pay for her crimes?
How far do you plan ahead?
As far as writing, I have a lot planned: Captive Hearts Book 2 Hearts series, Fallen Book 2 Claimed series, Viking Blaze Book 2 Viking Fire series, War of Darkness Book 3 Legends of Oblivion series, Secrets Book 2 YA Fantasy series, rewriting a Native American Romance, and finishing a historical romance with a female ninja.
Planning isn't an issue for me, it's time. I have so many projects I want to do that if I suffer from writer's block on one, I just jump to another. Having the time to write is precious – it's what I look forward to all day, but have to wait until work is done and kids are asleep.
Blurb:
Crystal has spent her entire life training to be a thief in order to find evidence against the man who had her parents murdered. In her pursuit of justice she's had to give up her identity, her name, and any chance at love. When Crystal is forced on a blind date with the cop who is investigating her, she plays a dangerous game of hearts that could land her in a prison cell.
Kade is in search of a new life, after losing his partner. He's taken a new job, in a new city, and met a new girl. In order to keep his fresh start, he will have to catch an elusive thief targeting one of the largest corporations in the country. Desperate to forget the failures of his past, Kade has no intention of failing.
But secrets can't be hidden forever.
Excerpt:
Crystal shimmied down the drainpipe with her trophies tucked inside her backpack and computer files loaded onto her USB, hung around her neck disguised as a locket. This was too easy. Not like the Warren job where the COO kept changing the menu and supervised their catering to ensure they had followed the strict rules of kashrut.
She landed on the concrete with a thump, then removed her mask. Usually she worked at night when the catering gig didn't provide the necessary cover, but she had a date this evening.
A blind date.
Her sister's fiancée had called earlier that day to let them know his cousin from Texas would join them for dinner and would Crystal come along? As far as Crystal was concerned, it was the closest thing she'd come to as a real date in a long time. She'd take it.
Thankfully, her catering appointment with Westridge canceled yesterday. While she enjoyed cooking, it was only a cover for her and her sister's illegal activities. What she excelled at was computers, but having a career in that field, now, would be too suspicious. Her IT skills far exceeded a Level One Help Desk worker. She despised working for Westridge, the man who had her mother killed and her dad thrown into jail, but catering was the easiest way into her target's homes without suspicion. And she refused to pose as a cleaning lady and scrub their filth.
Years ago, Dad found what he thought was a series of accounting errors. For his honesty trying to help Westridge correct the problem, he was thrown in jail to rot. Westridge and his company framed her dad for embezzlement and sharing confidential information with preferred suppliers to obtain favors. To see the look on Joshua Westridge's face when he was convicted would make all her and her sister's sacrifices worth it.
Thunder boomed as she weaved through alleys, stinking of rotting food and urine. She barely made it to her car before thunder rumbled.
Crystal checked the time on the dashboard, almost seven. No time to waste. Paul and his cousin, Kade, were picking up her and her sister at seven-thirty. Her car hummed to life as she stashed her backpack behind her seat. The stolen cash, including a recently purchased blood diamond necklace, lay inside. Hopefully the money and necklace would throw off Westridge's Sales Manager to the fact that computer information had been the real prize. For now, another piece of the puzzle to exonerate their dad and lock Westridge away lay on her chest inside her locket.
She whipped into traffic and hit the wipers as fat drops of rain slapped against the windshield. Great. Ahead, a red light flickered as taxis and cars lined up behind it. She debated taking Ninth, but decided against it. Construction was still ongoing and traffic would be worse than this.
Maybe squeezing in a job before dinner wasn't such a great idea.
 Amazon: Buy Link: getBook.at/StolenHearts
Barnes and Nobel Buy Link: http://www.barnesandnoble.com/w/stolen-hearts-andrea-r-cooper/1121726442?ean=2940151583961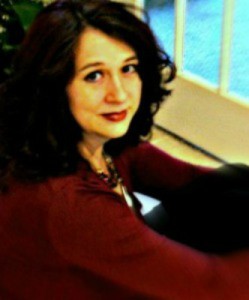 Andrea's Bio: Andrea has always created characters and stories. But it wasn't until she was in her late twenties that she started writing novels.
What happened that ignited the writing flame in her fingers? Divorced, and disillusioned by love songs and stories. They exaggerate. She thought. Love and Romance are not like that in the real world. Then she met her husband and realized, yes love and romance are exactly like the songs and stories say. She is now a happy wife, and a mom to three kids (two boys and a girl).
Andrea writes fantasy, paranormal, historical, and contemporary romance suspense. When not writing or reading, one may find Andrea dancing in Zumba.
She believes in the power of change and counting each moment as a blessing. But most importantly, she believes in love.
Stolen Hearts Book Trailer:  http://youtu.be/6a_S4oBfMk8
 Facebook: https://www.facebook.com/AndreaRCooper.author
Twitter: https://twitter.com/AndreaRCooper
Author Website: www.AndreaRCooper.com
Goodreads: http://www.goodreads.com/author/show/6934877.Andrea_R_Cooper
Blog: http://andrearcooperauthorblog.wordpress.com/
Pinterest: http://www.pinterest.com/andrearcooper/