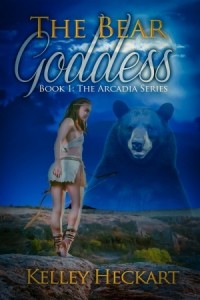 How did you get started writing?
I was a songwriter/musician, writing poems and lyrics, before I started writing short stories. From there, I decided to tackle the daunting task of writing a novel. Due to health issues, I could no longer continue the wild life of a rock musician. Writing stories was another, healthier way for me to express myself. This experience taught me that life is full of surprises and unexpected changes.
What inspired your latest book?
One of my favorite topics in high school English class was Greek mythology. I fell in love with the gods, goddesses and their stories. This is what inspired my latest series set in the wild lands of Arcadia, Artemis's realm. She is one of my favorite goddesses. I love her fierce independence.
How has your experience with self-publishing been?
I am a hybrid author. I have 7 books published with Mundania Press and then decided to try self-publishing with my new series. There are pros and cons to self-publishing. One con is the cost. But I am enjoying the process of hiring a graphic artist for the book covers and working with a great copyeditor. I've been lucky that I found some reliable, talented people to help me with publishing.
What advice do you have for other authors wanting to self-publish?
My advice would be to take the editing process seriously and take your time to hone your craft. There is much more to writing a story than good grammar. Don't hurry and just slap your book up on amazon.com until it's ready. Think twice about publishing the first book you write. Most are not ready to publish. Mine wasn't. Think of it this way—a painter rarely sells the first painting. The next one will likely be much better.
Tell us about your hero.  Give us one of his strengths and one of his weaknesses.
Kasin is a centaur shifter. Rare among his kind, he is loyal to his family even though his father despises him. His loyalty is a strength and weakness—because of his sense of honor to his clan, when he becomes king, he makes a difficult decision that puts his clan before the needs of Callisto, the nymph who has stolen his heart.
Tell us about your heroine.  Give us one of her strengths and one of her weaknesses.
Callisto is one of Artemis's nymphs and Bear Goddess, an honorary position. She has taken a vow of purity and faces death when she breaks her vow. She is strong-willed and brave, but it's her stubbornness that gets her into trouble.
What genres are you drawn to as a reader?
I like to read historical fiction, books on various types of mythology, non-fiction history in ancient and medieval time periods, paranormal romances and fantasy. Right now I am reading Game of Thrones and love it. I think it is so well-written and engaging I can see why it was made into an HBO series.
Please tell my readers a little bit about your book.
The Bear Goddess is the 1st book in a series set in the wild lands of Arcadia, home to Artemis, her nymphs, satyrs, centaurs, werewolves, vampires, gods and goddesses and other mysterious otherworld creatures. This book starts out with the myth of Callisto, the nymph who betrayed Artemis. I used bits of the myth and Bronze Age Greece history to craft my version. The Oreades, Artemis's mountain nymphs, are described by ancient Greek writers as tall and fierce hunters, so I decided that's how I wanted to portray them in my story. I created the Guardians, nymphs who protected the goddess's forest with the skills of great warriors. And each nymph is born of one of the four elements—earth, air, fire, and water.
What's next for you?
Book two of my Arcadia series is called The Wolf Queen and is based on the legend of the werewolf Lycaon. In my version he has met his match. It's a twist on Beauty and the Beast—Beauty may be the real beast. After that, the third book is called The Crow Maiden and has a revenge theme. Then I have some other stories in the works—a couple of contemporary paranormal romances, a non-paranormal romance about the healing power of music, and the first book in a series based on cursed druids.
Excerpt from The Bear Goddess:
Resting her head against the edge of the tub, she stared at the sky. Kasin, the Zeus lover, surprisingly treated her gently. She had expected to be brutalized or worse. With the fair skin and height of those imposing men from the northern mountains, he looked like those who worshipped the Sky god above the goddesses, yet he also possessed a temperate manner unlike those brutal, warlike people. She couldn't imagine living under the rule of the vile centaurs.
Her skin prickled in response to the cooling water. "I am ready to get out now."
He appeared, holding his hand over his eyes, and tripped over a branch.
She giggled.
Regaining his balance, he said with some annoyance, "I am glad you find that so amusing."
"You do not have to close your eyes. Just refrain from staring at anything worth staring at." She laughed, not sure why she told him that. He made her feel giddy, something that had never happened to her before now in the presence of this man.
Opening his eyes, he kept his gaze lowered as he helped her stand. Keeping his eyes fixed on her lower legs, he wrapped a large cloth around her and then lifted her out of the tub.
Her body didn't ache as badly as it had before the bath. Gradually, her body was healing.
"How was the bath?" He helped her put on her tunic, which covered her upper body to her mid-thigh.
"It was quite enjoyable. You can look up now if you wish."
His gaze swept up her body in a way that made her face and body flush. She was entering into a dangerous game, but her vow didn't seem to apply here so far away from Artemis.
With his help, she pulled on her leggings. His hands felt hot each time he brushed against her bare skin. Her skin tingled beneath his seemingly innocent touch. He hesitated, holding on to her hips a moment longer than was necessary.
The air between them felt like the aftermath of a lightning storm. She had no idea what was happening, but she knew it wasn't what she should be feeling when in the presence of a man.
****
Short Blurb for The Bear Goddess:
Forbidden love… Broken vows… Betrayal…
A nymph. A centaur. Enemies in love.
On the run, danger and betrayal follow Callisto and Kasin. To survive they must evade those who want to keep them apart and no place is safe.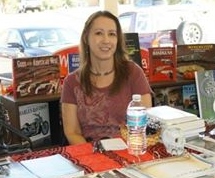 Kelley's Bio:
Multi-published author Kelley Heckart lives in Arizona with her musician husband, dog and a number of backyard "pets," including Godzilla the desert iguana. Her stories reflect her passion for ancient and medieval time periods, storytelling and the supernatural. Inspired by the ancient Celts, her tales are filled with fierce warriors, bold women, otherworldly creatures, magic and romance. When not writing, she works as an editor/proofreader and practices target archery. She can be found online at http://www.kelleyheckart.com/
Website: http://www.kelleyheckart.com
Blog: http://kelleysrealm.blogspot.com/
Twitter: http://twitter.com/CelticChick
Facebook: http://www.facebook.com/pages/Kelley-Heckart/111838455604
Newsletter sign up: Receive special notices like new book releases and giveaways only for my subscribers: http://kelleyheckart.com/Contact_Kelley_Page.html