There's a new holiday tradition that's popped up in recent years, the Elf on the Shelf.  For those of you unfamiliar with the phenomenon, these elves are sent out on scouting missions to help Santa decide who's been naughty and who's been nice.  So I thought about what the elves might report back to Santa about the characters in my new book, Courting Trouble.
As the title implies, there's a lot of naughtiness going on, but it's not that simple.
Sienna is a nice girl who's put in the position of taking on a naughty job.  Jason is a naughty boy, who can be very nice when he likes someone.  Sienna always follows the rules, but Jason tempts her to break them.  And while Jason might be bossy and rough around the edges, he protects the people who are important to him.  That definitely falls on the nice list.
In the end, neither of them is naughty or nice all of the time.  That would be boring.  What the elves would probably report is that they're a couple who is nice to each other and naughty together.  That's something that Santa should reward.  Don't you think?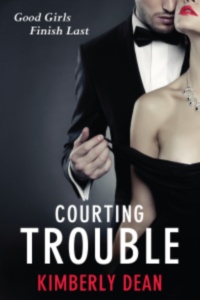 Courting Trouble
When times get tough, how bad does a good girl have to get?
Sienna Blakely is bright, articulate, underemployed and forced to rely on the one asset she vowed never to use – her looks.
With bills piling up, Sienna signs a contract with Luxxor Escort Services. A contract that strictly forbids any sexual contact with clients… And then she's assigned to companion Jason Sloan. Just meeting the man causes a full-body jolt. Arrogant, powerful, and sexy, he's trouble. And he can see through the facade she's erected, right down to the intelligent and sensual woman underneath. He challenges her wits, and he challenges the rules.
Courting Trouble buy links:
Kindle │Nook │iBook │Google Play│Kobo
Now you seem like someone who would fall on the nice list, so I have a stocking stuffer for you.  Go get your free copy of my short story, Courting Jealousy here: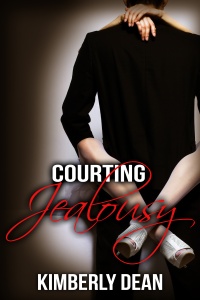 Courting Jealousy
When Noelle hires an escort to accompany her to a charity event, it's merely to show her ex that's she's moved on. Yet she gets more than she bargained for when Dane is assigned to accompany her. Tall, dark, and handsome, he knows how to arouse jealousy. He also knows how to arouse her!
Kimberly Dean is an award-winning author of romance and erotica.  She has written for seven publishing houses, both domestic and international, and has recently focused her efforts on the exciting world of self-publishing. When not writing, she enjoys movies, sports, traveling, music, and sunshine. In her mind, a beach, some rock 'n' roll, and a good book make for a perfect day.
Social Media links: