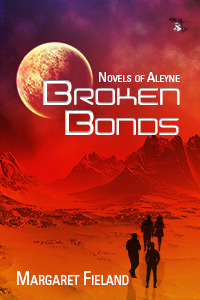 Right now I'm working on finishing up the fourth in the Novels of Aleyne series, a book that as yet has no title. I've been calling it Rob's Book, after the main character, Rob Walker. Now, since I'm nearing the time when I plan to submit it, I have to find a real title for it.
The title for the first novel, Relocated, came to me without too much difficulty. As to the next two, the working title for Geek Games was Martin's Book and the working title for Broken Bonds was Brad's Book. No trouble with the working titles – I simply name them after the main characters. Now, however, it's time to brainstorm the real deal.
This book is the longest one so far, over 80,000 words, and centers around the conflict between the Aleynis and the Terran Federation. The treaty between the two is up for renewal. The Aleynis want to boot the Terrans off their planet and take back the control of the space station and the military base the Federation maintains on Aleyne. The Federation needs to keep control of the space station, as it's the only transit point between Terra – Earth to those of us who have never been off the planet – and the Outer Planets.
Colonel Robert Walker is the man who arrested Brad Reynolds for treason in Broken Bonds. In the new novel, we meet him as he's having Brad arrested and taken to New Oregon for trial. Rob is left to head the base on the planet. He learns he's been made responsible for the successful conclusion of the treaty negotiations. Prospects for success appear dim, as neither side is willing to compromise. If he fails, the resulting conflict could well destroy both sides.
In addition to his political troubles, Rob is in a troubled marriage to two women. He's in love with his best friend, Captain Reuben Tyler, a fellow Belan. Reuben loves Rob, and is frustrated by Rob's failure to acknowledge his feelings – even to himself.
Rob has his hands full. And so do I. Time to pick a real title. Do I go with Rob's Dilemma or will I pick something else? Stay tuned.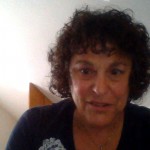 Bio:
Born and raised in New York City, Margaret Fieland has been around art and music all her life. Her poems and stories have appeared in journals such as Turbulence Magazine, Front Range Review, and All Rights Reserved. She is one of the Poetic Muselings. Their poetry anthology, Lifelines, was published by Inkspotter Publishing in November, 2011. She is the author of Relocated, Geek Games, and Broken Bonds, published by MuseItUp Publishing , and of Sand in the Desert, a collection of science fiction persona poems. A chapter book is due out later this year.
Here's the blurb for Broken Bonds, the previous novel in the series:
Broken Bonds
Sex with aliens? How about romance with aliens? A treason accusation? Brad Reynolds has his hands full. When Major Brad Reynolds is assigned to head the Terran Federation base on planet Aleyne, the last thing he expects to find is love, and certainly not with one of the alien Aleyni. How can he keep his lover, in the face of political maneuvering and of Ardaval's feelings for his former partners — and theirs for him?
Excerpt (PG):
Brad took a deep breath of cool night air, inhaling the nutmeg scent of the flowers planted around Ardaval's front door. Before Brad could knock, the door opened and Ardaval stood in the doorway. Brad hesitated before putting out his hands palm up.
Ardaval placed his hands over Brad's. "My heart, my home, my hearth."
"My hearth, my home, my heart," Brad murmured in response.
Smiling, Ardaval directed his gaze at Brad's eyes; it evoked the same curious flutter in the pit of his stomach as the last time they'd met. Ardaval held open the door and gestured for Brad to enter. "You've come to discuss Gavin."
"I have." Brad followed Ardaval into the front hall where tiles of local stone sparkled on the floor and a padded bench stood under a window. Through a doorway on one side, a glance revealed a kitchen furnished with dark wood cabinets, clean and a bit bare.
"Come." Ardaval gestured toward the back of the hallway where a doorway led into a center courtyard, open to the cool night air, and motioned to a small table. A red-leafed tree in the center spread its leaves overhead. Brad sat, and Ardaval sat beside him.
Brad needed to talk about Gavin Frey's political views. Views that, as far as he could tell from the records, were the opposite of his own. A breath brought him the scent of Ardaval's skin, musky, with a hint of clove. Was it duty or cowardice keeping him from reaching for Ardaval's hand and kissing the palm?
Ardaval clasped Brad's hand in his. "Tell me more about why you were posted to Aleyne."
Should he remove his hand? No. He enjoyed Ardaval's touch and what was the harm, really? When he glanced up, he found Ardaval regarding him with evident amusement.
"I recommended that a man who used psi to save his squad be given a dishonorable discharge." Brad hesitated. "Although the soldier deserved a medal rather than a court martial, he was a fool to admit he caught a thought."
Ardaval nodded.
"About Gavin Frey. Is he your shan?" The thoughts slipped out.
Ardaval stared into Brad's eyes for a a second or two before he replied. "As you surmise, he is my son; my shan, because I didn't raise him."
Might as well ask this, too. "His mother never told you about him?"
Ardaval shook his head. "No, she didn't. He spent six months here after she died. Then we disagreed over a matter of ethical principal and he left."
Given what he understood about Frey, Brad would have been surprised if they hadn't.
"He married, but his wife died. He has a son who is now fourteen by Terran Standard years."
"His mother possessed a strong psi talent."
"She contacted you?" Brad's eyebrows rose to his hairline.
"She did. I suggest you keep an eye on the boy."
"Do you believe he has gazal?" If the boy developed Aleyni mind speech abilities, he'd need careful watching. Brad's own family had been fairly accepting but how would Frey react if he discovered his son possessed gazal? And what about the terrorists, who might try to exploit Keth's talent?
Ardaval nodded. "I do, though of course we've never met. Gavin doesn't, or at least if he does, he keeps his mind so locked down it's the same thing."
Brad sighed and rose. He'd completed what he'd said he'd come to do.
"It happens this way with us, at times." Ardaval paused for a moment. "We'll meet again."
Brad turned to leave. He couldn't ignore this connection, wish it away, any longer. Only Ardaval's assurance kept him moving out the door.
Publisher's website:
http://museituppublishing.com/bookstore/index.php/new-releases/broken-bonds-detail
Amazon:
http://www.amazon.com/Broken-Bonds-Novels-Aleyne-ebook/dp/B00E5SGVSS/ref=sr_1_1?s=digital-text&ie=UTF8&qid=1374851946&sr=1-1
Barnes and Noble:
http://www.barnesandnoble.com/w/broken-bonds-margaret-fieland/1116214695?ean=2940148784913
Bookstrand: http://www.bookstrand.com/broken-bonds
Where to find me on the web:
Pinterest: http://pinterest.com/margaretfieland/
Facebook: http://www.facebook.com/margaret.fielandAuthor
twitter: http://www.twitter.com/madcapmaggie
goodreads: http://www.goodreads.com/author/show/4417476.Margaret_Fieland