Hello, and thank you, Cynthia, for hosting me on your awesome blog for my release day! Your header talks about "…a land wild enough to hold them both," so I feel right at home sharing my Rugged Heroes ~ Resilient Heroines ~ Heartwarming Romance…many of which are set in the beautiful, wild state of Colorado.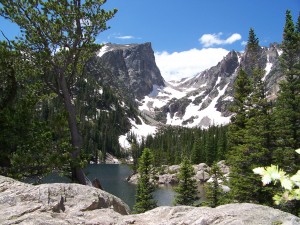 The mountains have intrigued me ever since I was in grade school and I picked Colorado for my state report (the year will remain confidential). It must've been about 4th or 5th grade, but I didn't get to see them in person until I graduated at 17 and took the train across the country for a summer job at the Aspen Lodge Ranch Resort in Estes Park, CO.
See, my two best friends had deserted me for what was supposed to be the best summer ever. Mickey was in Australia as a foreign exchange student, and Tracy was in Montana at her own summer job, so I had to find something fun to do with myself besides waiting tables in Wisconsin.
I fell head-over-heels in love with the rugged, untamed vistas of the Rockies. So much so that I went back the next summer without thinking twice. Both years I worked as a children's counselor, hiked as much as I could, rode the ranch horses, and dreaded the day when I'd have to return home (even though I missed my family).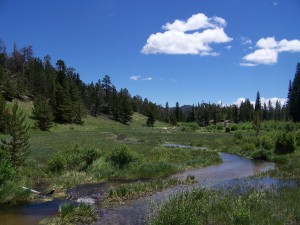 I loved the hiking trails, the animals I saw along the way, the gorgeous scenery, the sound of the cold mountain rivers crashing over boulders, the many waterfalls, sunsets and sunrises and, well…pretty much everything. The best was the view at 14,255 feet from the top of Long's Peak in the middle of a 16 mi. round-trip hike. The first year, fog forced us to turn back after getting 3/4th of the way, but the second summer I made it to the very tippy-top! Talk about terrifying and amazing at the same time. Terrifying because of the steep, slippery slab of rock we had to scale to reach the summit; amazing because with only a few clouds in the brilliant blue sky, we could see for miles.
I've been back to the area only three times since then. It isn't nearly enough, so that's why Colorado is a favorite places to locate my books, so I can live vicariously though my characters. They do have to go through a lot, but they always get their happily ever after in the end.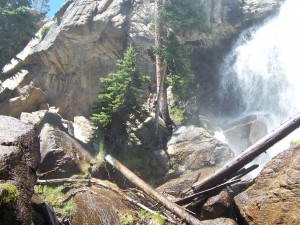 My Colorado Trust Series is set for 2 brand new releases this spring, and 3 re-releases with new covers. EVIDENCE OF TRUST, book 1, is a brand new release that is out today—so thank you, Cynthia, for letting me celebrate my release here with your readers!
I'm happy to share an exclusive excerpt with all of you today and hope you like it!
Sparks fly when a headstrong wrangler and an alpha park ranger are thrown together while he's searching for evidence to stop the poacher killing animals in RMNP. When the monster turns his sights on Brittany, Joel discovers he'll do whatever it takes to protect her—even give his own life.
Trust makes all the difference when love and danger collide.
EXCERPT:
Women are born dishonest.
Well, damn. If he weren't so darn good-looking—and bossy, let's not forget the bossy and arrogant, Britt—maybe she'd be able to keep her head straight and not do stupid things like lie—
No, she hadn't lied. There was a difference. And besides, either way, it didn't give him the right to blame her for every bad experience he'd ever had with women. She didn't blame him for Daniel's faults.
A lilting ballad replaced the rowdy country music the band had been playing. Gina went to refresh her drink while Casey and Jayne joined the other couples on the dance floor. Watching them snuggle together, she found herself picturing one man, the man she most wanted to forget—and it wasn't her no-good cheating ex.
When a dark head suddenly appeared at her shoulder, a start of surprise tripped her pulse. Mitch chuckled, his breath warm against her ear.
"Since you won't go out with me, you can at least dance with me."
Relief spiraled through her, and she accepted his hand. She didn't object when he pulled her close on the dance floor, either. He'd been a harmless flirt from the moment they'd met at the start of her third summer, and she appreciated his friendship.
"You and that redhead seemed to be getting pretty well acquainted," she remarked, referring to the woman she'd seen him dirty dancing with a short while ago.
"Yes. Because Lindsey appreciates a good man when she sees one."
She laughed—until she caught sight of said redhead with a certain tall, dark-haired ranger a few feet away. Her smile vanished when she met a pair of steely golden eyes. How could such a warm color appear so cold?
Mitch spun her around and she saw his brow furrow the moment he noticed the other couple. Summoning a grin, she teased, "You were saying?"
He danced her into another dizzying spin that didn't fit the music. "I was saying…sometimes women need a little help with the obvious." He tapped Joel's shoulder. "Mind if we switch?"
Without waiting for a reply, he released her and swept an overly-eager Lindsey into his arms. As they moved away, Britt fumed inwardly, but forced a polite smile for Joel as she turned away.
"Excuse me."
"Not so fast."
He snagged her hand and lifted her arm above her head in a fluid motion, maneuvering her into a dance spin that landed her in his arms. Her dress whirled against his thighs, and she found herself aligned with solid muscle from chest to hip.
"Bad enough you left me on the trail, walking away on the dance floor is just plain rude."
A push on his chest proved ineffective, so she leaned back. "I prefer to choose my own dance partners."
"I prefer to choose the way I get down a mountain," he countered.
"A gentleman would accept my apology and let it go."
"I never claimed to be a gentleman."
Something in his tone reminded her of that kiss in her tent. Her gaze shifted to his lips. As she stared, his head lowered. Her breath caught and her pulse skipped, but he bypassed her mouth to rest his cheek against hers. She barely contained a sigh of disappointment as the scent of cedar boughs and citrus assaulted her senses.
"I knew it. You enjoyed that kiss as much as I did," he taunted softly.
His breath—or was it his lips?—brushed the sensitive skin under her ear. With a conscious effort to gather her raging emotions, she pushed harder against his chest. He only allowed her a few inches and kept their bodies swaying to the music.
"What are you doing?" she whispered. "You don't even like me."
"I'm just trying to get an honest response," he explained.
"You want honest? You took advantage of me. I was still half-asleep and—"
He laughed, a low, deep chuckle that stirred something in the pit of her stomach.
"If that's what you need to believe."
"I don't need to believe anything."
"And just a minute ago, when you thought I was going to kiss you—"
"I did not—"
"—you weren't the least bit disappointed?"
"No."
"So you did think I was going to kiss you."
"I didn't say that!" Exasperation raised her voice. "If you'd just let me finish."
A hint of a smile played on his sensual lips. "By all means."
"No, I did not think you were going…to…"
He'd lowered his head again. She pulled back; he followed, until their lips were a mere inch apart. "Do you now?"
"I…no."
"Do you want me to?"
The seductive whisper made her shiver. Yes. "No."
But she'd hesitated a fraction too long.
~~~
Grab your copy of the book here and keep reading: APPLE KOBO AMAZON BN
To show my appreciation to all the readers out there, I'd like to offer one lucky winner an ebook copy of my Colorado set novellas in the Stacey Joy Netzel Paranormal Collection. The ghostly romance titles include: If Tombstones Could Talk, Beneath Still Waters (Part One), and Rising Above (Still Waters Part Two).
All you have to do is leave a comment letting me know your favorite state to visit, and what you love so much about it? (Or, your favorite book locale would be great as well.)
Again, thank you for having me, Cynthia, and thank you to all the readers who stopped by. Have a wonderful day!
BIO:
NY Times and USA Today Bestselling author Stacey Joy Netzel fell in love with books at a young age, so for her the graduation to writing them was natural. An avid reader and fan of movies with a happily ever after, she is thrilled to call herself a full-time writer after 20 years as a travel agent. She lives with her husband and children in Wisconsin, where she writes romantic suspense, contemporary romance, and the occasional paranormal romance. Colorado is a favorite locale for her books, followed closely by Wisconsin, and Italy.
She lives in her native Wisconsin with her husband and children, a couple horses and some barn cats. In her limited free time she enjoys gardening, canning, and visiting her parents in Northeastern Wisconsin (Up North) at the family cabin on the lake.
Find Stacey online at:
Newsletter signup: http://bit.ly/SJNnewsletter
(New release info. only)
Website and Blog: http://www.StaceyJoyNetzel.com
Facebook: Facebook.com/StaceyJoyNetzel
Twitter: http://twitter.com/StaceyJoyNetzel