Please help me welcome Cathleen Dunn to my blog today. She's got a great interview for you. – Cindy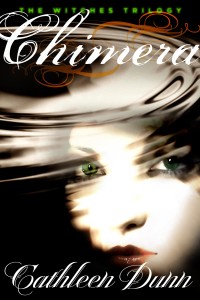 Q: Tell us about your book – and how do you say the name?
A: This is the first book in "The Witches Trilogy", pronounced "Chimera" – like "Guy-Mere-Uh". And you can find it by searching "The Witches Trilogy" or author Cathleen Dunn as well.
The main character is a witch named Olivia Phalen. She's a light witch – they can only do good with their powers. In return they can have almost anything; live lavishly, travel, be famous…anything. Olivia's got friends that she loves and a new apprentice named Taylor. But Olivia also has an enemy – a powerful dark witch named Dantin who loves tormenting Olivia. He stalks her constantly and is continually hurting her friends. He even killed her last apprentice.
Q: Why is he doing that?
A: Because Olivia rejected Dantin. He wanted her badly – he still desires her, in fact – but she said "no" to him. Dantin's pretty twisted and vicious, and when Olivia didn't want him they way he wanted her, it hurt him, then that hurt turned to rage. He keeps tormenting her because he still wants her and can't have her, so it never ends. He's so vengeful and spiteful that he kills what she loves so she can't have any happiness either. And now, Olivia's got a new apprentice and for sure Dantin will come after her, too.
Q: Olivia's got friends who are witches, too, right? Why don't they all just gang up on Dantin and take him out?
A: Because they're light witches. They can't. They can only do good with their powers. If they hurt or harm, then they'll turn dark themselves and become violent and psychotic like Dantin.
Q: Why is this book called "Chimera"? What is that?
A: A chimera is a spirit, or a mirage, or a combination of two creatures. In my books, chimeras are spirits that are a witch's familiar. They live in the magical realm and can protect or guide a witch in the magical world. They can be good, or they can be really evil, like Dantin's. And a chimera can possess and control a witch if they can get inside one. Dantin and his chimera make a really formidable, horrible pair.
Q: Sounds like a pretty dark ride.
A: Well, some of it is, but there's also the magic, too. And Olivia's gang is rich, and I mean crazy wealthy. Almost every person I talked to when I started to write these books said, "Oh, yeah, make them rich. Why do sorcerers and witches all live such ordinary lifestyles? If I had magical powers, I'd live a rock-star life."
Plus, writing about the wealth and the magic is so much fun. For example, Olivia rescued Taylor, her new apprentice, from a trashy, abusive home. Suddenly she's living with Olivia in her mansion and going to a witches gathering in Houston on Olivia's private jet. I absolutely loved writing Taylor's first experience in that jet; how she looked around the cabin at all the beautiful polished wood and sparkling halogen lights, and felt pampered and unreal doing the flight. Six months earlier her stepfather was beating and raping her, and now she's learning magic and has a jet almost all to herself.
I really like taking the luxury and the light aspects of the setting and mashing it against the dark that Dantin and his chimera bring. Evil is evil no matter what wrapping it comes in.
Q: You've lived a lot of places; why set the story in Seattle?
A: Seattle is both creepy and beautiful – a contrast of dark and sparkle. In the winter it's dark 14 hours out of every day (Yes, really! The sun rises around 8am and sets close to 4pm in December and January!), and let's not forget about the rain and grey skies because of all the clouds in the winter. But the rain makes things wet and they glisten – especially at night. If you look at an aerial picture of Seattle's downtown on a dark rainy night, you can almost see what I try to capture when I write, the sleek and the otherworld in one place. You could imagine lots of magic hanging in the air, or paranormal creatures lurking about.
In Seattle there are lots of unusual places that are good settings for scenes. When I worked for Seattle Opera, we were exposed to a lot of artists that were very creative, and had to live on a non-profit salary, so we found unusual entertainment on a dime. For instance, going to a cheap basement club where volunteers had painted colorful murals on the walls and pink plastic flamingoes adorned the bar, or we'd take books and a picnic to a tiny park in Ravenna on the 4th of July. So many hidden treasures in Seattle. Juxtapose that with the high-tech, high-gloss, high-rise office buildings and the parks nestled into the hills and neighborhoods and there's no end to the possibilities.
Q: You have a full-time job; when do you find time to write?
A: Some people can write a couple hours every day, but I can't switch from my day job where I have to be logical and sensible to my fantasy world very easily, so I write on Saturday and Sunday, and maybe an occasional Friday or Monday for ten to thirteen hours a day. I just stay in my world and write a bunch of pages and then go back to work during the week. My characters are never far away though; I think about them constantly and formulate the next weekend's work in the back of my head while at my day job.
Q: When do you find time for your family?
A: Oh! They get my complete attention every weeknight (or at least four nights a week). I don't do anything else but pay attention to them. Well, the dogs are easy; they can lay on my feet even when I'm writing, so I make sure to clear my calendar weeknights for .
them.
Q: Where do you get your ideas?
A: Ever since I was little I loved superstition and ghost stories and magic. I remember getting a book of superstitions from the library and thinking about them all the way to school when I was in first grade. Things like: "If you see the full moon through the trees it is considered bad luck", or "if you walk through a spot of cold air, you have just walked through a ghost", or "never let a broom touch your head; it is bad luck". I also see stories in music; the feeling a particular song gives me might start a story there. For example, my niece gave me a CD by "Evanescence" – their "Fallen" album – and while listening to it I started to see Olivia and her problems, and how she was feeling about being hounded and isolated by what had happened in her past. Interestingly enough, her decision on how to handle Dantin came off a "Transformers" album. Go figure.
Q: What kind of music do you listen to?
A: Almost anything, but I especially love harpsichord concertos from the Baroque era, and rock. Some of my favorite bands are Avenged Sevenfold, Disturbed, Godhead, Nickelback, Rammstein, AC/DC, a little Alice Cooper, Evanescence, and almost anything from the Eighties. I also love big band – Glen Miller, Tommy Dorsey, the Andrews Sisters, almost anything from the Thirties and Forties.
Q: Anything else?
A: Just a huge THANK YOU to everyone who loves to read and to everyone who has stopped by my website and fb, or bought my book. I love reading, too, and I love writing about our witches and am busy writing the second volume in The Witches Trilogy, titled Blue/Black and scheduled to come out in 2014.
Q: Where do we find you?
A: You can find The Witches Trilogy: Chimera on Amazon.com, and you can find me on Twitter @Cathleen_Dunn, and my website, Cathleen Dunn.com and Cathleen Dunn's Facebook Author page.
BIO
Author Cathleen Dunn has lived in Seattle for the last 20 years after growing up all over the United States. She's lived in Texas, California, Kansas, Colorado, Nevada, Oregon, Arizona, and truly likes variety: she attended college both in Washington and Arizona, has a day job at an engineering company, loves rescuing greyhounds, has been onstage with Seattle Opera, has been known to paint faux finishes and murals inside homes for her friends, occasionally goes hunting and fishing with her husband, watches way too many old movies and educational television, and listens to both Baroque and Metal music.
Cathleen is the author of The Witches Trilogy series of full-length novels. She published the first installment, Chimera, in November of 2013 and is currently writing the second novel, Blue/Black, set for release in 2014. She sets her stories here in Seattle, where the dark and rain create the witches' stories in her head. She just writes them down.