Please help me welcome Lisa Owens to my blog today. Lisa will be giving out a copy of her book IF ONLY to two lucky commentors, so be sure and leave a comment.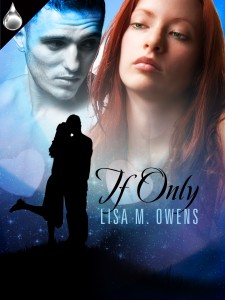 Tell us about your current series/WIP.
I am currently working on the second novel in my If Only series. The blurb is listed below.

What would you do if you had the opportunity to go back and relive your greatest mistake?
When Maggie Ryerson was a teenager, she made a choice that changed her life forever. When the stick turned blue, she found herself torn between two men: one was the friend who had comforted her when her world was turned upside-down and the other was the man she loved, the father of her baby. Both men had feelings for her and both of them had offered to marry her.
She chose to marry for love.
Now faced with an unplanned pregnancy, a husband who can't keep a steady job and a hormonal teenager, Maggie wonders what her life would have been like if she had married for money instead.
But like the saying goes, be careful what you wish for…
What inspired your latest book?
I think that every woman has that one mistake that you wished you could take back. Something that you did or didn't do that changed your life forever. Whether it was marrying the wrong man, breaking up with the love of your life or even battling drug or alcohol addiction. But what if you could go back and change your life? Would you do it if you had the chance? Would you risk changing your past to build a better future?
Those were the kind of questions that led me to start my first release, If Only.
Give us an elevator pitch for your book.
What would you do if you had the opportunity to go back and relive your greatest mistake?
Five years ago, Bree Sexton walked out on her fiancé and into the arms of a charming and handsome stranger. She has regretted her decision ever since. Instead of a fairy-tale marriage, her "prince" shattered her dreams and her spirit with physical violence and emotional cruelty she barely escaped.
She then mysteriously wakes up in bed with the fiancé she loved and left, the life she'd dreamed of now a reality, until her cruel ex-husband reappears to destroy her new life. But what is real, and what is make-believe? Is she really getting the chance she has always dreamed of? And when it is all said and done, will she finally end up with the man she has always regretted leaving? Or will she wake up to discover herself alone?
Are you a plotter or a pantser?
Honestly, I am a little bit of both. Before I start a novel, I write out an outline with descriptions of the characters and a basic storyline. Nothing too specific, just an idea of how I would like for the story to flow. Once I start writing, some of the outline may change, but the basics of my story will remain the same. A chapter might get moved to another part of the story or the characters might meet under different circumstances, that kind of thing.
Tell us about your hero. Give us one of his strengths and one of his weaknesses.
My hero in If Only is Scott Weston. Although he loves his wife to distraction and is sensitive to her needs, he is strong enough to kick ass if needed. Once this side of him is unleashed, he slays Bree's dragons like a knight in shining armor. As for his weaknesses, besides his wife, he can have some difficulty controlling his temper. Due to a complete misunderstanding on his part, he slugs his own brother before he stops to get the whole story.
Tell us about your heroine. Give us one of her strengths and one of her weaknesses.
Bree Sexton is a woman whose personality seems to change over the course of my story. When she was married to Bryan, she was a timid, shy woman who never felt free to speak her mind. Her husband kept her under his thumb and she was expected to only speak when spoken to. If she didn't follow his rules, she got punished.
The Bree when she is with Scott is a totally different person. She is stubborn and independent, sometimes almost too independent. She is secure in the love of her husband and she is comfortable enough with Scott to tell him where to shove it when necessary.
What genres are you drawn to as a reader?
Not surprisingly, I love reading contemporary romances. When I am in the mood for a mystery or a thriller, one of my favorite authors is Mary Higgins Clark.
Do you have any words of inspiration for aspiring authors?
Never…under any circumstances, give up. Although it might be true that if you don't try then you can never fail but if you never try, then haven't you failed already?
Do you ever suffer from writer's block? If so, what do you do to combat it?
The answer is a resounding, "YES!" I think sometimes every writer, both published and unpublished, suffer from writer's block. Personally, I always have two different WIPs that I am working on at the same time. That way, if I get stuck on one storyline, then I try writing on my other one. For me, that seems to help.
Sometimes taking a break helps me as well. Watching a movie or reading a book—give myself a little breathing room from the characters waging a war inside my mind.
Will you share some encouraging words for authors still struggling for that first contract?
This is one of my favorite quotes.
"That Which Does Not Kill Us Makes Us Stronger," by Friedrich Nietzsche.
What's next for you?
I am also currently working on a novel about a Marine who returns home after being wounded in Afghanistan to discover that things aren't the same as they were when he left. His wife has abandoned him when he needed her the most and he suffers not only from the scars on his back, but the wounds that her desertion has left on him as well.
Where can readers find you?
http://www.lmowens.com/
https://twitter.com/_lisamowens
https://www.facebook.com/pages/Lisa-M-Owens-Author-Page/401065116637549
http://www.goodreads.com/author/show/6884569.Lisa_M_Owens
Where can readers find your books? Print/Ebook?
At this time, If Only is available as an e-book. I hope someday in the future to see it published in print.
http://www.lsbooks.com/lisa-m-owens-c343.php
http://www.amazon.com/If-Only- ebook/dp/B00ASOMPH4/ref=sr_1_1?s=books&ie=UTF8&qid=1356572772&sr=1-1&keywords=If+Only+by+Lisa+M.+Owens
http://www.barnesandnoble.com/w/if-only-lisa-m-owens/1114147612?ean=9781595789891
EDITED EXCERPT:
Bree stood there for a minute, watching as he walked out of her life. She couldn't help but wonder what would have happened if she had married Scott instead of Bryan. How would her life have been different? Would she have had children by now? Would she and Scott still be together, after all this time? Those thoughts and more weighed heavily on her mind as she headed out of the bar. It had begun to snow, and she wrapped her coat even tighter around her slender frame. She looked around, but there was no one to be found. She couldn't help herself; she stuck out her tongue, a childish impulse she couldn't ignore, and then laughed out loud in spite of herself.
She looked both ways before attempting to cross the street. Not seeing any cars, she began to make her way across. Bree was walking cautiously when one of her high heels slipped on a patch of ice. She could feel herself falling, and her breathing quickened as she began to panic, wishing she had waited for her friends before venturing off on her own. One shoe flew off as she landed, her head striking the curb. A sharp pain racked through the back of her skull, causing her to cry out. The last thing she saw was Scott's face swimming before her eyes, and then her world went black.
* * * *
Bree awoke to a man nipping gently on her earlobe, his tongue stroking the delicate curves. His hot breath blew into her ear, sending shivers up and down her spine. She slowly opened her eyes as a man's hand stroked her upper thigh, and she sighed happily.
Ooh, I must be dreaming. And it was such a delicious dream, too.
The man's hand traveled up her thigh and then encircled her flat stomach. Out of the corner of her eyes, Bree could see a dark head pressing against her abdomen. Then she shivered as a tongue laved her belly button, going in and out erotically, making her feel as though her body was on fire. Bryan had never made her feel like this, and she hadn't even looked yet to see who this stranger was! But she was only dreaming, so what difference did it make?
His hand continued traveling north, lovingly caressing her skin. He reached for her aching breasts, pressing her nipples roughly before he lowered his mouth to suckle them, first one, and then the other. Bree arched in anxious response to his touch. She longed to see his face, but she feared one look would make his magical touch disappear.
She ached all over, wanted his hands to caress her everywhere, and she longed to touch him. She opened her legs as he straddled her. His hair brushed her naked chest as he began kissing her. His tongue was driving her crazy with desire as he placed tender kisses along her neckline. He brushed her hair aside.
His morning stubble stung her delicate skin, but she hungered for more. Just one more touch, just one more taste, and she would awaken from this wonderful dream and find herself in bed, all alone.
"Oh, Bree, baby. What you do to me," he whispered, his voice husky.
That voice jerked her back to the present. The voice had haunted her dreams for
years. The voice of the man she just couldn't seem to get over.
"Scott," she whispered.
About the Author
The writing bug bit Lisa M. Owens at an early age; she was writing short stories and poetry by the age of seven. At the age of eight, she entered a writing contest at her elementary school. About fifty books were written, but Lisa was one of the thirteen writers chosen who received a certificate and the chance to meet Oklahoma writer Sandy Miller.
A former victim of domestic violence herself, Lisa worked at the courthouse for over seven years. Almost three of those years she worked on the Marriage License/Protective Order desk. She helped women file protective orders and worked closely with the staff and counselors at DVIS.
Frustrated with books that merely gloss over the subject of domestic violence, Lisa wanted to write a book that told the entire story. Her dream is for her words to help give someone the courage to leave an abusive relationship.
She resides in Oklahoma and has two children. This is her first published novel, and she is currently working on the next novel of her If Only series.
Lisa enjoys hearing from her readers and can be reached at P.O. Box 9643, Tulsa, OK 74157-0643, or by e-mail, lisamowens@ymail.com. She can also be contacted on her website, www.lmowens.com.