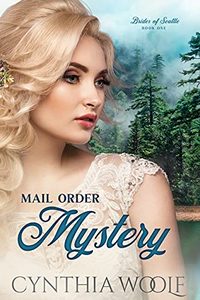 Civil war devastated the country and left Rachel Sawyer stranded in a dead-end job as a seamstress with no prospects for marriage. Men are thin on the ground in Massachusetts, so Rachel and her best friend travel west, to Seattle, with the handsome Talbot brothers. Jason Talbot, the eldest brother and wealthy owner of a lumber company, is so far beyond her reach that falling in love with him is the most non-sensical thing she could do. So, of course, she does. But after one sensual midnight encounter, Jason pushes her away.
Jason Talbot and his brothers are desperate to keep their lumberjack crews happy. And if that means traveling across the country to escort a hundred women to Seattle as mail-order brides, that's what he'll do. The brides are for other men. After losing his wife ten years ago, he's not interested in risking another devastating blow to his heart. When Rachel catches his eye, his head and his heart are at war, and he's not sure which side will win.
But when a thief springs up in their midst, and Rachel's determination to solve the mystery leads to murder, Jason realizes he'll do anything, not just to protect her from a killer, but to win her heart.