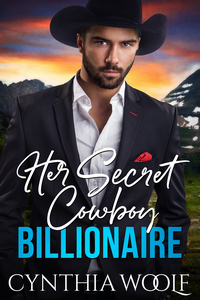 After inheriting her grandmother's Victorian mansion outside Twin Bluffs, Montana, Shavon Montgomery decides to turn it into a bed and breakfast. It is the perfect solution for her after the tragedy of losing her sister and taking custody of her sister's baby, and the perfect place to hide in plain sight. Guilt rides her hard, along with a deep and abiding hatred for secrets and the people who keep them. If it hadn't been for secrets, she could have helped her sister before she died; secrets that destroyed her relationship with the man she wanted to marry. Even now someone wants her dead, and she finds herself falling for the new carpenter's easy smile and cowboy charm. He's almost too good to be true, but what could the cowboy be hiding?
Brody James is thrilled when he wins a bid to remodel and renovate the old Victorian mansion into a bed and breakfast. Former bronc rider turned carpenter and father, Brody has a secret. He's rich. As in billionaire rich. It is a secret he has kept since moving to Twin Bluffs. He likes to work with his hands, really help people, not just write checks. He's established himself as a hard working cowboy, carpenter, and hopefully a good father. When he meets the new owner of the bed and breakfast, their chemistry is through the roof. Brody wants to be honest with her about who he really is. He wants a chance at forever. But how can he tell her the truth when she makes it clear how much she despises secrets, even good ones?
Hiding the truth may destroy their relationship. Will their love be able to survive the danger, lies, and secrets they keep? Read Her Secret Cowboy Billionaire to find out!