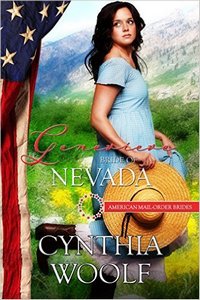 A warehouse fire in Lawrence, Massachusetts has taken Genevieve "Genny" Copeland's livelihood, but opened a new opportunity for her. If she takes the chance, she could have the family she's always dreamed of but it would mean leaving everything she's always known. Believing that opportunity only knocks once, Genny gets on a train west to Elko, Nevada and a new life. She becomes a mail-order bride.
Stuart MacDonnell lost his wife in child-birth six months ago. Now he's left to raise a 2 year-old and a 6 month-old baby alone. He needs a wife but doesn't want to court someone and pretend to be in love. He'll never love again, but he needs a wife now and orders a mail-order bride.
Can Stuart and Genny come together and find happiness when they are at odds with each other? Will they find common ground and will love bloom amid the beautiful Ruby Mountains of Nevada?