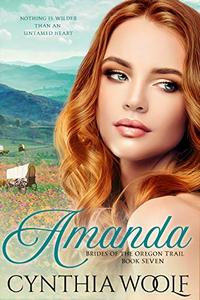 Amanda Winters is traveling from Independence, MO by wagon train to her mail-order groom. Though she is warned that he is a mean and brutal man with a quick temper but she is determined to live up to her promise. She was engaged and left at the altar and she will not treat anyone else like that. When she meets her fiancé she tells him she wants to wait to get married until they know each other better. The suggestion does not go over well with her mail order fiancé.
Jamie Kilbride traveled to Independence from Oregon City to collect his mail-order bride. As luck would have it, she'd fallen in love with someone else and broke her contract with Jamie. This bothers him not at all since, as they travel the Oregon Trail together, he falls in love with Amanda.
Jamie insists he doesn't care what people say, but she does. She will not marry him and bring his name down into the muck and mud with hers.
But her former fiancé has plans of his own that don't include her safety.