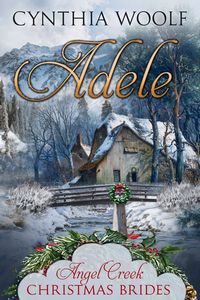 Adele Jensen gave her heart to the wrong man. After seven years as mistress to a power-hungry and vengeful man, she realizes her mistake and leaves New York behind to start a new life in Montana as a Mail Order Bride. Afraid her new husband won't approve of her past, she creates a new identity for herself and hopes with all her heart that her new husband will be the loving husband and father she's always dreamed of.
Edward Wharton doesn't trust women. In fact, the only female he wants to take care of is his seven year old daughter whose mother left him for a gambler and a fifth of whiskey and life in the saloon. When a stagecoach accident took her life, he couldn't find it in his heart to mourn her death, nor to forgive her treachery. But his little girl needs a mother, and Edward is tired of battling life alone. A mail order bride seems to be the perfect solution to his dilemma, he needs a woman in his life, but not in his bed. Definitely not in his heart.
Richard Douglas keeps what's his, and as far as he's concerned, that includes his runaway mistress, Adele. She defied him. Ran from him. Made demands she had no right to make. And he will have her back, no matter the cost.
Angel Creek, Montana is a wild frontier where only the strong survive. Richard's arrival will test Edward's resolve not to love again. Will Adele find the courage to conquer her past and Edward's untamed heart?